Jane Lynch Slammed for Suggesting Women's Voices 'Too High' on Podcasts
After suggesting women's voices are "too high" and into an "annoying area" on podcasts, actress Jane Lynch has received heavy criticism on social media.
The Glee actress and host of The Weakest Link, who recently finished a run on Broadway in Funny Girl, made the bold statement about women's voices on podcasts, before finding a solution to her problem.
Lynch's assertion was met with fury by Twitter users as she was accused of sexism, "internalized misogyny" and she was also compared to her villainous Glee character Sue Sylvester.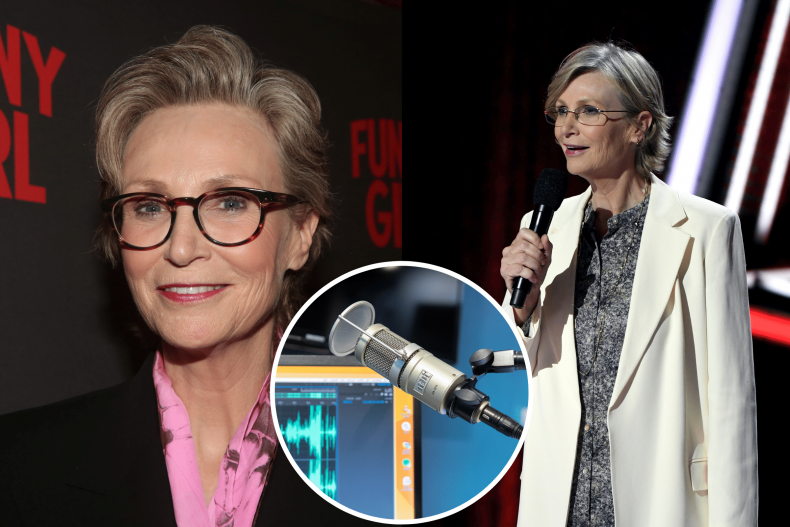 Late on Monday, Lynch started her controversial statement by saying: "I love women. I AM a woman."
She continued: "Our voices are higher than men's voices. Women's voices can get into the annoying area if it gets too high. If you're doing a podcast, consider lowering your pitch a tad."
Seemingly anticipating a backlash, Lynch said: "If you think I'm being sexist about this then I don't know what to do with you."
"This is in fact," author Bess Kalb replied. "The definition of sexism."
Newsweek has contacted representatives of Lynch for comment.
Thousands of people interacted with Lynch's tweet, with some liking, and many others commenting and retweeting their criticism towards her. There were some who agreed with Lynch's assessment of the female voice on podcasts.
"Yassss. Also quit with the vocal fry. Take a deep breath and use your damn big girl VOICE," said musician Jonatha Brooke.
Entrepreneur and author Carol Roth suggested that anyone wanting to use their voice professionally should put in the work. "Most women do not speak in their natural range. It takes practice, training and for some (like me) ongoing work," she said.
Another Twitter user, posting under username @upulie, suggested another time when women's voices can get to the "annoying area"—when they "speak their internalized misogyny."
Podcaster Patrick Hinds and writer Carey O'Donnell were quick to criticize on Twitter too.
"This is so stupid but after the first line I assumed it was going to be something TERFy but it was just some old school sexism," commented author Bec Shaw. They were referencing recent incidents involving J.K. Rowling, Macy Gray and Bette Midler who were all criticized for their Twitter comments on the trans community.
"Nope. Be yourself," wrote Femi Redwood who was speaking as an on-air journalist and managing producer of podcasts. She continued in response to Lynch's tweet: "Speak the way you naturally do. Diversity in media includes diversity of voices (literally)."
In response to her tweet, another user suggested that Ben Shapiro's voice also exists in the "annoying area" of being too high, to which 62-year-old Lynch agreed.
Another Twitter user, @DJJoeG, suggested some software for Lynch that adjusts the sound of a person's voice in post production. Lynch agreed with their sentiment and retweeted @DJJoeG.