Janet Yellen Hopeful Biden Relief Package Will Bring Back Full Employment in 2022
Treasury Secretary Janet Yellen said Friday that she hopes President Joe Biden's $1.9 trillion coronavirus stimulus package will help bring back full employment by 2022.
Speaking with PBS NewsHour, Yellen said the U.S. needs to "go big" with coronavirus relief in order to help get the economy back on track to pre-pandemic levels.
"It's a big [stimulus] package, but I think that we need to go big now, and that we can afford to go big," she said.
"And the most important thing is to get our economy back on track and help people get their lives back, in order to make sure that this pandemic doesn't permanently scar our work force. And I think this is what we need. I'm hopeful that, next year, with a package of this size, we can be back at full employment."
Yellen's comments came after Friday's announcement that the U.S. economy exceeded expectations by adding 379,000 new jobs in February. While Yellen said she was "pleased" with those numbers, she added that the unemployment rate is still running at about 10 percent.
"When you think about the pace, although 379,000 jobs in one month, it sounds like a lot," she said. "But, at that pace, it would take us more than two years to get back to full employment. And we're — we want to make sure that our workers get back to full employment, the state we had in the economy before the pandemic struck, a lot sooner than that."
"The package that the president and his advisers put together that's working its way through the Senate now was really geared to relieve the suffering of the American people," she added.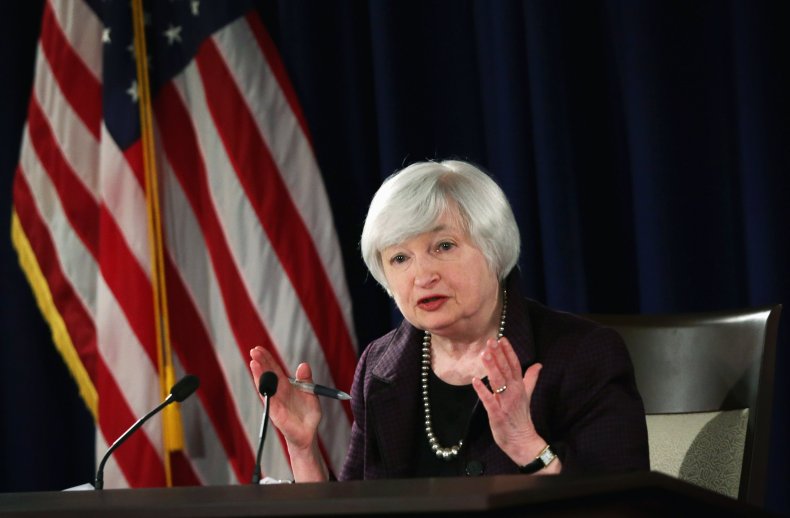 Biden's stimulus package, called the American Rescue Plan, was passed by the House of Representatives on February 26 and is now undergoing negotiations in the Senate.
The package has faced hurdles in the chamber split 50-50 down party lines, with progressive Democrats going head-to-head with moderate Democrats and Republicans over issues—including a $15 minimum wage, increased unemployment benefits, and direct stimulus payments.
Democrats have since agreed to tighten income thresholds for the next round of $1,400 stimulus checks, cutting checks for individuals making $80,000 and couples earning $160,000.
On Friday, Democrats reached another key comprise by reducing weekly unemployment benefits from $400 to $300, pushing the bill one step closer to approval.
Biden has signaled support for the compromise, according to a Friday statement from White House Press Secretary Jen Psaki.
"The President supports the compromise agreement, and is grateful to all the Senators who worked so hard to reach this outcome. It extends supplemental unemployment benefits into September, and helps the vast majority of unemployment insurance recipients avoid unanticipated tax bills," Psaki said in a statement obtained by Newsweek.
"Most importantly, this agreement allows us to move forward on the urgently needed American Rescue Plan, with $1400 relief checks, funding we need to finish the vaccine rollout, open our schools, help those suffering from the pandemic, and more," she added.
With the new compromise, voting on other proposals can now resume. The current negotiation process is known as "vote-o-rama," where senators can propose amendments to the relief package, needing only a simple majority vote to be added.
It is currently unknown when the final Senate vote will occur. At that point, the package will then return to the House to be approved.
Newsweek contacted the White House for additional comment, but did not hear back in time for publication.