Jan. 6 Rioter Admits to Taunting Police With Confederate Flag on Stick
A Maryland man pleaded guilty Tuesday to interfering with a law enforcement officer during the commission of civil disorder on January 6, 2021, when a mob of former President Donald Trump's supporters breached the Capitol.
The Justice Department said in a news release that 27-year-old David Blair "positioned himself between officers and the crowd and began to walk in the space while waving a Confederate battle flag attached to a lacrosse stick" after the Metropolitan Police Department ordered the crowd to move away from the Capitol building.
More than a year after the attack on the Capitol, investigators and prosecutors are still working to hold people to account, both those accused of participating in the riot and those accused of organizing it. On Monday, a U.S. judge ruled that Trump "more likely than not" committed a felony by allegedly trying to obstruct Congress, which had been working to certify President Joe Biden's election victory on January 6.
Overall, more than 775 people have been arrested across the U.S. in connection to the events on January 6, including more than 245 people who are facing charges for assaulting or impeding law enforcement, Newsweek has reported.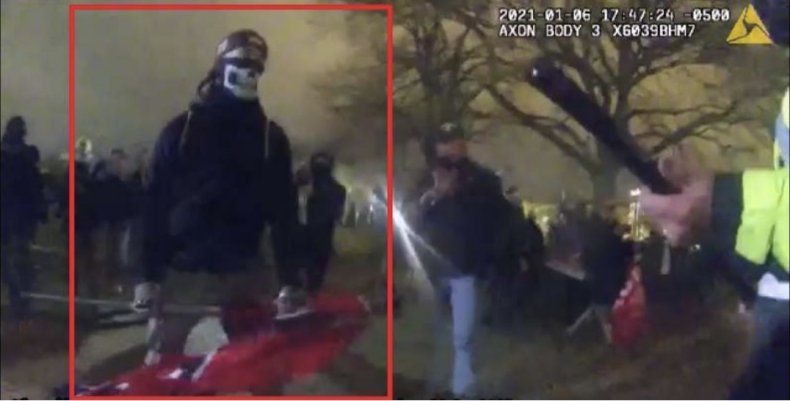 The Justice Department said that Blair, who is from Clarksburg, Maryland, was in a crowd that was illegally present on the Capitol's West Lawn on January 6 at about 5:45 p.m. Despite police ordering the crowd to "move back" away from the Capitol, authorities say Blair began walking around and waving the Confederate battle flag.
He encouraged other members of the mob to refrain from following law enforcement's orders, yelling a message along the lines of "hell naw, quit backing up, don't be scared."
When one officer pushed Blair back toward the crowd, he "jumped back, squared his body to stand in front of the officer, shouted, and thrust the lacrosse stick at the officer toward the chest area," the release said. After striking the officer, "several officers were able to restrain Blair on the ground using their batons," according to the Justice Department criminal complaint.
Blair was arrested on February 17, 2021, and is now scheduled to be sentenced on July 13. He faces up to five years in prison and a fine as high as $250,000, the release said.
The criminal complaint against Blair indicated that he was initially facing additional charges on top of the obstruction of law enforcement count. Those charges included assault on a federal officer, knowingly entering or remaining in any restricted building or grounds without lawful authority and physical violence on restricted grounds.
Blair's lawyer declined to offer any comments on the guilty plea to Newsweek.
Update 03/29/22 at 4:50 p.m. ET: This story was updated to show that Blair's lawyer declined to comment.