January Border Arrests Reached Its Highest Mark For That Month In A Decade
January marked the highest number of arrests at the U.S.-Mexico border compared to that same month in the past decade.
Authorities made about 78,000 arrests last month, according to updated data released this week by the U.S. Customs and Border Protection (CBP). The agency averaged about 3,000 arrests per day in January and has encountered an increasing number of attempts to cross the southwest border since the start of 2021.
"While CBP continues to experience an increase in attempted monthly border crossings as seen since last April, the uptick seems to be occurring in a small fraction of locations across the southwest border, which is consistent with trends in years past," CBP Senior Official Performing the Duties of the Commissioner Troy Miller said in a press release on Wednesday.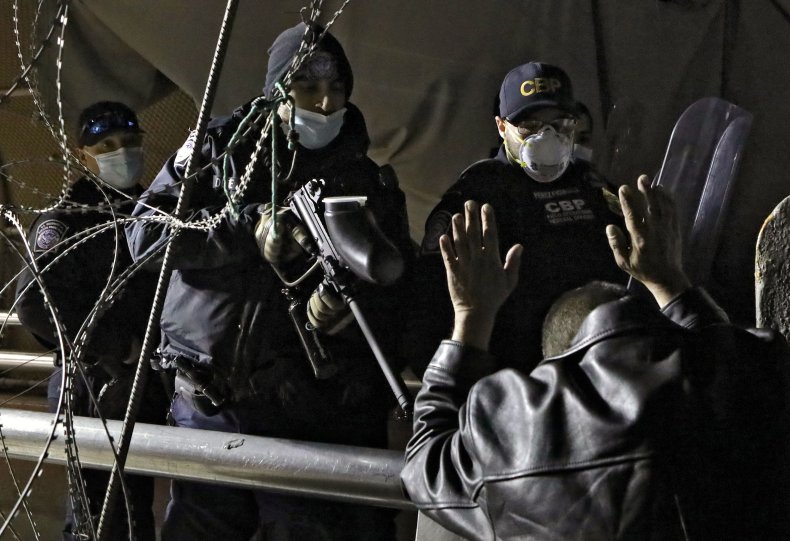 CBP accredited the uptick in arrests to "underlying crime and instability" in the migrants' country of origin. Deteriorating economic conditions have catalyzed a 6 percent increase in all "apprehensions, expulsions and inadmissible" from December to January, according to statistics. Single adult Mexican citizen encounters increased by about 119 percent from January 2020 to January 2021.
The new data comes as President Joe Biden is seeking to dismantle former President Donald Trump's immigration policies. Namely, Trump installed the Migrant Protection Protocols (MPP) policy, or the "Remain in Mexico" program, which sends tens of thousands of asylum-seekers back to Mexico to wait while their cases are processed.
An effect of "expelling" people back to Mexico under the MPP has been "recidivism," or repeat border crossings, the Associated Press reported. CBP statistics found that 38 percent of all encounters involved multiple apprehensions from March 2020 to February 2021, and most of the encounters occur between official entry points at the U.S. border.
The American Immigration Council also released a report in September which found CPB cited a recommendation from the Centers for Disease Control and Prevention to "prohibit... the introduction" of individuals when there is a threat of introducing disease to the U.S. in order to justify "expelling" individuals back to Mexico.
In its statement, CBP expressed it is "fully committed" to Biden's executive order on immigration, which includes a directive to the Secretary of Homeland to review the MPP program and legislation that would provide an eight-year path to citizenship for undocumented immigrants currently living in the U.S.
"The situation at the border will not transform overnight, due in large part to the damage done over the last four years," according to a White House statement released in January. The White House said on Wednesday that it "needs time" to put a "comprehensive process and system" in place at the southwest border.
"Now is not the time to come, and the vast majority of people will be turned away," White House press secretary Jen Psaki said in a press conference on Wednesday. "Asylum processes at the border will not occur immediately; it will take time to implement."
Conservatives have already pushed back on Biden's objective to repeal Trump's immigration policies. The new orders are "less safe, less prosperous and less free," according to a statement by conservative group Heritage Action earlier this month.
The urgency to cross the border is present now more than ever, though. The World Politics Review reported that mounting "turmoil" in Nicaragua, El Salvador, Guatemala and Honduras have proliferated violence and economic distress, prompting citizens to leave and seek employment and safety in the U.S.
Newsweek has reached out to CPB for comment.