Japan to Deploy Island Missile Defenses to Counter China Military Blockade
Japan's top defense official has confirmed plans to place an additional "500 to 600" missile defense personnel on one of its westernmost islands in the Pacific, in a move that will boost allied capabilities to counter China's area denial tactics within the first island chain.
Nobuo Kishi told reporters on Tuesday that the government was hoping to deploy anti-aircraft and anti-ship missile units to Ishigaki, which is part of Okinawa Prefecture and lies toward the end of the Nansei island chain—just 185 miles from Taiwan and even closer to the disputed Senkaku Islands.
Kishi said a timeline for the deployment had not been finalized, but the defense ministry is reportedly aiming for the end of 2022, reports Tokyo's Yomiuri Shimbun. The official said the feasibility of stationing additional electronic warfare units in Japan's westernmost inhabited island of Yonaguni was also being studied as part of the 2023 defense budget.
In April, Kishi visited Japanese troops on Yonaguni and remarked on how he could almost see the coast of Taiwan, which is less than 70 miles away.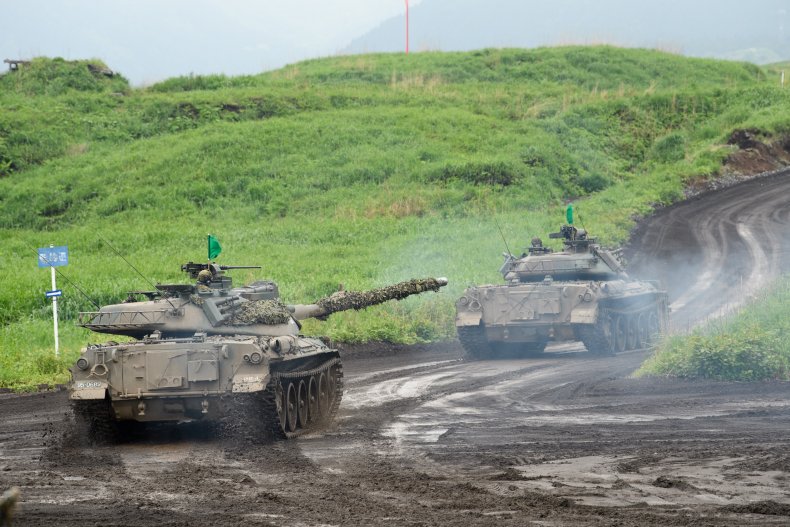 If the plans are realized, Japan will have bolstered the first island chain with further missile defenses on four Okinawa islands in the Western Pacific, including Miyako and the main Okinawa island where the majority of forward-deployed U.S. forces are stationed.
According to Yomiuri Shimbun, the additional ground forces are likely a direct response to China's expanding blue-water navy, which has sailed between the Miyako Strait in recent months and conducted drills in the Pacific.
A new unit will operate "surface-to-ship and ground-to-air missiles," while another "will handle the initial response phase in the event of a major disaster or armed attack," the paper said.
Analysts say China is developing what are known as anti-access and area denial (A2/AD) capabilities around first island chain choke points to prevent U.S. forces from intervening in a regional conflict, most likely over Taiwan.
However, as strategists predict Chinese carriers and warships will deploy to the east of Taiwan during a conflict rather than enter the narrow Taiwan Strait, Japan's own A2/AD capabilities could play a crucial role in preventing enemy vessels from reaching the Pacific.
On July 13, Japan's annual defense white paper raised serious concerns about Chinese coast guard activities around the Senkaku Islands, which Beijing also claims under the name Diaoyu. The document also made a historic first reference to the security of Taiwan.
In recent weeks, Tokyo has sent formal and informal signals suggesting the continuation of Taiwan's democracy is closely linked to its own national security. The Chinese Foreign Ministry has protested what it considers interference in its internal affairs.
On Monday, Kishi told the Financial Times that China was trying to "envelop Taiwan." He called on members of the international community to demand peace in the Taiwan Strait.
"Rather than a direct military collision between China and Taiwan, international society needs to pay greater attention to the survival of Taiwan," he was quoted as saying.