Japan Extends Quarantine for Some Countries Amid 'Strong Feeling of Unease' Over COVID Variants
Japan's government said Tuesday it will extend a quarantine period for travelers coming from India and other South Asian countries, citing a "strong feeling of unease" over coronavirus variants.
Travelers who have been to India, Bangladesh, the Maldives, Nepal, Pakistan and Sri Lanka within two weeks of arriving in Japan will be forced to quarantine in a designated facility for 10 days. An earlier mandate required travelers to quarantine for just six days.
During that period, travelers will be tested for the virus three times, Kyodo News reported. The government said it will also impose a new three-day quarantine period for travelers who have been to Kazakhstan and Tunisia, with a coronavirus test on the final day.
The quarantine mandates will mostly affect Japanese citizens, as the nation already moved to ban the entry of foreign nationals—including those with resident status—except under special circumstances.
"There is a strong feeling of unease among the Japanese people regarding coronavirus variants, so we have decided to further tighten border controls in order to protect their health and lives," Chief Cabinet Secretary Katsunobu Kato said Tuesday, according to Kyodo News.
The announcement comes as Japan is dealing with its fourth, and worst, spike in coronavirus cases. Beginning in late April, Prime Minister Yoshihide Suga declared a state of emergency for such areas as the Tokyo, Osaka, Kyoto, Hiroshima, Hokkaido, Aichi, Hyogo, Okayama, Fukoka prefectures. Restaurants and bars in those locations must now close at 8 p.m. and are barred from serving alcohol or offering karaoke.
As virus cases continue to rise, the nation is considering expanding the emergency order, which is set to expire on May 31, until June 20.
In Osaka, the nation's second largest city, hospitals have been hit the hardest, with intensive care units reaching full capacity and medical staff warning that the systems are on the brink of collapse.
"Simply put, this is a collapse of the medical system," Kindai University Hospital Director Yuji Tohda told Reuters.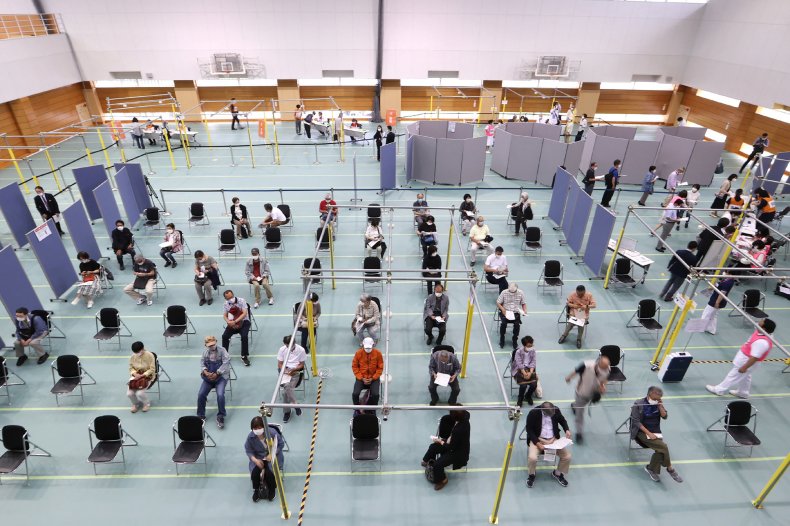 Although Japan's daily case counts have been low by global standards, with an average of about 4,800 new cases daily, the country has lagged in coronavirus vaccinations and has reported a recent increase in virus variants. Less than 5 percent of Japanese residents have received a first shot of a coronavirus vaccine, making Japan last among major developed nations in its vaccination campaign, the New York Times reported.
On Monday, the U.S. State Department issued a "Level 4: Do Not Travel" advisory for Japan, warning that even vaccinated Americans are at risk of getting or spreading the coronavirus amid the country's outbreak. The travel warning comes just two months before Japan is set to host the Tokyo Olympics, in July, raising questions about whether it can safely do so.
Akira Takasu, the head of emergency medicine at the Osaka Medical and Pharmaceutical University Hospital, warned that hosting the Olympics could bring in new, more contagious variants of the virus.
"In the Olympics, 70,000 or 80,000 athletes and people will come to this country from around the world. This may be a trigger for another disaster in the summer," Takasu told Reuters.
Thousands of doctors have called on the government to cancel or postpone the games, while several polls have indicated that much of the Japanese public would support such a move.
"Currently more than 80% of people want the Olympics to be postponed or cancelled. Who and on what authority is it being forced through?" SoftBank Group CEO Masayoshi Son tweeted over the weekend.