Japan may have had no top-level role in engaging North Korea on its nuclear weapons program, but its leader's landmark visit to Iran at a time of mounting frictions in the Middle East showcases the country's desire to forge a new leading role in international relations.
Japanese Prime Minister Abe Shinzo arrived Wednesday in Tehran in what was his country's first state visit there since the 1979 Islamic Revolution that ousted Iran's pro-West monarchy in favor of a Shiite Muslim leadership that has since shared a mostly hostile relationship with Japan's top ally, the U.S. Abe's trip came as Washington and Tehran's mutual enmity has threatened to escalate and, just prior to his departure, the leader said he hoped Tokyo could help to settle things.
"In the Middle East, there is concern over heightening tensions," Abe told reporters at Tokyo's Haneda Airport. "Japan aims to play as much a role as possible for peace and stability in the region."
Iranian President Hassan Rouhani echoed this desire for "peace and stability in the region" alongside Abe at Saadabad Palace, according to the Japanese leader's official Twitter account. Amid the pomp and ceremony surrounding the historic visit, however, questions remained as to what Tokyo could do to cool the heated dispute between Washington and Tehran, especially after being notably absent from a historic series of high-level meetings much closer to home.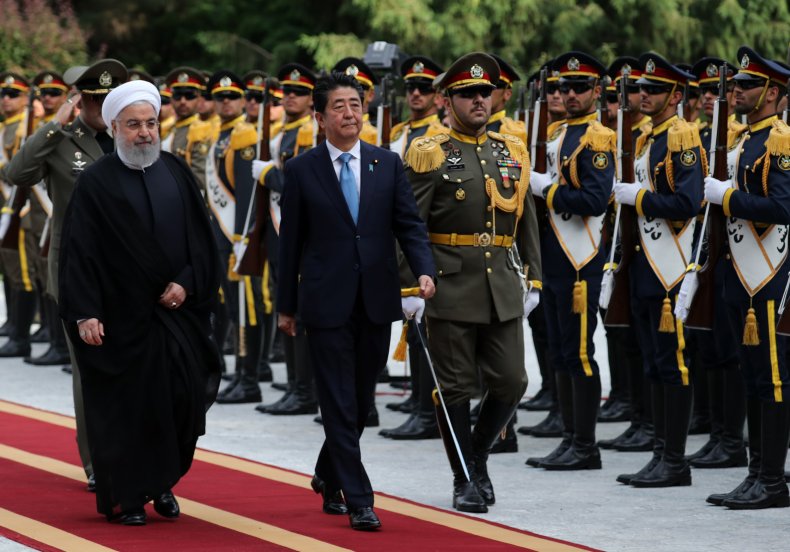 Trump's 2016 victory came as an upset to much of the international community, but Abe quickly saw an opportunity at the time, becoming the first world leader to visit the president-elect in his three-story New York penthouse just over a week after the election. Abe stood by Trump throughout the following year as a war of words erupted between the new president and North Korean supreme leader Kim Jong Un, who regularly threatened Japan and tested multiple missiles that flew near and above the close U.S. ally.
Regional dynamics shifted in early 2018, however, when Kim suddenly called for peace talks with South Korean President Moon Jae-in and Trump eventually came to join the process. Since then, every leader of the Six-Party Talks⁠—a failed framework to disarm North Korea's nuclear weapons in exchange for peace⁠ involving China, Japan, Russia, South Korea and the U.S.—have met with the North Korean ruler, except for Abe.
Devin T. Stewart, senior program director for the Carnegie Council's Asia Dialogues research and exchange program, explained to Newsweek that, unlike the other regional players, "Japan and North Korea lack political incentive to quickly convene a bilateral meeting."
For Pyongyang, Kim has felt little need to publicly engage Abe as he enjoyed a heightened diplomatic status boosted by multiple visits abroad. He has already implemented an informal pause on nuclear tests and longer-range missile testing and, as Stewart argued, "with shorter-range missile tests not on the table, North Korea only stands to lose if that's something Abe wants" as Japan remains within the range of these weapons that Kim reportedly resumed firing as of last month.
On the other hand, Tokyo's main obstacle has been the issue of at least 17 of up to potentially 800 Japanese nationals allegedly abducted by North Korea in the late 1970s and early 1980s. While Abe recently signaled a shift in position by suggesting he may meet Kim even if the issue was not explicitly on the agenda, Stewart noted that "if Abe doesn't think he can guarantee any sort of win, it's politically very risky."
It may come as a surprise to some then that Abe would choose to travel to Iran, a nation whose relationship with the U.S. has taken a near-opposite trajectory than that of North Korea in recent years. However, the international community has largely stood by the Islamic Republic in its recent dispute with the U.S. and, despite Tokyo's intimate ties with Washington, Japan has long seen this feud as an opportunity in using its position to demonstrate itself as a capable mediator.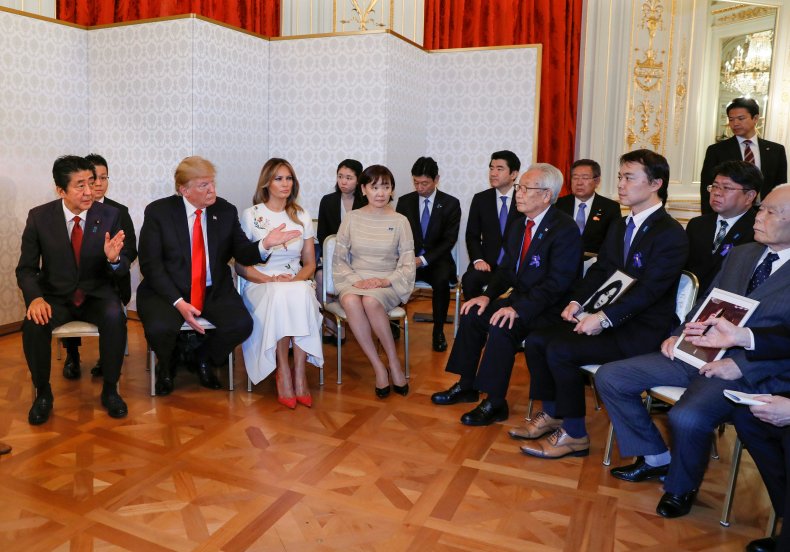 Japan was not a member of the 2015 nuclear deal signed by the U.S. and Iran, alongside China, the European Union, France, Germany, Russia and the United Kingdom, but nonetheless supported it and continued to do so even as the Trump administration abandoned the agreement last year. Trump felt the deal did not go far enough to restrict Iran's alleged support for militant groups and its ballistic missile development, so he withdrew from the deal last year and re-imposed major sanctions designed to restrict Iran's ability to business abroad, including with Japan.
Japan was among the eight countries granted a temporary waiver exempting it from U.S. sanctions, but this recently expired, forcing Tokyo to adhere to Washington's unilateral policy in spite of its own energy needs being largely dependent on foreign oil, including that which comes from Iran.

This will surely be a major talking point as Abe meets with Rouhani and Iranian supreme leader Ayatollah Ali Khamenei, who has grown increasingly skeptical of the nuclear deal and any further negotiations with the U.S. and European powers. Both Trump and Khamenei have downplayed the prospects of a conflict between their nations, but neither has proved willing to restart talks, leaving Tokyo in a difficult position in convincing either to budge.
Still, Abe's visit was endorsed by Trump. He spoke with Abe by phone shortly before the trip and acknowledged during a news conference alongside the Japanese leader last month that Abe is "very close with the leadership of Iran." The president simply said "if they'd like to talk, we'd like to talk also," leaving it unclear whether or not Abe carried with him any concrete offers that may give substance to Tokyo's growing bid to be seen as an international beacon of conflict resolution.
"Japanese officials would like to see Japan as playing a constructive role in the name of world peace," Stewart told Newsweek, calling it a "very positive" development. "I hope the U.S. can support that and take advantage of it."