Dispute Between U.S. Allies Japan and South Korea Threatens Cooperation on North Korea
The United States and North Korea have embarked on an unprecedented path toward peace, but as negotiations begin to slow down, a rift between two of Washington's closest Pacific allies could present a major spoiler to realizing peace in the region.
Conservative Japanese Prime Minister Shinzo Abe was one of the most enthusiastic world leaders to congratulate President Donald Trump upon his surprise election victory two years ago and became the first head of state to visit him at Trump Tower only days later. These ties have grown strained at times, however, as Trump abandoned a Pacific trade deal and pursued a widely-unexpected overture toward North Korea—which has continued to threaten Japan near-daily in spite of warming up to the U.S. and South Korea.
In a stark contrast to the "fire and fury" threats lobbed last year, Trump appears to have adopted a softer tone more similar to that of South Korean President Moon Jae-in, a liberal politician also not shy to express his newfound affection for North Korean supreme leader Kim Jong Un. As the contemporary courses taken by Seoul and Tokyo diverge, an old wound from their painful history was recently reopened by South Korea's highest judiciary.
South Korea's supreme court ruled late last month that Japan's Nippon Steel and Sumitomo Metal Corporation was responsible for paying out 100 million won ($87,700) for the wages of four South Korean workers who have argued they were conscripted to work without pay during the period of Japanese occupation in the first half of the 20th century. Tokyo argues such cases were covered by a 1965 treaty and has reacted with indignation to what officials are calling a major mistake at a time when regional allies needed to work together to navigate the North Korean issue.
"This is very untimely, very unacceptable and deeply regrettable," Masaru Sato, the deputy consul general of Japan told Newsweek. "We are requesting immediate action by South Korea, but if appropriate measures are not taken, we are considering all options."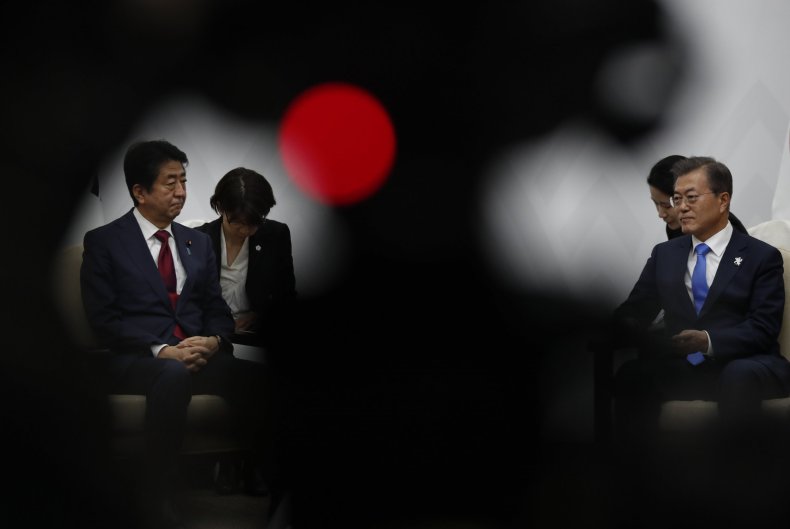 Since the end of World War II, Japan and South Korea have both been U.S. allies, but they share a difficult history that predates that fateful conflict. In 1910, the Japanese Empire took control of the then-unified Korean Peninsula and ultimately incorporated it into its Greater East Asia Cooperation Sphere, an array of territories under Japanese occupation or influence that spanned much of Southeast, East and Northeast Asia at its height in 1942.
As the war dragged on and a Pacific front was opened between the U.S. and Japan in the wake of Pearl Harbor, demand for labor grew in the Japanese Empire. Men were conscripted for work from various countries, including Korea, China and the Philippines, though Tokyo has often challenged South Korean figures estimating up to 150,000 men were requisitioned, of which around 5,000 are alive today. At this same time, a number of women were forced to work in brothels and became known as comfort women. Both practices were put to a stop with Japan's defeat at the hands of the U.S. in 1945.
Japan itself was then occupied by the U.S., as was the southern half of the Korean Peninsula. The northern half came under the control of the Soviet Union, which had launched its own offensive toward Japan and may have invaded if it were not for the U.S. decision to launch two atomic bomb attacks against the Japanese cities of Hiroshima and Nagasaki, forcing an early Japanese surrender. Only five years after the end of the deadliest war in history, conflict again broke out in Northeast Asia when North Korea and South Korea fought one another, ending in a 1953 stalemate.
With communist powers the Soviet Union and the newly-established People's Republic of China backing North Korea, the U.S. invested heavily in South Korea and Japan, but the two still needed to settle their wartime differences. Neither Seoul nor Pyongyang were signatories to the 1951 Treaty of San Francisco that ended U.S. occupation of Japan, meaning neither were granted reparations for Japanese war crimes. In 1965, however, the Treaty on Basic Relations between Japan and the Republic of Korea was signed, with the former granting the latter $500 million in economic cooperation in order to settle their dispute "completely and finally."
While the comfort women issue has surfaced from time to time over the years as have other longstanding disputes involving disputed islands and imperial flags, those who claimed compensation for requisitioned labor, referred to by Japan as "former civilian workers from the Korean Peninsula," have remained held up in South Korean courts—until now.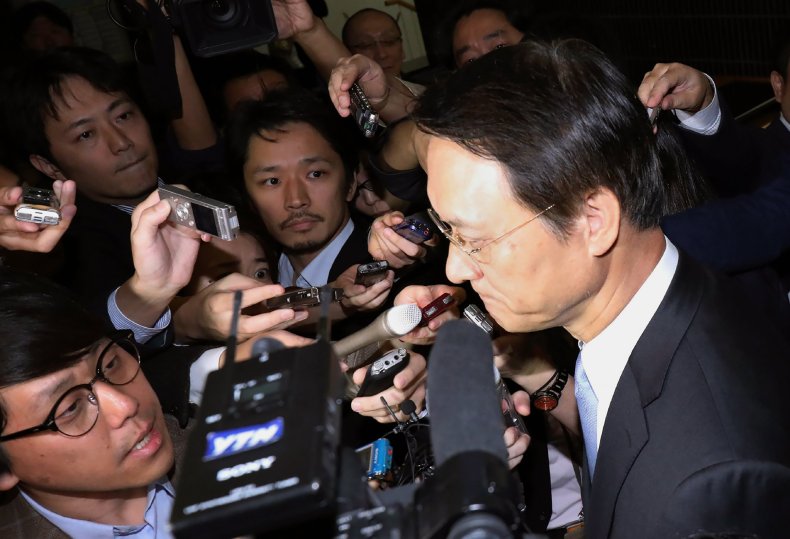 On Monday, officials from the Nippon Steel and Sumitomo Metal Corp. refused to meet with two lawyers and activists that visited the company's headquarters in Tokyo and instead sent a representative to read a note, saying: "We can't accept the South Korean court order. We regret to see the ruling. We will deal with it according to diplomatic situations," according to South Korea's official Yonhap News Agency.
In addition to drawing the ire of Japan, South Korea's court decision has opened a new nexus for burgeoning inter-Korean ties. In a commentary published Tuesday, North Korea's official Korean Central News Agency argued that "Japan is obliged to make a sound apology and national reparation to the Korean people for its crime-woven past when it inflicted the loss of manpower and mental and physical damage upon them."
"Japan can never evade the responsibility for atoning for its past and it should not avoid the atonement for its past," it concluded. "It is the will of the Korean nation to make it pay dearly for the past heinous crimes without fail even generation after generation."
While Japan and South Korea are united in calling for North Korea's denuclearization, Moon and Kim's sudden detente has prioritized establishing diplomatic relations and reducing military tensions between the two. First on Tokyo's agenda, however, is settling the cases of up alleged North Korean abductions of Japanese citizens, 17 of which the Japanese government has said it confirmed out of potentially more than 800.
Abe recently appointed Japanese Chief Cabinet Secretary Yoshihide Suga as abductions minister and, after a meeting Tuesday between the prime minister and Vice President Mike Pence, Trump's deputy said the pair reaffirmed their "close collaboration for the early solution of the abduction issue, which is of the highest priority for Japan." Days earlier, a commentary in North Korea's ruling Korean Workers' Party official newspaper Rodong Sinmun accused Abe and Suga of using the abductees issue "to cover up the unethical crimes including sexual slavery for the Imperial Japanese Army."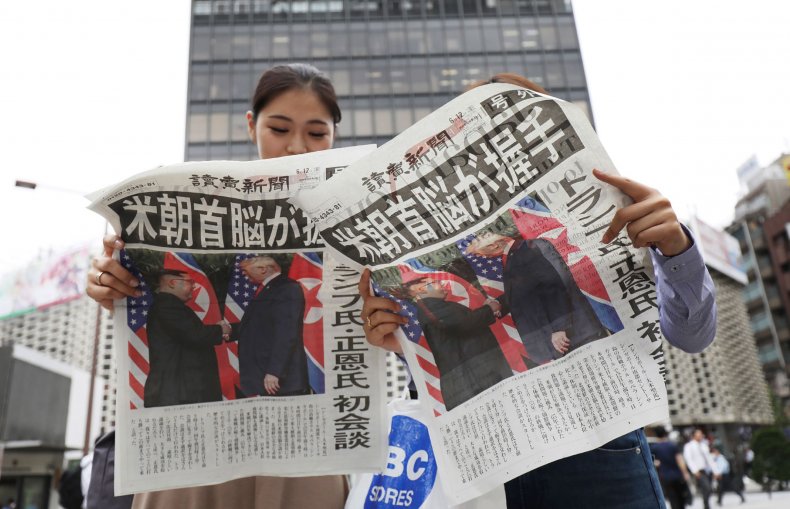 As Tokyo watches on while Moon, Trump and Chinese President Xi Jinping hold summit after summit with Kim, Sato said that "Japan believes it is about time to directly talk with the North at the top level," most importantly to settle the issue of abductees. Such a step would be the latest sign that Tokyo was looking to assert itself on the world stage.
Japan has increasingly acted on its regional interests, extending as far as the South China Sea. The endeavor has been criticized not only criticized by North Korea, but by China as well. Using a phrase coined by Abe and cited by Pence during their recent meeting, Japan has campaigned for a "Free and Open Indo-Pacific," a strategy to enforce maritime freedom and protect trade. Its relevance to the U.S. was reflected by the Pentagon's historic decision in May to rename its U.S. Pacific Command to the U.S. Indo-Pacific Command.
The U.S., seeing vital interests attached to both sides, has been hesitant to weigh in directly on the dispute between Japan and South Korea, especially at a time of such high-stakes diplomacy with North Korea. In a statement sent to Newsweek by the State Department, a spokesperson said the U.S. has "long encouraged all parties to work together and approach sensitive historical issues in a way that will promote healing, reconciliation, and mutual trust."
"We welcome all efforts to pursue a strong relationship between Japan and the Republic of Korea," the spokesperson added.
This article has been updated to reflect that the economic assistance granted by Japan to South Korea in 1965 was $500 million, while an additional $300 million was granted in private loans.