China and North Korea Warn Japan as It Conducts Historic Military Drills
China and North Korea have warned their mutual rival Japan against disrupting regional stability as it conducted two historic military exercises seen as provocative by the two countries.
The Japanese Defense Ministry confirmed Monday that its Oyashio-class attack submarine Kuroshio participated alongside Izumo-class helicopter carrier Kaga, Murasame-class destroyer Inazuma and Akizuki-class destroyer Suzutsuki, as well as five aircraft, Thursday in the country's debut drills in the South China Sea, much of which China claims as its own territory. The release did not offer further details about the training, but Japanese newspaper Asahi Shimbun cited defense officials as saying the moves were aimed at China and took place within the nine-dash line, which is considered by Beijing to be the extent of its sovereign maritime borders.
Chinese Foreign Ministry spokesperson Geng Shuang replied to a reporter's question about the exercises that same day. He first touted the "stabilized" situation in the South China Sea, where China remains in talks with a number of Association of Southeast Asian Nations (ASEAN) that dispute its region claims. Geng then issued a warning without mentioning Japan by name.
"We urge the relevant non-regional country to respect the efforts made by the regional countries to peacefully resolve the South China Sea issue through dialogue, act cautiously and refrain from doing anything that will undermine regional peace and stability," Geng told reporters.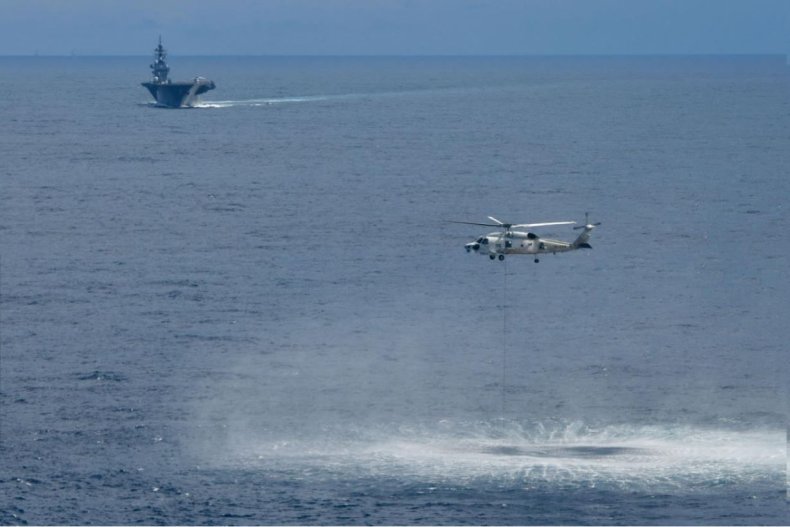 Despite its post–World War II constitutional commitment to pacifism, Japan has amassed a powerful modern military, and has sought to boost its capabilities in recent years as it grew concerned over China and North Korea's regional activities. Unlike ASEAN members Brunei, Malaysia, Indonesia, the Philippines, Taiwan and Vietnam, Tokyo has no stake in the South China Sea, but it does control the East China Sea's Senkaku Islands—known in China as Diaoyu Islands, in Taiwan as Diaoyutai Islands and in English as Pinnacle Islands—which Beijing and Taipei lay claim to as well.
Japan also has joined the United States, its top military ally, in seeking a harder line against Chinese military activities in the South China Sea, where the countries accuse Beijing of setting up secret bases on a series of internationally contested islets and reefs known as the Spratly Islands. The U.S. sent a number of patrols to the region, claiming freedom of navigation, and China accused them of trespassing and defended its construction practices by asserting its sovereignty over the land formations.
China was joined by its longtime ally North Korea in criticizing Japan's South China Sea operations when they were announced last month. While North Korea also had no claim to the South China Sea, the Japanese navy's ongoing maritime military tour included joint maneuvers with the U.S. Navy, whose extensive presence in the Asia-Pacific was opposed by both Beijing and Pyongyang. The official Korean Central News Agency said that "Japan has to pay for its acts of destroying peace."
On Saturday, North Korea's government-controlled media again censured Tokyo over another military display, this time its largest-ever live-fire demonstration conducted last month near Gotemba, Shizuoka Prefecture. Minju Joson, the official newspaper of North Korea's cabinet, called Japan "a defeated nation and war criminal state," arguing that its action proved that it "is the goal of Japan to bolster its military muscle until it is strong enough to invade and occupy other countries once an opportunity is presented."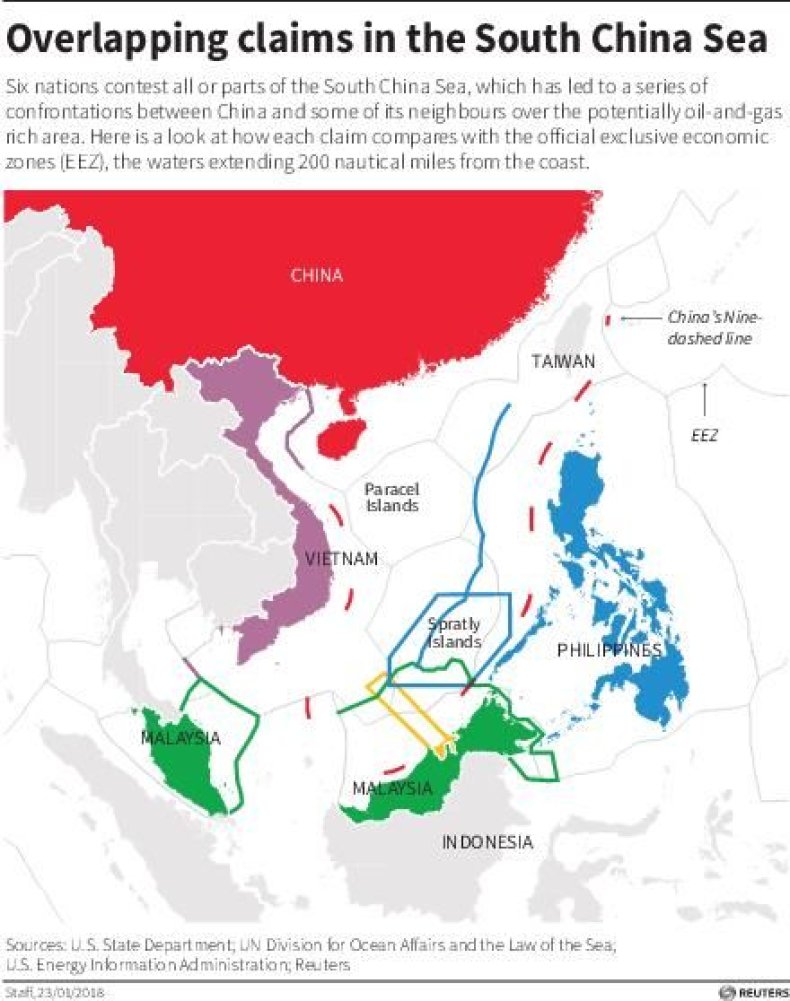 For decades China and North Korea shared a socialist bond and a common bitterness for how they were treated under Japanese occupation before and during World War II. North Korean supreme leader Kim Jong Un, who came to power after his father's death in 2011, however, has been more resistant to Chinese influence over his country, though he complimented a historic push for peace with U.S.-backed South Korea by visiting Chinese President Xi Jinping three times this year in a sign of strengthening ties.
China agrees with the U.S. and other leading powers in calling for North Korea's denuclearization, which Kim has agreed to in exchange for peace with the U.S. However, Beijing sought to limit Washington's influence in the region while Trump threatened to escalate a trade war between the world's two leading economic powers. To counter the U.S., China has increasingly teamed up with Russia and devoted thousands of troops to conduct massive ongoing war games, billed as Moscow's largest since 1981, in various venues, including the Sea of Japan.