Who Is Tetsuya Yamagami? Suspected Shinzo Abe Assassin Had Homemade Gun
Details are emerging of the man who has been arrested in connection to the death of former Japanese Prime Minister Abe Shinzo, who was shot while speaking at a political campaign event.
Security officials tackled the alleged gunman who made no attempt to run from the scene of the shooting which took place on Friday morning in the southern city of Nara, around 300 miles from the capital Tokyo. His weapon, reportedly a handmade gun, in a country with some of the world's strictest gun laws, was seized.
The suspect has been named locally as Nara resident Tetsuya Yamagami, a 41-year-old who was a member of the Japanese Maritime Self-Defense Force for three years. While there, Yamagami had received live-firearms training, The Asahi Shimbun newspaper reported, citing the Japan Ministry of Defense.
While there is no confirmation of motive, local media reported that he had told police he was "dissatisfied" with the former premier and had "aimed to kill him," according to a translation of an NHK report.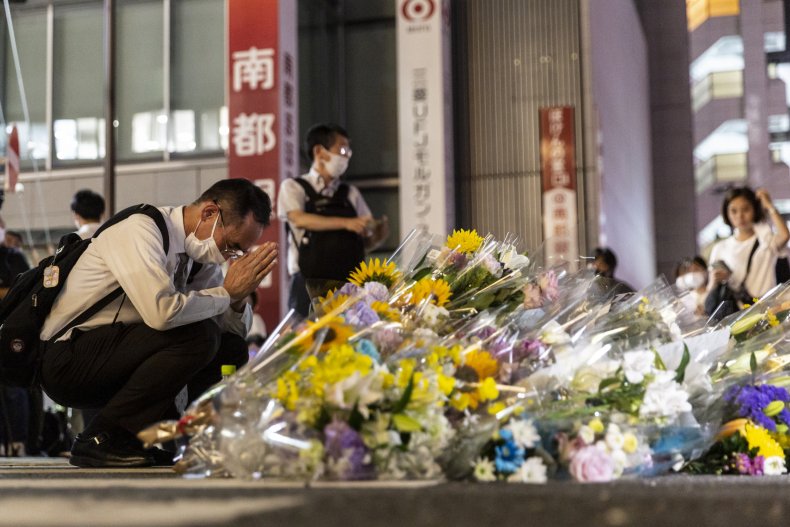 However, he also reportedly said he did not have a "grudge" against the former prime minister's political beliefs. Police found possible explosive devices in a search of his home where controlled explosions were to be carried out by bomb disposal experts.
Eyewitnesses said they saw a man with a weapon firing twice from behind Abe who fell to the ground as bystanders screamed. A Kyodo News reporter at the scene saw the attacker silently approach Abe, before shooting him.
Despite Abe's security detail, the suspect was reportedly within only a few feet of the former prime minister without any checks. An image taken by Reuters moments before the attack showed the alleged gunman standing behind the ex-premier in a gray t-shirt with a black bag.
During a news conference at Nara Medical University Hospital, doctors said Abe had received two bullet wounds to his neck, about one inch apart, and also suffered damage to his heart.
While conscious and responsive after the attack, the 67-year-old's condition then deteriorated. Despite efforts to save him, including a transfusion, he died of blood loss within five hours.
Abe held office in 2006 and from 2012 to 2020, making him Japan's longest-serving prime minister. He had been on the stump for a fellow politician from the ruling Liberal Democratic Party (LDP) ahead of the country's upper house elections taking place on Sunday.
Current Prime Minister Fumio Kishida paid tribute to Abe as "a dear friend who loved this country" and said that for him to die in such a way was "absolutely devastating."