Japan's Abe Contradicts Trump on North Korea Ballistic Missile Tests, Still Agree on Trade Deal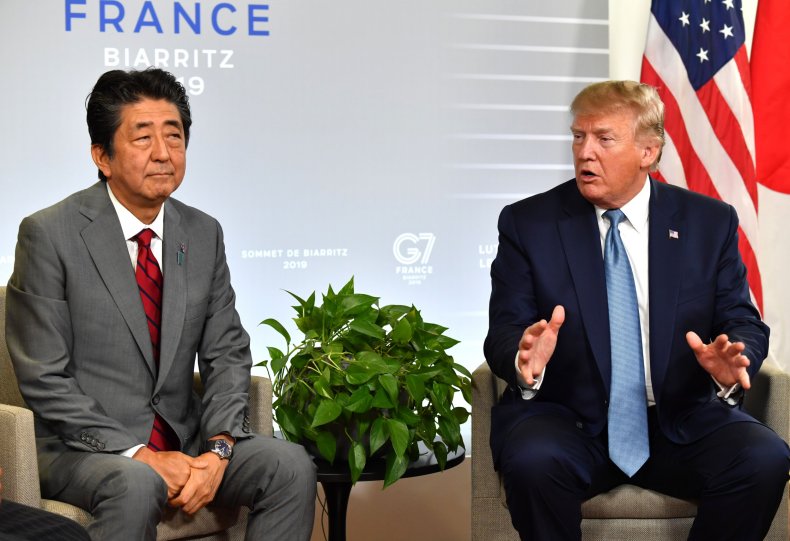 President Donald Trump met with Japanese Prime Minister Shinzo Abe Sunday to discuss the terms of a new trade deal. By all accounts, negotiations went well, but the outcome of the talks has been somewhat overshadowed by conflicting statements the leaders made to reporters regarding North Korean missile tests on their way into the meeting.
Abe and Trump are in southwestern France this weekend attending the annual G7 summit. At a press conference ahead of their meeting this morning, the pair started off on a friendly note. Abe congratulated Trump on the birth of his tenth grandchild and Trump reciprocated by complimenting Abe's golf game and waxing on about the Japanese golfer Matsuyama.
The tone quickly shifted once reporters offered their questions, as the president balked at the first question, "Have you agreed on a trade deal?"
"We're working on one, and we're fairly close. And I don't know as to, Bob Lighthizer, what's happening." The president replied, calling on U.S. Trade Representative Robert Lighthizer to answer the question.
The president fielded questions about Russia and Iran before the subject turned to North Korea.
"Are you concerned at all about North Korea conducting more tests?" a reporter asked Trump, referring to the reclusive nation's determination to develop a nuclear weapons program.
"I'm not happy about it. But, again, he's not in violation of an agreement. We speak. I received a very nice letter from him last week. We speak." The president replied, adding "He was upset that South Korea was doing the 'war games,' as you call them. I don't think they were necessary either, if you want to know the truth."
Asked whether he would have another meeting with North Korean leader Kim Jong Un, Trump said he would "probably have one" and added that he was "not liking short range [missiles] because short range is Shinzo's — you know, it's really his territory."
He continued, "I mean, I'd like to ask, Shinzo, how do you feel about North Korea and the testing of short-range missiles?" He then answered on the Japanese prime minister's behalf, adding, "He's not thrilled."
Speaking for himself, Abe countered Trump's version of North Korea's actions. "So, our position is very clear: That the launch of short-range ballistic missiles by North Korea clearly violates the relevant U.N. Security Council resolutions. So, in that sense, it was extremely regrettable for us to experience another round of the launch of the short-range ballistic missiles by North Korea in recent days."
Despite the different perspectives, both men assured the assembled press that they are, in fact, "on the same page" regarding North Korea. Abe emphasized the point "I would like to underscore that I fully support the U.S.-North Korea process 100 percent."
A few hours later the two teams emerged from successful negotiations with Trump announcing that a trade deal was imminent. "We've agreed to every point and now we're papering it and we'll be signing it at a formal ceremony," the president told reporters.
The deal will see Japan pick up some of the U.S. agricultural exports that China no longer purchases as a result of the ongoing trade war. The president said the deal will likely be signed during the United Nations General Assembly in September.
While the president said the two countries have "agreed to every point," Prime Minister Abe specified that they "still have some remaining work that has to be done at the working level."