Democrats are investigating the Trump administration's plans to sell nuclear technology to Saudi Arabia, according to a congressional memo released Tuesday.
A 24-page report from the House oversight committee noted that there are serious misgivings about the Trump administration's plans to build nuclear power plants across Saudi Arabia, a move some say could put U.S. national security at risk.
The U.S. government is prohibited from transferring nuclear technology to a foreign country that could be used to make a nuclear weapon, unless it has approval from Congress. The oversight committee report says it is possible the Trump administration was looking to flout those laws. Whistleblowers who reached out to Congress raised concerns about potential legal and procedural violations.
Lawmakers are now asking whether President Donald Trump is putting the financial interests of his allies ahead of U.S. national security.
"The Trump Administration's interactions with Saudi Arabia have been shrouded in secrecy, raising significant questions about the nature of the relationship," reads the memo, drafted by House oversight committee Chairman Elijah Cummings's team and released Tuesday.
"Within the United States, strong private commercial interests have been pressing aggressively for the transfer of highly sensitive nuclear technology to Saudi Arabia—a potential risk to U.S. national security absent adequate safeguards," the memo continued. "These commercial entities stand to reap billions of dollars through contracts associated with constructing and operating nuclear facilities in Saudi Arabia—and apparently have been in close and repeated contact with President Trump and his Administration to the present day."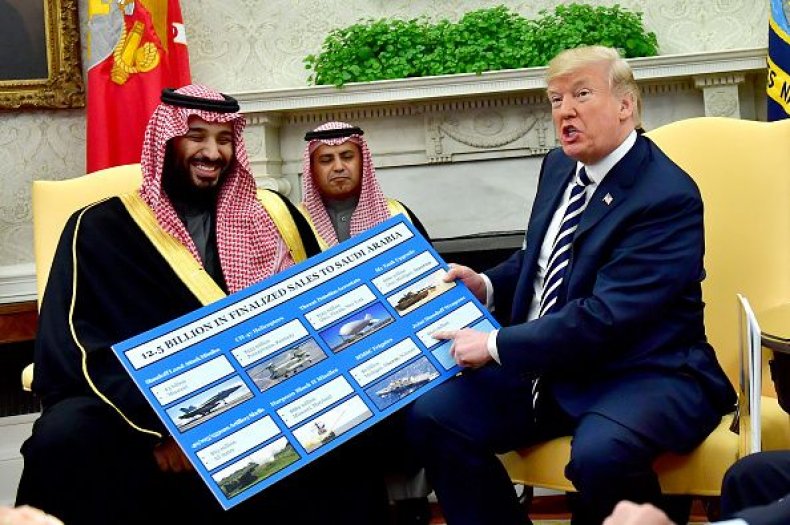 The investigation into the Trump administration's plans for the Gulf kingdom is being launched after Russia and Saudi Arabia signed a nuclear cooperation agreement, and as much of the international community questions its relationship with Saudi Arabia in the wake of the brutal killing of Saudi journalist Jamal Khashoggi.
The Trump administration's plan was allegedly called "the Middle East Marshall Plan" and would have been implemented by the company IP3, a consulting company focusing on partnerships between the public and private sectors. Trump's former national security adviser, Michael Flynn, who has pleaded guilty to lying to the FBI about his contacts with foreign governments, consulted for IP3 and was originally behind the plan.
The Trump inauguration committee chairman, Thomas Barrack, a longtime ally of Trump who has close ties to Saudi Arabia and other Gulf states, was meant to be a special representative for the plan, according to the memo.
Barrack has emerged as a key figure linking Trump associates to Saudi Arabia. Speaking in Abu Dhabi, United Arab Emirates (UAE), last week, Barrack publicly defended Saudi Arabia and downplayed the significance of the death of Saudi journalist Jamal Khashoggi, who was killed after entering the Saudi consulate in Istanbul this past October.
Members of Congress, the U.S. intelligence community and members of the international community have all said that Saudi Arabia's young crown prince, Mohammed bin Salman, was behind the killing. But Trump has continued to cast doubt on that assessment.
Barack was reportedly instrumental in introducing key members of the Saudi regime to Trump's son-in-law, Jared Kushner. The Saudi leader later reportedly bragged that he had Kushner "in his pocket."
One of the power plant manufacturers involved in the potential nuclear power project in Saudi Arabia, Westinghouse Electric, is a subsidiary of Brookfield Asset Management, a company with deep ties to the Gulf states that purchased a property from Kushner's family when it couldn't find an alternative investor. The Kushner property at 666 Fifth Avenue in Manhattan was deeply in debt and widely viewed as a bad investment. Kushner is currently acting as Trump's envoy to the Middle East.
"It just goes to show that Barrack, despite his last role being the Trump inauguration campaign chair, is still intimately involved with Trump and his administration," Katie Phang, an MSNBC legal analyst, told Newsweek. "It's not like he said 'peace out' after he was done raising $107 million. He's still involved, it's just his name keeps popping up. And it's not a surprise that it's involving the Saudis and the UAE because that's his newest sweetheart. He went from Qatar to these guys."
Federal prosecutors in Manhattan subpoenaed Trump's inaugural committee last week and asked for documentation about any foreign donors.
The congressional memo released Tuesday alleges that the Trump administration ignored the concerns of former White House national security adviser H.R. McMaster and pursued the project as recently as last week. Some members of Congress say that the plan raises questions about whether the Trump administration is working in the interest of foreign powers.
In a statement Tuesday, House intelligence committee Chairman Adam Schiff said: "For the last two years, our committee has been concerned about allegations that the President and his advisors have been beholden to or sought to advance interests other than those of the American people, and that U.S. policy is being adversely impacted. The disturbing issues raised by credible whistleblowers in Chairman Cummings' report go to the heart of these concerns."
Schiff continued: "The report provides alarming evidence that, despite the best efforts of dedicated career officials and certain senior members of the Trump Administration, including National Security Advisor H.R. McMaster, particular advisors of the President appear to have sought early in the administration to provide sensitive nuclear technology to Saudi Arabia by circumventing the established process and requirements mandated by Congress. They did so despite repeated admonitions by government lawyers that they should cease their efforts."
The White House did not immediately respond to requests for comment.