Jared Kushner Won't Return to White House if Trump Wins in 2024: Navarro
Jared Kushner will not be asked back to serve in the White House should his father-in-law Donald Trump win the 2024 election, according to Peter Navarro.
Navarro, a former trade adviser in the Trump administration, suggested that the man who worked as a White House advisor along with his wife, the former president's eldest daughter Ivanka Trump, had "talked himself out" of a return to any future Trump administration.
Navarro made the statement in an interview with Newsweek while discussing his upcoming book, Taking Back Trump's America: Why We Lost the White House and How We'll Win It Back.
The book gives a scathing account of life in Trump's Cabinet, including heavily criticizing a number of people who worked in the White House, such as Treasury Secretary Steven Mnuchin, Trump's first Chief of Staff Reince Priebus, and Trump's former top economic adviser Gary Cohn.
Kushner was a senior White House adviser who Navarro lists as being a key part of the "bad personnel" he says cost Trump the last election. Throughout the book, Navarro describes Kushner as the "clown Prince himself," "Rasputin in training," and a "rich, run-of-the-mill liberal New York Democrat cum slumlord with a worldview totally orthogonal" to Trump's.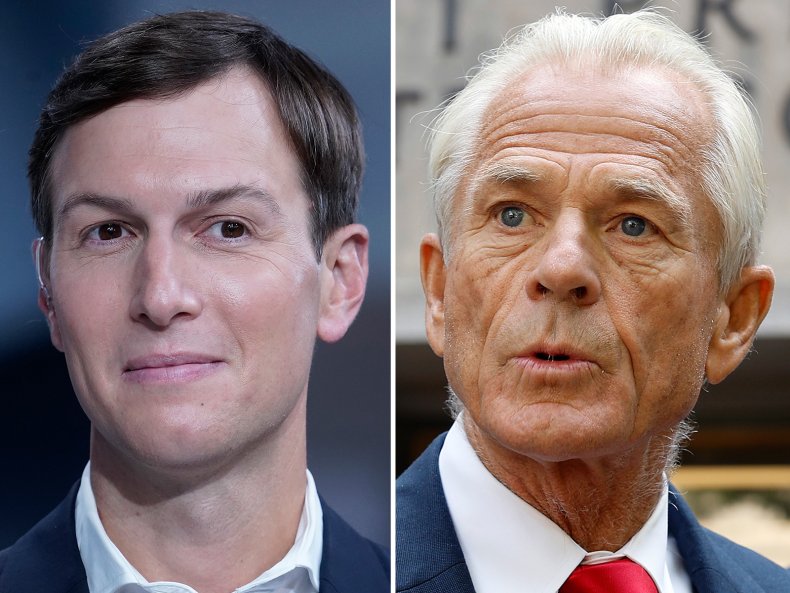 Navarro said he is not worried about any potential backlash for his heavy criticism of Trump's picks for White House roles—including members of the former president's own family—and dismissed suggestions Kushner may return to the fold once more.
"Jared Kushner, the young son-in-law who had no business being there to begin with, made many mistakes across a wide range of issues, whether it was China, the pandemic or ultimately running the worst campaign in presidential history," Navarro told Newsweek.
"Kushner's not gonna get anywhere near the White House on a formal basis. Not gonna happen. He's talked himself out of that with his post-first term dealings with foreign entities who are giving a bunch of money for his hedge fund."
Navarro appeared to be making reference to reports Kushner received a major investment of around $2 billion for his private equity firm from a fund led by Saudi Crown Prince Mohammed bin Salman six months after leaving the White House.
Navarro said he is not thinking about whether he will be asked to return should Trump win in 2024.
"This whole situation this country finds itself in is bigger than all of us," he said. "It's gonna take a team effort with Trump at the head. It's gonna take thousands of people to turn the ship around, so don't worry about me."
Elsewhere in his book, Navarro says that Trump sought to remove Kushner from leading his 2020 re-election campaign and replace him with Steve Bannon, who spearheaded Trump's successful 2016 campaign.
Trump is said to have asked Bernie Marcus, a prominent GOP donor, to tell Kushner himself as the former president did not want to do it personally. Navarro wrote that Kushner refused to step down, first by refusing a call with Marcus and then insisting "things were fine" with the campaign.
"And that was that. And the rest is a catastrophic strategic failure," Navarro wrote.
Speaking to Newsweek, Navarro said he is not concerned that Trump has not publicly confirmed the claims made in his book after they were first reported by The Guardian.
"It is what it is and that's what happened," Navarro said. "I was there when it happened. I escorted Bernie Marcus and [his assistant] Steve Hantler into the East Wing. They went up and saw the boss and they left with the mission.
"Somebody wants to dispute the claim, go ahead. But nobody's disputed it."
Both Bannon and Navarro were charged with contempt of Congress after refusing to comply with a subpoena issued to them by the House select committee investigating the January 6 Capitol attack.
In July, Bannon was found guilty of two counts of contempt of Congress, with Navarro due to stand trial in November on similar charges.
Navarro said that he "focused right now on the mission" instead of his upcoming trial.
"The mission is taking back the House from Nancy Pelosi and her merry band of partisan constitutionalists," he told Newsweek.
Newsweek has reached out to Kushner for comment.
Taking Back Trump's America: Why We Lost the White House and How We'll Win It Back will be available on September 20.