Steve Bannon is seeking the Department of Justice (DOJ) to hand over records explaining why former White House Chief of Staff Mark Meadows and ex-Deputy Chief of Staff Dan Scavino escaped prosecution for not fully complying with their congressional subpoenas, whereas he was charged over similar offenses.
Bannon, a former White House adviser, was the first of Donald Trump's inner circle to face criminal charges for refusing to cooperate with the subpoena issued to him by the House Select Committee investigating the January 6 attack on the U.S. Capitol.
Bannon is due to stand trial on charges of contempt of Congress and refusal to produce documents to the select committee after his argument that he couldn't comply because of executive privilege was thrown out.
Peter Navarro, a White House trade adviser under the former president, was also charged with contempt for refusing to comply with the subpoena.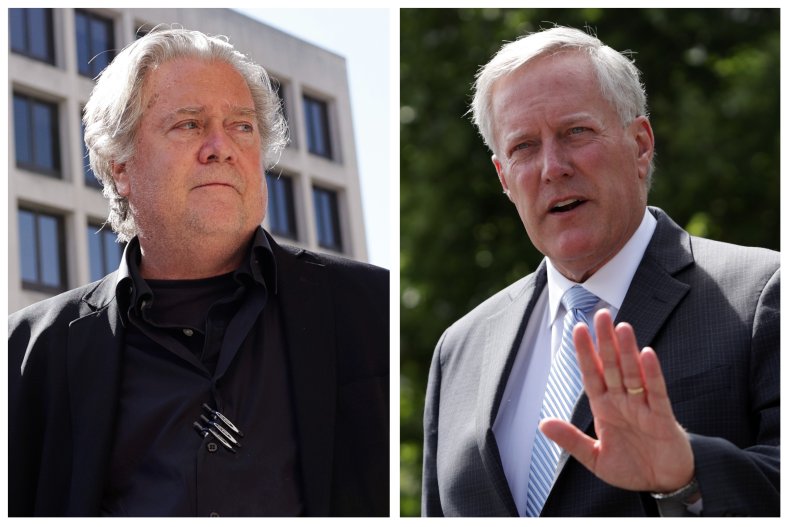 However, the DOJ decided not to press charges against Meadows and Scavino despite facing similar accusations. The house voted for Navarro and Scavino to be referred to the DOJ for possible prosecution at the same time on April 6.
In court filings submitted on Monday, Bannon's lawyers are now seeking prosecutors to turn over records related to the DOJ's decision not to charge Meadows and Scavino, claiming it could be "directly relevant" to Bannon's defense.
"Mr. Meadows, in his civil case, has made legal arguments that parallel those raised by Mr. Bannon in submissions before this Court – as to the deficiencies regarding the Committee's composition and its Rules violation as well as to the inapplicability of the criminal contempt statute when executive privilege has been invoked and the applicability of the [Office of Legal Counsel's] opinions," Bannon's lawyers wrote.
"Moreover, executive privilege was invoked with respect to these two men in the exact same manner as it was for Mr. Bannon and just as in the instant case, it was the witness's lawyer who conveyed former President Trump's invocation of Executive Privilege to the Committee. Mr. Bannon is entitled to know the basis for the DOJ's decision not to prosecute either man."
Bannon has argued that executive privilege—which a president can cite to ensure official conversations stay private—can be extended to private citizens, as he was around the time of the 2020 presidential election and the Capitol riot.
In a series of tweets, journalist Marcy Wheeler dismissed Bannon's latest court filings as a "stunt" that contains misleading information, including falsely suggesting that Bannon received the same declination letters as Meadows and Scavino, despite the one Bannon received missing a key detail that Trump believes he should be immune from testifying.
Bannon's letter also cited an article from The New York Times about Meadows and Scavino not facing criminal charges, claiming the newspaper obtained "a copy of the declination letters and, based on their reporting on the matter, it might well be that the letters reflecting the decision not to prosecute either Mr. Meadows or Mr. Scavino were summary notices, without much, if any analysis provided."
The Times article that Bannon's lawyers linked to does not suggest this, and focuses on Navarro's being charged.
Newsweek reached out to the Department of Justice for comment.