Jared Polis Says GOP Push for Anti-LGBTQ Laws 'Overreach' and 'Un-American'
Colorado Governor Jared Polis on Sunday said that Republicans' push for anti-LGBTQ laws is "un-American" and an "overreach."
"These hard policies about saying certain youth can't play sports, and certain people aren't allowed in certain places, or micromanaging what restroom people use and mandating what they do are really, frankly, un-American and are an example of Republican overreach, which will ultimately hurt their party, if they can't espouse the full diversity of the American people," the Democrat said during an appearance on CNN's State of the Union with host Dana Bash.
The host asked him about his reaction to a clip that showed South Dakota Republican Governor Kristi Noem during a conference responding to questions related to LGBTQ issues in the state.
On Thursday, a reporter asked Noem what she thought about a statistic, by HelpAdvisor, that stated that around 90 percent of the state's LGBTQ residents reported experiencing depression and anxiety, to which the GOP governor said, "I don't know. That makes me sad, and we should figure it out."
Commenting on the clip, Polis noted that words and laws matter when it comes to dealing with issues related to the LGBTQ community.
"Look, words matter. Laws matter. When a group of people, LGBTQ youth, feel targeted by the words and laws that some politicians espouse, of course, it can increase anxiety, depression," the first openly gay elected governor said.
Noem signed a transgender athlete ban bill into law earlier this month, making South Dakota the 10th state to do so after Idaho, Texas, Florida, West Virginia, Montana, Arkansas, Alabama, Tennessee, and Mississippi. Bans in Idaho and West Virginia have been blocked by federal judges.
The South Dakota law bans transgender females from joining female school sports leagues.
"This bill's about fairness," Noem said after the signing of the bill. "It's about allowing biological females in their sex to compete fairly on a level playing field that gives them opportunity for success."
In a similar move of introducing an anti-LGBTQ legislation, Florida moved forward an education bill, dubbed by opponents as the "Don't Say Gay" bill, which was advanced through the state legislature, with a vote of 13-7 at the House Judiciary Committee.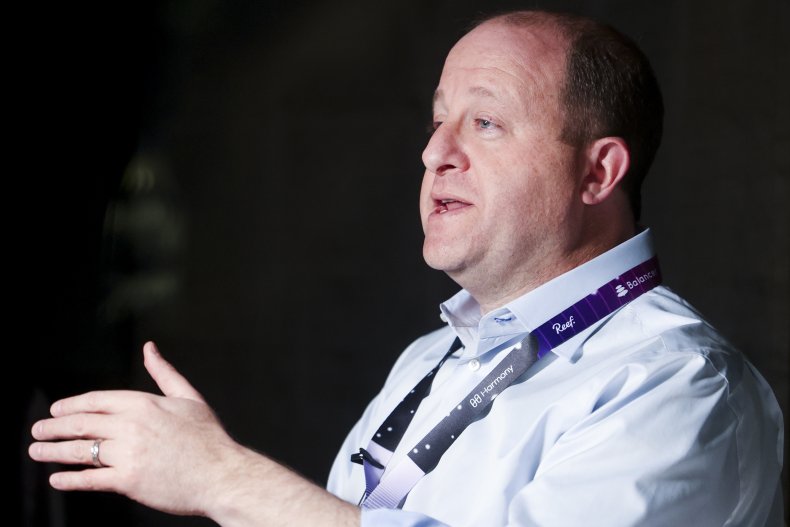 The Parental Rights in Education bill stipulates that Florida school districts "may not encourage classroom discussion about sexual orientation or gender identity in primary grade levels or in a manner that is not age-appropriate or developmentally appropriate for students." Parents would also be allowed to sue schools who defy the bill's provisions.
The bill has been slammed by many critics. President Joe Biden called it "hateful" and assured the LGBTQ community in a tweet, "I have your back."
During his interview on Sunday, Polis noted that such legislation impacts LGBTQ individuals, including those who are already dealing with issues with their families.
Newsweek contacted the offices of Noem and DeSantis for comments but didn't hear back in time for publication.