Jason Stockley Not Guilty Verdict: How Did It Happen?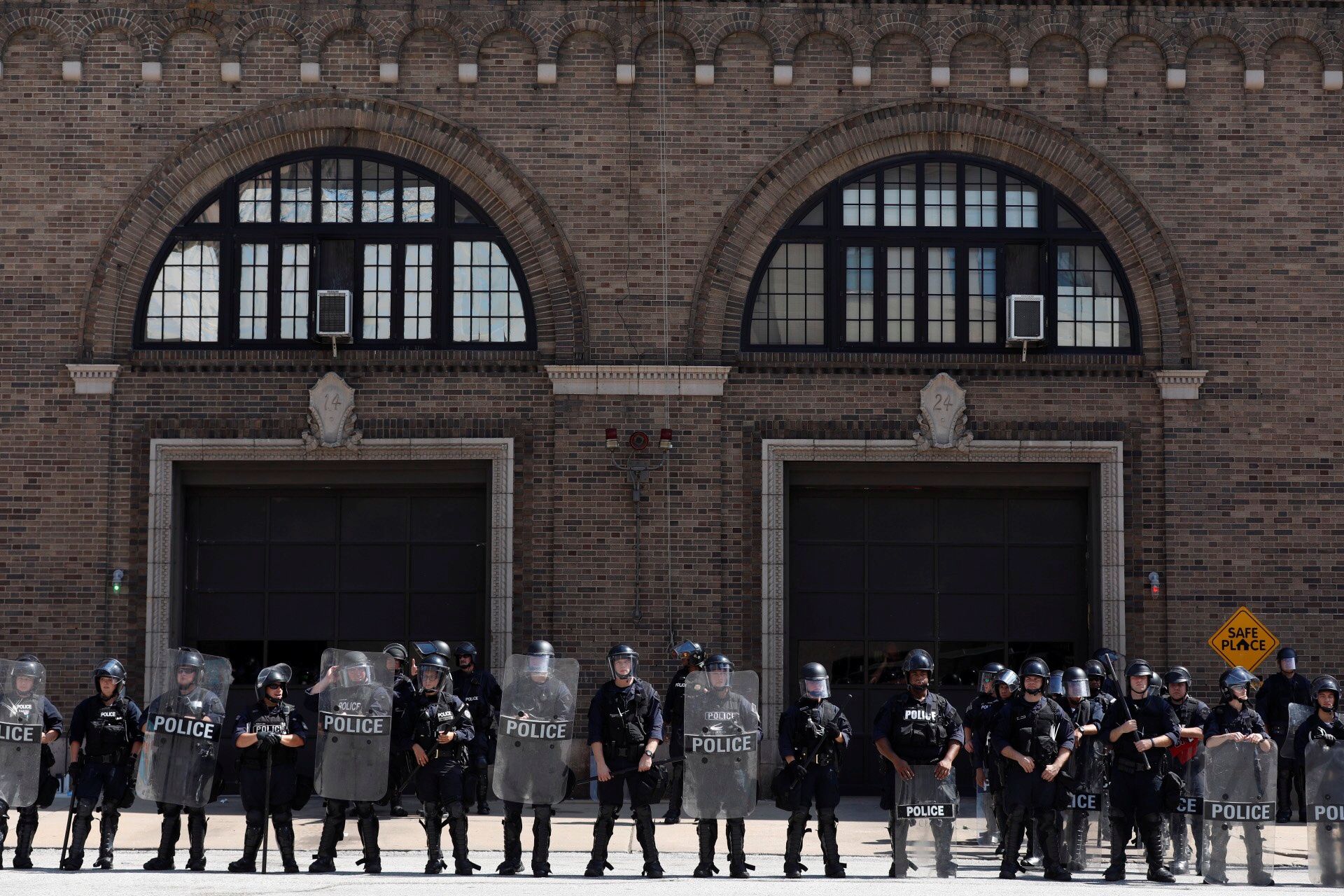 A planted gun. A six-year-old case. A $900,000 settlement. A city in chaos. The scars of Ferguson, revived.
Protesters are rallying in St. Louis on Friday after one of its cops, Jason Stockley, was found not guilty in the shooting death of a young black man, Anthony Lamar Smith. For the prosecution, it was obvious first-degree murder. For the defense lawyers, it was obvious self-defense. But clear answers are rare in police shooting trials.
Newsweek reviewed court documents on both sides, and spoke to officials to break down the case into three core issues. All quoted phrases and case summaries are taken directly from these court documents.
The Night Of...
A silver Buick approached a Church's Chicken in St. Louis on December 20, 2011. Anthony Lamar Smith, a 24-year-old black man, went inside the restaurant twice, but returned to his car with no food. He then ran back to his car as he saw a police vehicle rapidly approach and stop behind the silver Buick.
Police Officer Jason Stockley, 36, later testified that he thought he saw a "drug transaction," though he did not specify the drug. He and his partner Brian Bianchi exited the car and approached Smith's car, but Smith crashed backwards into the police vehicle and fled the scene, court papers say.
A three-minute chase, at speeds up to 87 miles per hour, ensued on wet roads. Smith drove into oncoming traffic, and Bianchi and Stockley crashed into his car from behind to stop him. After this, Stockley walked up to his car, where a brief conversation took place, and then Stockley shot him five times. Heroin bearing Smith's DNA was later found in the car.
Why Did It Take Six Years to Put Him on Trial?
Before the fatal shooting of Michael Brown in 2014, the St. Louis Metropolitan Police Department investigated police-involved shootings itself. The department's internal affairs bureau concluded that it lacked evidence against Stockley and Bianchi to charge them in Smith's death. Stockley left the department in 2013 to move to Houston, and the department paid a $900,000 settlement to Smith's family that year.
In 2016, the FBI and the police department turned over new evidence (it is unclear what) prompting the charges.
Did Officer Stockley Fear for His Life?
This is the heart of the trial—if Stockley was acting in self defense, and genuinely thought he was in danger, then his use of force was justified.
The Prosecution: Officer Bianchi did not believe Smith posed a threat. Bianchi holstered his gun when he walked up to Smith's car, showing he did not fear being shot. Neither officer announced over the police scanner that he believed the subject was armed, though the cops had announced several other details about the suspect.
The Defense: After the chase, Stockley ordered Smith to show his hands for 15 seconds, and Smith did not comply. Stockley claimed he saw a weapon in the car, and perceived a threat to his life. A gun was later recovered from the vehicle.
The Court: In his verdict, Judge Timothy Wilson wrote that the prosecution did not answer how "Anthony Smith could have been shot in the left lower abdomen by a person standing outside the car, if Smith was simply sitting in the driver's seat." A doctor who conducted the autopsy testified that the wounds could indicate "Smith was reaching for something to his right." The judge also pointed out in his ruling that the prosecution must prove beyond a reasonable doubt that an officer was not acting in self-defense. The officer does not have the burden of proof in his claim that fear motivated his self-defense.
Wilson also wrote, "Finally, the Court observes, based on its nearly 30 years on the bench, that an urban heroin dealer not in possession of a firearm would be an anomaly."
Stockley did not know when he approached and chased Smith that heroin was involved.
Did Officer Stockley Plant a Gun?
This was perhaps the prosecution's most striking argument. If Stockley had planted a gun, this would not only mean he broke the law, but also contribute to the argument that Stockley did not in fact perceive danger, but later used fear as a cover-up.
Prosecution: A dashcam video, plus witness cellphone footage, showed Stockley returned to the patrol car twice after shooting Smith, took something out of his duty bag, adjusted his waistband and then walked back to Smith's car with empty hands. He told the FBI he returned to administer first aid, but video footage revealed that he did not administer any aid. Stockley's DNA was on the revolver found in Smith's car, and Smith's was not.
Defense: "DNA experts testified that the absence of DNA did not allow them to conclude that Anthony Smith did not own or possess the weapon."
The defense also said Stockley was searching for "Quick Clot" in his bag to staunch the victim's bleeding, and not a gun. The defense said Stockley's DNA was on the gun because he "touched the weapon and unloaded it."
Court: "The gun was a full size revolver and not a small gun...that can fit in the palm of one's hand or into the side pocket on a pair of pants without being obvious. Stockley was not wearing a jacket; if he had such a gun in his possession it would have been visible on the cell phone video."
Was It Premeditated Murder?
Did Stockley think about killing Smith during the chase? That's a key to the prosecution's contention that Stockley was not acting in self-defense.
Prosecution: The dashcam video during the chase caught Stockley saying, "We're killing this motherfucker, don't you know?" about one minute before he crashed into Smith's car to stop him.
Defense: The dashcam video was meshed with other sounds from the radio, and no one knew what was said before this phrase.
Court: "People say all kinds of things in the heat of the moment or while in stressful situations.… Stockley said that the pursuit was a high risk situation during which he (Stockley) was feeling fear."