Jason Whitlock Calls Antifa 'Modern-Day KKK' in Donald Trump Interview
Former FOX Sports radio host Jason Whitlock has described antifa as the "modern-day KKK" and accused the Democrats of failing to condemn the movement.
In a lengthy interview with President Donald Trump, whom he praised for bringing Big Ten college football back, Whitlock discussed the president's relationship with the Black community in the U.S.
"Antifa to me is the modern-day KKK," Whitlock said during a 15-minute interview that aired on Outkick.com, a newly launched website focusing on politics and sports.
"They are a domestic terrorist organization and they are doing things that they say are for the benefit of Black people, but that are not benefiting Black people.
"Can we get the Democrats to denounce antifa and can we get lawmakers to go after this group? They are tearing our country apart."
Trump agreed with Whitlock's labeling of antifa as a terrorist organization, suggesting the movement was responsible for the social justice protests that have swept the U.S. over the last five months.
"You're so smart and you're so right and antifa is a disaster. It's so bad for so many people including, I think, the Democratic Party," he said.
"Antifa is a terrorist organization and what they have done on the streets and when you see these riots, it's the radical left, it's antifa [who are responsible].
"You can't get [Democratic presidential candidate Joe] Biden or any Democrats to say anything bad about them."
Trump criticized Biden for describing antifa as "just an idea" during the first presidential debate.
"It's not just an idea when someone gets hit over the head with a baseball bat," he added.
"It's not an idea when they're breaking the streets of Chicago and [of cities] all over the country. What they are doing is so bad and the Democrats are afraid of them.
Protests across the country erupted after George Floyd was killed while in custody of the Minneapolis Police Department on May 25, with similar scenes unfolding after the shooting of Jacob Blake in Kenosha, Wisconsin, on August 23.
Several players across the major U.S. sports leagues joined the protests, supported by their teams.
The NBA displayed the Black Lives Matters logo on the courts in Orlando, Florida, where the season resumed followed the coronavirus lockdown, while NFL commissioner Roger Goodell encouraged players to "protest peacefully."
Trump has previously suggested the NBA's support of the BLM movement has hit its TV ratings and that the NFL would risk similar consequences, as Americans were growing tired of antifa.
"People are seeing it more and more. They are hurting the Black community but they are hurting the country," he added.
Earlier in the interview, Whitlock thanked Trump for bringing back college football in the midst of the COVID-19 outbreak.
"The other reason I am here is college football. In 1984, me and my dad were in a 400-square-foot apartment," Whitlock said. "The only people looking for me were college football coaches. Getting a college football scholarship changed my life. Your help getting Big Ten football back rang true."
On August 11, the Big Ten became the first Power 5 conference to postpone its football season because of the coronavirus pandemic, while the Atlantic Coast Conference, Big 12 and Sun Belt conferences all kicked off the season as scheduled in early September and were joined by the SEC after a short postponement on September 26.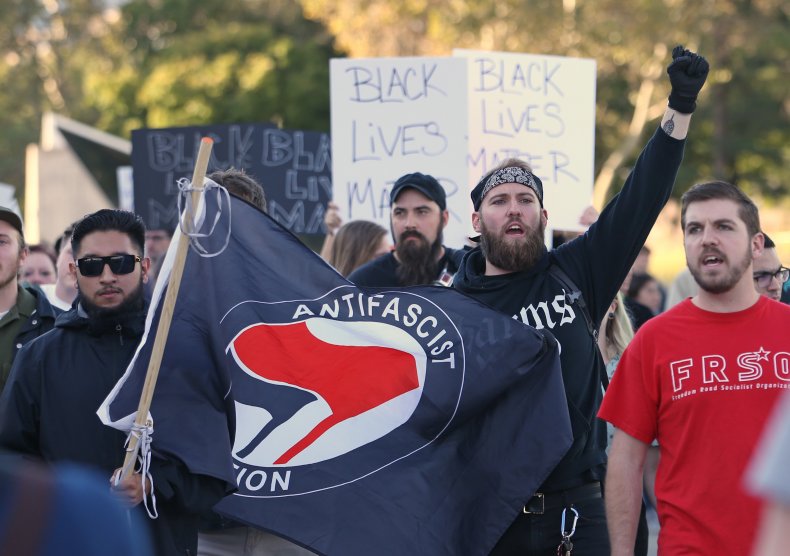 The Big Ten will eventually get underway on Saturday, with the Pac-12, which had also initially canceled its season, following suit on November 7.
Back in August, Trump had said football would make a "tragic mistake" if it canceled its season and has since claimed credit for the conferences reversing their decisions.
"When I heard that the Big Ten was out, I said 'We got to get them open,'" he claimed.
"I worked very hard for a very short period of time, very focused [...] we got them thinking about it [...] and we got them to do it."
Significantly, however, earlier this month Pac-12 commissioner Larry Scott suggested Trump had nothing to do with the conference's decision to begin the season in November.
"We didn't have any conversations with the White House, except in groups with the task force," he said in an interview with the New York Times on October 1.
"Our concerns and focus were much more on local restrictions, so the most important focus of our work was with state and county public health officials."
Whitlock then moved the conversation away from sports and back to politics, asking Trump whether he may adopt a softer approach should he win a second term.
The president said he hoped to do so but warned that "being politically correct takes time" and that "when I first came here [the White House] there was so much to do. I didn't have the time to be politically correct."
He then claimed his administration "has done so much" and was on track to hit all of its targets until the "Chinese plague came and it was back to the drawing board."
The interview took a place a day before Trump and Biden square off in Nashville, Tennessee, for the final presidential debate. Whitlock asked whether Trump had any plans to change his strategy ahead of the debate, which takes place less than two weeks before the election.
When the president conceded he was open to suggestions, Whitlock replied: "Let Joe Biden talk. He'll do the work for you."
In a separate interview with FOX host Tucker Carlson, Whitlock dismissed as a "facade" the suggestion Black men can't relate to Trump.
"I think we have been carrying on a facade for three-and-a-half years as Black men that somehow we can't relate to Donald Trump, that we didn't celebrate him in hip-hop music for decades, that he wasn't friends with countless Black athletes, entertainers, celebrities," he said
"That facade is starting to end and I think that's why you've seen the rapper Ice Cube, you've seen 50 Cent and Kanye [West] start reaching out and acknowledging the truth that they really don't have a problem with Donald Trump."