Fox News Host Jeanine Pirro Says Nancy Pelosi Needs 'an Intervention' And Is 'Batty'
Fox News host Jeanine Pirro lashed out at Speaker of the House Nancy Pelosi during her Saturday evening television program, arguing that the top Democrat in Congress needs "an intervention" and is "batty."
Pirro, a former judge, made the comments during the opening segment of her show Justice With Judge Jeanine. She highlighted escalating tensions between Donald Trump and Pelosi, and recent remarks in which the speaker had suggested that the president himself needed an intervention.
"He does not need an intervention, Nancy, you need the intervention," the host said. She then played a recent clip of Trump attacking the speaker of the house.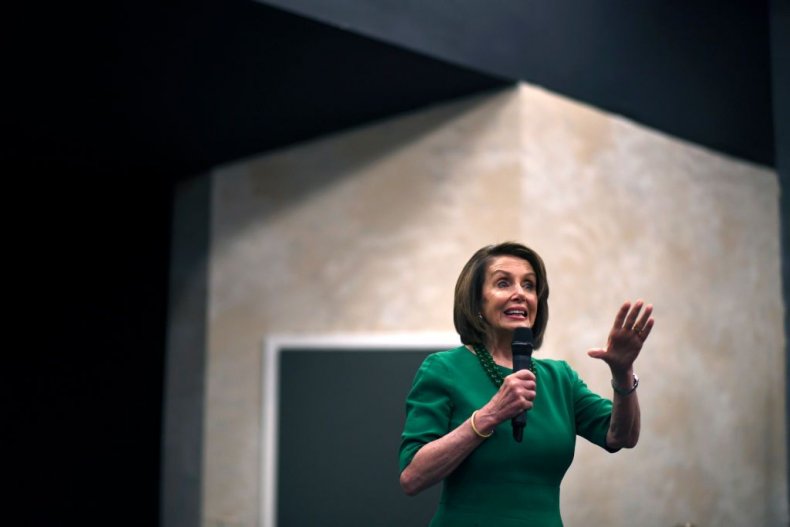 "I have been watching her for a long period of time, she's not the same person," the president said in the video. "She's lost it."
The Fox News host then argued that Trump "is doing what we elected him to do" while Pelosi hasn't "done a damn thing." She accused the speaker of spreading hatred and vitriol in a quest for what she believes to be the "truth."
"Nancy, you already got the truth and Nancy, you can't handle the truth. So just knock it the hell off, follow his lead and start doing the job you were elected to do," Pirro said.
Trump on Thursday tweeted out a tightly edited video of Pelosi that made her appear to speak in an uncertain and garbled manner. Asked about the video by reporters later, he said: "You think Nancy is the same as she was? She's not. Maybe we can all say that."
Pelosi later said: "When the 'extremely stable genius' starts acting more presidential, I'll be happy to work with him on infrastructure, trade and other issues."
The president again attacked her on Friday, but she responded by saying she did not want to engage.
"I'm not going there. I'm done with that," she said. "What we're talking about is talking to the American people about our 'For The People' agenda: Lower health care costs, bigger paychecks by building the infrastructure of America in a green way," she said. "Build, build, build, that's what we want him to do."
Tensions between the top congressional Democrat and the president came to a head last week, after Trump abruptly stormed out of a meeting regarding infrastructure development with Pelosi and Democratic Senate Minority Leader Chuck Schumer. The president demanded that the Democratic leaders drop their investigations into him and his administration before he continued to work with them.
"We were disappointed because we thought we were on a path to that but we're not giving up, we're going to focus on the issues," Pelosi said on Friday.