Jeep's Electric Vehicle Onslaught Begins in October
Today Jeep revealed its eight-year plan to get to 50-percent battery electric vehicle sales in North America by 2030 and 100 percent in Europe by the same year. The Stellantis-owned brand will debut four all-electric SUVs globally by 2025, starting at the Paris Motor Show this October.
"Driven by the success of our electrified 4xe portfolio in North America and Europe, we are designing and developing the most capable and sustainable Jeep SUVs to date, on our path to becoming the leading zero-emission SUV brand in the world," said Christian Meunier, Jeep brand CEO in a press release. "This is a forward-thinking strategy to help ensure millions of Jeep fans around the world continue to have a planet to explore, embrace and protect."
The Jeep brand currently has two hybrids in the Grand Cherokee 4xe and Wrangler 4xe. Both have a plug and feature an all-electric range (25 and 49 miles, respectively).
The next in line to get that treatment is the three-row Jeep Wagoneer SUV. The hybrid model will deliver a combined 500 miles of range while an all-electric model coming later is targeting 400 miles on a charge, 600 horsepower and a zero-to sixty mile per hour time of 3.5 seconds.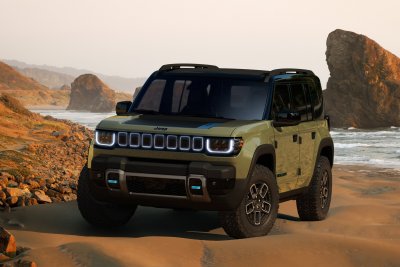 The electric Wagoneer will debut next year and start production in 2024. Reservations will start in early 2023. Jeep says the battery-powered Wagoneer will be sold in major markets around the world, including Europe.
As for new sheetmetal, North America will start with the Jeep Recon. It's a vehicle built with both 4x4 and zero emissions in mind, says Jeep. Like the other Trail Rated options it will come with Jeep's Selec-Terrain traction management system. It will also have e-locker axle technology, under-body protection, tow hooks and aggressive off-road tires.
Similar to the Wrangler, the Recon will have removable doors and glass. It will have a one-touch power top and the new Uconnect infotainment system with "detailed travel guides of the most notable off-road trails". Jeep says it will be close in size to the Wrangler and head designer Ralph Gilles says it's supposed to look like one too, but with its own character.
"Mark Allen's team he does a great job, he did the Wrangler and did the Recon. Number one on the brief is capability and once you talk about capability, you get the overhangs you get the radical approach and departure angles, breakover angles, the big tires, the clearance for wheel travel, but there's also another element about off roading that we don't really talk about as much," Gilles said at a press event.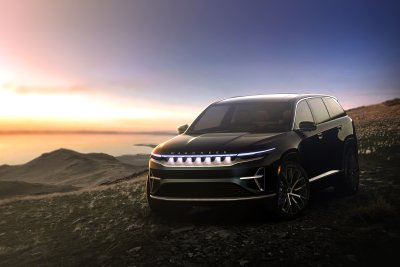 "It's the experience when you get in the vehicle. We lowered the beltline, stood up the windshield and lifted everything. We have more glassware than we've ever had. So that completely changes the experience. Then of course, the sky slider. And one of my favorite features are the exposed door hinges. A lot of DNA transferred onto Recon but all of it was thoughtful," he said.
The Jeep Recon will be shown to the public next year and like the new Wagoneer model, production will start in 2024 and reservations will be taken in early 2023. It will also be sold globally, but Jeep gave no specs on range, power or charging. It did say that like the Wrangler, owns will be able to make it their own.
"We'll have a whole host of performance parts available right out of the chute," Jim Morrison, head of the Jeep brand said at a press event. "And then of course the aftermarket community will go crazy with this because what a great way to show your customized Jeep."
Before both the Recon and Wagoneer, Jeep will introduce the Avenger in Europe, its first battery-electric vehicle. The Avenger debuts at the Paris auto show in October with a 248-mile range (400 kilometers) and Jeep says it will offer "impressive ground clearance, breakover and approach angles "for its segment," which is one size smaller than the Jeep Renegade that the U.S. market gets.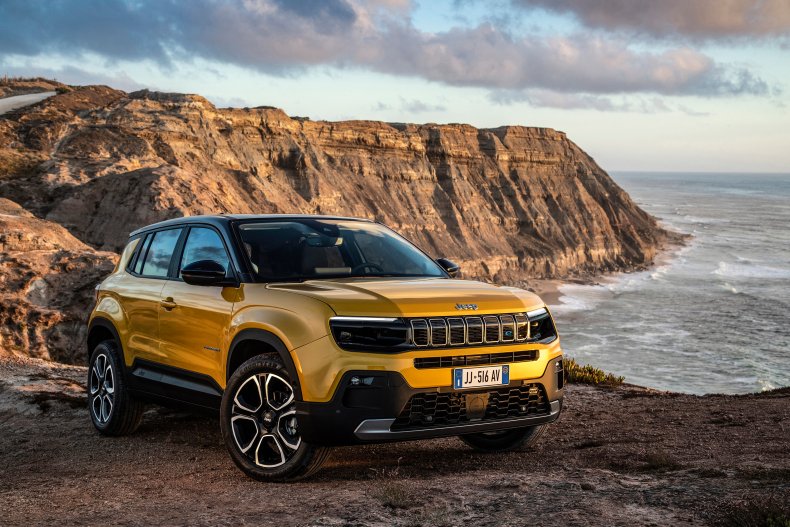 "The all-new Avenger will offer Jeep brand capability that is rightsized for the European market," said Antonella Bruno, head of Jeep Europe at Stellantis in a press release, "This modern, fun and emotional SUV will appeal to a growing set of customers who are looking for a capable, compact, modern and all-electric Jeep brand alternative to the current players."
Jeep says that by the end of 2022 its entire portfolio with be electrified in Europe. Electrified covers both battery electric, plug-in hybrid and hybrid vehicles. Designer Gilles summed up what Jeep is trying to accomplish.
"These three vehicles, to me, aren't replacing anything. These are instrumental to our portfolio. They're also very different statements. So, this is going to change the game. I'm very excited by what we can do working with our teams on these new platforms, to redefine the brand, but to stay true to ourselves," said Gilles.
"In our clinics we've taken these vehicles to people and right away they know exactly where they came from, and that's a good thing.