Jeff Goldblum 'Touched' By How Producers Included His Family In New Season of Disney+ Show
The World According to Jeff Goldblum is set to return to Disney+ with the first five episodes of its second season on Friday, November 12 (aka, Disney+ Day).
The actor, as one can imagine of a Hollywood star of his calibre, is a busy man, and professionally he's as in demand as he was in his Jurassic Park heyday, so he was "touched" his family could be involved in the documentary series.
Goldblum spoke with Newsweek about the forthcoming episodes, which see him explore the origins of magic, fireworks, monsters, dancing, and dogs, and how his wife Emilie Livingston and their sons Charlie Ocean and River Joe took part.
"I get touched by not only them and what they do in it but seeing the episodes and seeing them in it," he said of his family's participation in the National Geographic show.
"Yea, it was nice. The kids, I don't know, they're at their stage where it's just fun. They didn't get self-conscious about doing anything or being asked to do something, they would happily play games, because we made it a game for them.
"And Emilie, she's a performer, she has a website called Maison Goldblum where she teaches her dances in the day, she was in the Olympics, you know, in Rhythmic Gymnastics and she was in La La Land, she doubled as Emma Stone, she did the dancing. So, she was happy to do it."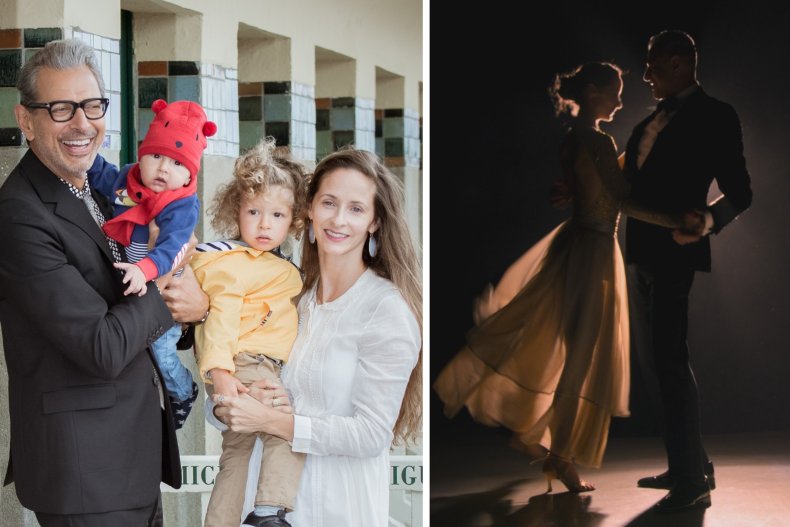 Goldblum's family appear in many of the episodes, he shows his sons the magic tricks he knows in the episode decided to the craft, for example, and Livingston dances with him in a touching scene from the episode about the art.
"I loved the tasteful way [the producers] asked us to do those things and the way they cut it in," the Independence Day star reflected.
Of how footage of his parents is also used in the programme he went on: "I gave them all, as you saw, all my home movies that I had as a kid, and a lot of my old photographs so I always get a kick out of seeing that.
"I see a picture of my mom come up or I see my mom and dad dancing together, and I get a big kick out of it.
"It was nice with the kids, we drove out to the middle of nowhere where they could set off those fireworks [in the episode about them] and that was fun with the kids, we actually were watching those.
"It was amazing to see that, I'd never seen fireworks myself that close up and that sort of amazingly done.
He went on: "I like having them around, and our dog! How about Woody? He appears in an episode, that's our doggy, he's a special dog."
A spiritual experience
Another touching moment from the series is when Goldblum takes part in a séance with a coven of witches, who 'reconnected' him with his late parents and shared how proud they were of him.
While the séance was filmed as part of the episode dedicated to magic and how it can hoodwink people, the actor was moved to tears by the act.
"I got touched by, as you saw in the séance, in that reading that she was doing, and when I see it [now] I get touched," he explained.
"When she was doing that, yes, well, as I say in the episode just having a little meditation and just having a remembrance of your parents and your family can get to me at least, you know?
"So much history and deep stuff, subconscious some of it my God, and mysterious and then, of course, once you have kids —and my parents never met my kids— it produces a lot of yearning, and longing, and emotion for me.
"Whether it's a trick or whether you believe in the nuts and bolts of that or not."
Referring to magicians Penn and Teller, who also appear in the episode, he added: "Especially having talked to Penn and Teller, off camera even they are very passionate about not trying to trick anybody, especially in veins like that.
"I think they say... there's a big difference between high integrity practitioners of the magic arts who will tell you 'hey this is a trick, I'm not supernatural 'and who don't try to use it to make you think that anything supernatural is going on. or that they are sort of the voice piece of anyone beyond the dimension.
"But I liked those witches we talked to, they tickled me and I liked it. Maybe I'm susceptible anyway, I've devoted my life to opening up and I'm susceptible."
Becoming a TikTok star
In the episode on dance, Goldblum does something that fans probably didn't expect of him: He becomes a TikTok star.
Goldblum does this by performing with Collabcrib, a group of dancers who live together and have become internet sensations through their videos.
The Jurassic Park star admitted he didn't "know much about" TikTok before meeting with the troupe, saying: "I have a little Instagram account that I post things on here and there, but I do like to dance and those people were incredible, Collab Crib, at TikTok house.
"They live together and it's a creative hotbed, they make those dances up and people connect to them and make them their own, it's a way to really connect people through dance it's incredible.
"And then that thing that they taught me, I used to take dance classes and I was on Broadway and shows, and would dance for one reason or another, and they taught me... I picked up that combination pretty quickly I thought. I had a good time."
The first five episodes of The World According to Jeff Goldblum Season 2 will be released on Disney+ on Friday, November 12.