Ex-Democrat Rep. Jeff Van Drew Says He's 'So Proud to Be Associated' With Fox Host and Feels 'Good' About Party Switch
Representative Jeff Van Drew, who switched his party affiliation from Democrat to Republican last week over his opposition to President Donald Trump's impeachment, appeared for a Fox News interview on Sunday, during which he said he felt "good" about his decision and praised the show's host.
"I'm so proud to be associated with you," Van Drew, who represents New Jersey's 2nd District, said during his interview with Maria Bartiromo. "You truly represent what news media should be about," he said of the host of Sunday Morning Futures.
Discussing his decision to switch parties, which he officially announced during a White House meeting with Trump on Thursday, Van Drew said that he felt "good...I feel I did the honorable thing." He explained that a Democratic county chairman had come to him and said that he had to vote for the president's impeachment if he wanted to continue running in the county.
"For all the years that I have worked so hard and tried to give so much, not only to the party, but to everybody...it all boils down to one vote, that I may have my own individual opinion on one vote and that is not going to be allowed? I'm going to be punished for that? And that's when I knew," he said.
Van Drew had long been a critic of impeaching Trump, a vote which inevitably passed largely along party lines on Wednesday. The congressman from New Jersey was one of only two Democrats to vote against both articles of impeachment, the other being Representative Collin Peterson of Minnesota. Democratic Representative Jared Golden of Maine voted "yes" on the first article for "Abuse of Power," but voted "no" on the second article for "Obstruction of Congress." Representative Tulsi Gabbard of Hawaii, who is also a Democratic presidential candidate, simply voted "present," choosing not to take a stance for or against.
No Republicans voted in favor of either article. But conservative Representative Justin Amash of Michigan, who was elected as a Republican but declared his independence in July, fully backed the impeachment inquiry and voted "yes" with his Democratic colleagues.
The weekend before the vote, it was reported that Van Drew had discussed with Trump the possibility of switching political parties just ahead or just after the vote. In a meeting in front of reporters on Thursday, Trump announced that the congressman had now become a Republican. Van Drew also pledged his "undying support" to the president.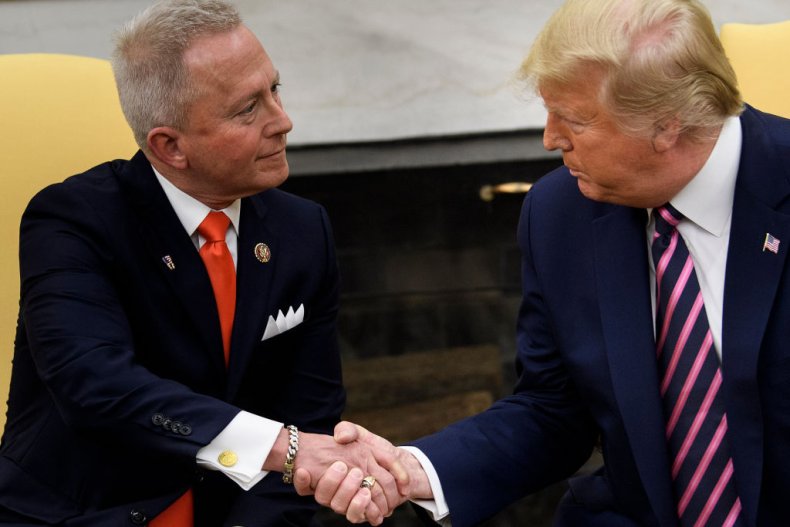 "I believe that this is just a better fit for me. This is who I am," he added. "It's what I always was, but there was always more tolerance for moderate Democrats... and I think that's gone away."
Van Drew, who is serving his first term in the House of Representatives, had already appeared to be losing significant support among Democrats in his district prior to his decision. According to Fox News, a recent internal poll for the congressman found that nearly 60 percent of constituents favored finding a new candidate to run for his seat.
The decision led to the resignation of five of the congressman's staffers, who were then offered posts with Democratic Congressional Campaign Committee. Democrats and Republicans in Van Drew's district have criticized his decision, with GOP candidates running for his seat blasting the political move.
"The Van Drew Switcheroo shows that Cong. Van Drew is a liberal opportunist who only cares about protecting his political career," Republican congressional candidate Bob Patterson said in a statement emailed to Newsweek on Friday. "Now that Van Drew is reinventing himself as a Republican, he should return all of his Democrat money."