Jeffrey Dahmer Apartment Building Now—Inside Killer's Milwaukee Home
Dahmer — Monster: The Jeffrey Dahmer Story is out on Netflix now, starring Emmy-winner Evan Peters as the notorious serial killer.
The 10-part series traces Dahmer's crimes and will be mainly told from the perspective of his victims, the people who tried to stop him, and those who knew him. The series also highlights the several systematic failures that allowed Dahmer to carry out his crimes for more than a decade.
Dahmer was sentenced to 15 life sentences in prison, dying in 1994 when he was murdered by a fellow inmate. But what happened to his apartment where many of his heinous crimes took place, and what is it like now? Newsweek has everything you need to know.
Jeffrey Dahmer's Apartment Building Now
Jeffrey Dahmer lived at No. 213 Oxford Apartments in Milwaukee between May 1990 and his arrest on July 22, 1991.
Today, the site where The Oxford Apartments once stood is completely empty. The apartments were demolished in November 1992, just 15 months after human remains were discovered.
The building was purchased for $325,000 by the Campus Circle Project—a "collaborative neighborhood redevelopment initiative" sponsored by Marquette University.
Campus Circle helped house the remaining occupants living in the building at the time.
According to The Bulletin newspaper in November 1992, grass and flowers were planted on the site where the 49-apartment complex once stood.
Project President Patrick LeSage told The Bulletin that Dahmer's home had been a "symbol of anger, pain, violence, and death," adding: "It needs to be replaced with a sign of our commitment to support the healing process and to work together as a community of people who care."
As of September 2022, plans to transform the site into a memorial garden, playground, or new housing have been unsuccessful.
Dahmer had previously lived with his grandmother, before living for a short spell at 808 North 24th Street in September 1988.
After pleading guilty to charges of second-degree sexual assault and enticing a child for immoral purposes, he moved back in with his grandmother, where he continued to commit more murders without her knowledge.
Dahmer moved into apartment 213 at the Oxford Apartments located on 925 North 25th Street in Milwaukee in May 1990. He took with him the mummified head and genitals of his fifth victim, Anthony Sears.
Within one week of living there, he murdered his sixth victim, 32-year-old Raymond Smith. Dahmer would go on to commit a further 11 murders in apartment 213.
In total, he committed twelve of the killings at his North 25th Street Apartment, three at his grandmother's home, one at his parents' home in Ohio, and one at the Ambassador Hotel in Milwaukee.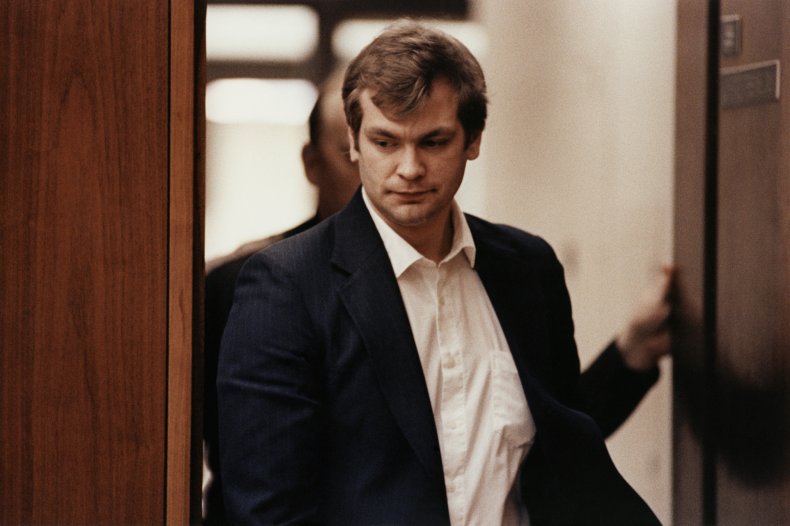 Dahmer's killing spree came to an end on July 22, 1991, when Tracy Edwards managed to escape Dahmer's home and flag down a nearby police car, bringing an end to his 13-year murder spree.
A detailed search of Dahmer's apartment by the Milwaukee police's Criminal Investigation Bureau found seven skulls, two human hearts, an entire torso, a bag of human organs, two skeletons, a pair of severed hands, two severed and preserved male genitalia, a mummified scalp and a 57-gallon drum that included three dismembered torsos.
Dahmer entered a plea of guilty but insane in 15 of the 17 murders he confessed to committing. In February 1992, the jury found him sane at the time of each murder and he was sentenced to 15 consecutive life sentences.
He died in 1994 after being attacked by fellow inmate Christopher J. Scarver at Columbia Correctional Institution in Portage, Wisconsin.
Dahmer— Monster: The Jeffrey Dahmer Story is streaming on Netflix now.