Jeffrey Dahmer: What Happened to Tracy Edwards and Where Is He Now?
The story of notorious American serial killer Jeffrey Dahmer has been brought to the small screen by American True Crime Story and American Horror Story creator, Ryan Murphy.
The 10-part series titled Monster: The Jeffrey Dahmer Story (full title Dahmer — Monster: The Jeffrey Dahmer Story) stars Emmy-winner Evan Peters as Dahmer, the convicted serial killer who murdered 17 men and boys between 1978 and 1991.
However, the series is not necessarily about Dahmer himself, instead, events will be told from the point of view of his victims, the people who tried to stop him and those who knew him.
The series will show the several systematic failures that allowed Dahmer to carry out his crimes for more than a decade.
Dahmer was eventually arrested in July 1991, after Tracy Edwards managed to escape his home and flag down a nearby police car, bringing an end to his 13-year murder-spree.
Newsweek has everything you need to know about Tracy Edwards and where he is now.
What Happened To Tracy Edwards?
Tracy Edwards narrowly escaped from Jeffrey Dahmer's home with his life on July 22, 1991.
They had met in a bar after Dahmer approached three men offering $100 to accompany him to his apartment to pose for naked photographs, watch a movie and have a few drinks.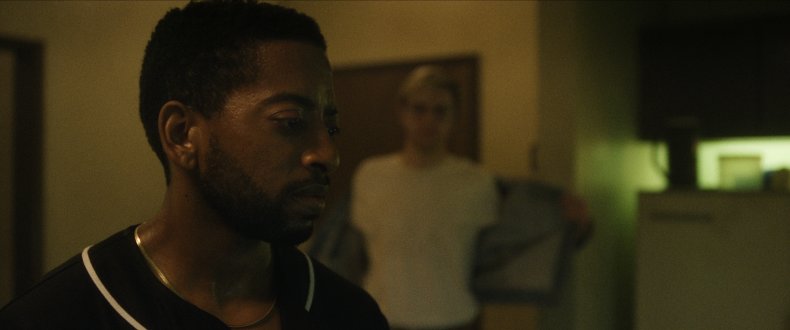 Edwards, 32, agreed and headed with Dahmer to his home, where his life and the course of Dahmer's life would change.
As seen in Monster: The Jeffrey Dahmer Story, upon arrival, Edwards noticed a foul smell and attempted to leave, but Dahmer convinced him to stay.
Whilst looking at Dahmer's tropical fish, Dahmer handcuffed Edwards, only managing to lock in one wrist. Edwards was then threatened with a knife and in an attempt to calm Dahmer, agreed to allow him to take photos. He also promised Dahmer he would not run away.
As seen in Monster: The Jeffrey Dahmer Story, after a period of watching a scary movie, Dahmer placed his head on Edwards's chest and listened to his heartbeat, informing Edwards he was going to kill him and eat his heart.
After debating on the best way to try and escape, Edwards waited until Dahmer was not holding the loose handcuff and eventually managed to flee by punching Dahmer, knocking him to the ground and running out of the front door.
As he ran down the street still handcuffed and with no top on, Edwards was able to flag down a Milwaukee police car and officers, Robert Rauth and Rolf Mueller.
Unable to get the handcuffs off without a key, he agreed to escort police to Dahmer's apartment. Dahmer, invited the officers in to retrieve the key when they came across several weapons and the same foul smell neighbor Glenda Cleveland and Edwards had complained of.
When Mueller looked inside an open drawer that included over 70 Polaroid pictures, which featured images of naked men and dead bodies in various stages of dismemberment.
They also found items that suggested Dahmer had committed multiple murders as well as a human head in the refrigerator, two plastic bags in the freezer containing a human heart, and another containing a set of male genitalia.
They also found five human skulls, knives, hammers, and saws in the bedroom. There was also a complete human skeleton in one drawer and a 57-gallon vat, filled with acid and three torsos as well as other body parts.
Dahmer entered a plea of guilty but insane in 15 of the 17 murders he confessed to committing. In February 1992, the jury found him sane at the time of each murder and he was sentenced to 15 consecutive life sentences.
He died in 1994 after being attacked by fellow inmate Christopher J. Scarver at Columbia Correctional Institution in Portage, Wisconsin.
Where is Tracy Edwards Now?
Unfortunately, very little is known about Tracy Edwards today.
Since Dahmer's conviction in 1992, Edwards found himself facing several police charges including arrests on charges of drug possession, property damage, theft, and failure to pay child support, according to ABC News.
In July 2011, Edwards, who was homeless at the time, ran into trouble with the law and even spent time in prison.
According to ABC News, he was one of two men accused of pushing another homeless man named Jonny Jordan off of a bridge who died after drowning in the water below.
Edwards pleaded guilty to aiding a felon and Milwaukee County Circuit Court judge sentenced him to one and a half years in prison.
He also received an additional two years of extended supervision, according to The Sun.
According to numerous reports, Edwards has been homeless since 2002.
Dahmer — Monster: The Jeffrey Dahmer Story is streaming on Netflix now.