How 'American Horror Stories' Season 2 Connects to 'AHS: Coven'
American Horror Stories may be a spin-off of Ryan Murphy and Brad Falchuk's modern classic, but that doesn't mean it's devoid of connections to it.
The show, which has just begun its second season, tells terrifying tales every week, with each episode more horrifying than the last.
Where Season 1 of American Horror Stories had ties to AHS Season 1, aka Murder House, Season 2 featured an unexpected tie to Coven, the third season of the flagship show.
How 'American Horror Stories' Season 2 Connects to 'AHS: Coven'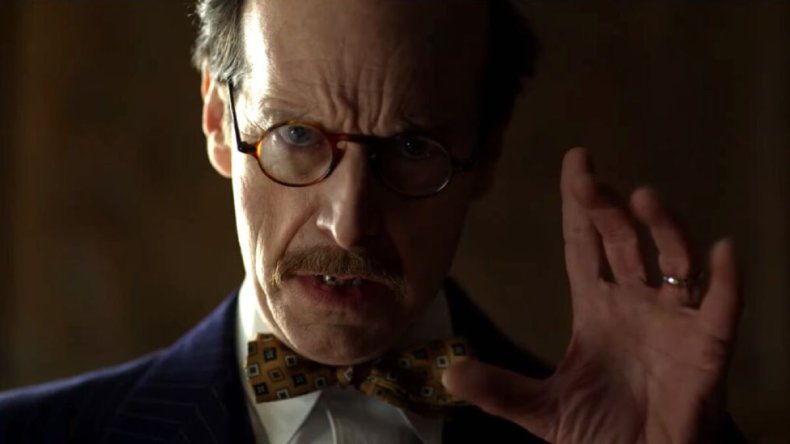 The premiere episode of American Horror Stories is titled "Dollhouse" and it follows a young woman named Coby (Kristine Froseth) who is kidnapped by Spalding (Denis O'Hare), the boss of a doll factory, in 1961.
Coby is forced to take part in Spalding's disturbing Dollhouse experiment, a place where he keeps several young women and makes all of them compete against each other in various tasks to determine who will be the "perfect" wife and mother to his child.
As the episode goes on, the women are made to play with his son (Houston Towe), set a table correctly for a lunch that includes turpentine soup, and how to iron, fold and perfume a shirt properly.
With each task one woman is eliminated until Coby, before the final task, decides to find a way for her and the other two women to escape.
You see, Coby is able to do a "magic trick" that lets her move objects with her mind, she first demonstrates this while making a toy truck move for Spalding's son and later she uses it to open the door to escape the Dollhouse.
In the end, the two women try and escape without Coby, who was determined to get Spalding's son and take him with her. This led to the other two women being killed, and Coby being chosen as the "perfect" mother.
She is forcefully put into a porcelain doll mould and is made to perform duties as Spalding's "wife," but after a week she is freed by two witches who inform her that it took them time to find her because her spells were so weak.
The witches come from none other than Miss Robichaux's Academy for Exceptional Young Ladies from American Horror Story: Coven and they help Coby leave her oppressors.
Coby takes Spalding's son with her to the academy where he takes on his middle name, Spalding, and meets a young Myrtle Snow.
Fans of American Horror Story will recognize that Myrtle is the character that Frances Conroy played in Coven, and Spalding is, of course, the role that Denis O'Hare had in the show too.
By having O'Hare play both Coven's Spalding and his father, the show ensures that American Horror Stories is able to add to AHS lore, and it's a smart way to make sure it also has its place in the franchise's history.
American Horror Stories Season 2 airs every Thursday on FX on Hulu.