Tova Noel and Michael Thomas, two Metropolitan Correctional Center guards with the Bureau of Prisons, have admitted that they failed to make required checks on convicted sex offender Jeffrey Epstein the night he died on August 9, 2019.
Epstein, a millionaire with connections to former Presidents Donald Trump and Bill Clinton, was found hanging in his cell at 6:30 a.m. the following morning. Epstein had been arrested in July 2019 on sex trafficking charges.
On November 19, 2019, New York federal prosecutors charged Thomas and Noel with creating false records and conspiracy. The two guards admitted to falsifying records to make it seem as if they had conducted the required checks on Epstein's cell on the night of his death. However, video footage showed that Epstein had been left unwatched in his cell for eight hours before being discovered dead the following morning.
Both guards avoided jail time in exchange for agreeing to cooperate with the Justice Department's ongoing investigation into Epstein's death. Both men will also undergo supervised release and will be required to complete 100 hours of community service, according to the Associated Press.
A judge must still approve the deal. The judge could make their decision as early as next week.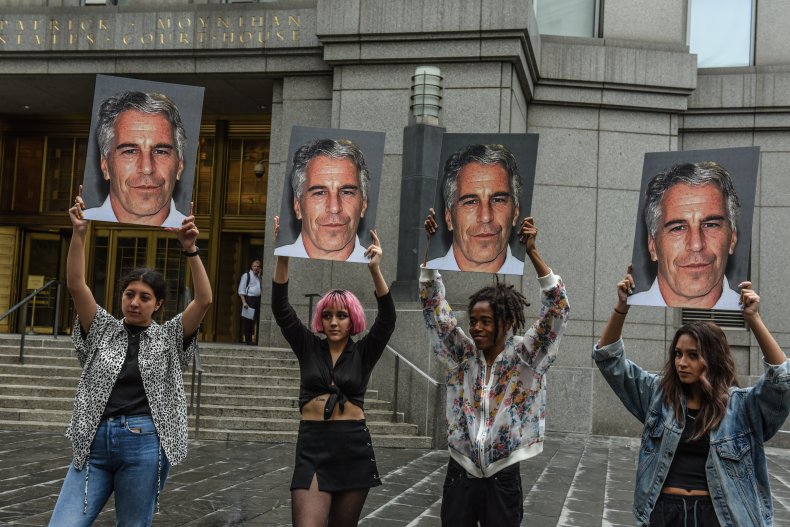 "One hundred hours of community service is a joke — this isn't traffic court," wrote Republican Nebraska Senator Ben Sasse in response to the deal. "The leader of an international child sex trafficking ring escaped justice, his co-conspirators go to the grave with him, and these guards are going to be picking up trash on the side of the road."
Sasse said that Epstein's victims "have been failed at every turn." He said the public deserves a full report on the Bureau of Prison's "failures." Sasse added that the Justice Department "needs to redouble its work to bring every one of Epstein's co-conspirators to justice."
The criminal charges against Epstein alleged that he had flown underage girls to his private island in St. Thomas. There, he allegedly nakedly fondled the girls under the guise of them giving him "massages." His associate, Ghislaine Maxwell, is facing charges of helping "groom" underage girls for Epstein.
The indictment against the guards alleged that, on the night of Epstein's desk, they sat at their desks, 15 feet away from his cell. On that night, the guards allegedly shopped for furniture and motorcycles online and checked the cell unit's commons area rather than the cells as required every half hour. The two guards also appeared to be asleep during one two-hour period that night, the indictment said.
New York City's medical examiner ruled Epstein's death a suicide. But, Michael Baden, a board-certified forensic pathologist hired to oversee the autopsy by Epstein's brother Mark, said he believed that Jeffrey Epstein died more likely due to homicidal strangulation than suicidal hanging.
The autopsy found that Epstein had multiple fractures in his neck bones, including the hyoid bone, the front-facing bone found just below a person's chin. Fractures of the hyoid bone occur more commonly in homicides involving strangulation than in hanging suicides, according to experts cited by The Washington Post.
The two cameras in front of Epstein's cell reportedly malfunctioned on the night of his death, according to Reuters. The FBI has since taken the cameras as part of their investigation.
Epstein's body is buried in an unmarked grave next to his parents' own unmarked graves in the IJ Morris Star of David cemetery of Palm Beach, Florida. Their names were removed from their tombstones in order to prevent vandalism, according to The Jerusalem Post.