Jenna Ellis Responds to Colorado Censure
Former Donald Trump attorney Jenna Ellis is speaking out after her censure by the Colorado State Bar Association for knowingly misleading the public about the result of the 2020 election being "stolen."
Ellis, one of the leading figures in Trump's efforts to overturn the result of the 2020 election, was censured by the state's top legal association Wednesday after admitting to making 10 separate misrepresentations of fact following the 2020 election.
Among the list were claims the election "was stolen and Trump won by a landslide" as well as a demonstrably false statement she made shortly after Trump's defeat that then-Democratic candidate Hillary Clinton did not concede the 2016 election, which Clinton did within hours of her 2016 loss.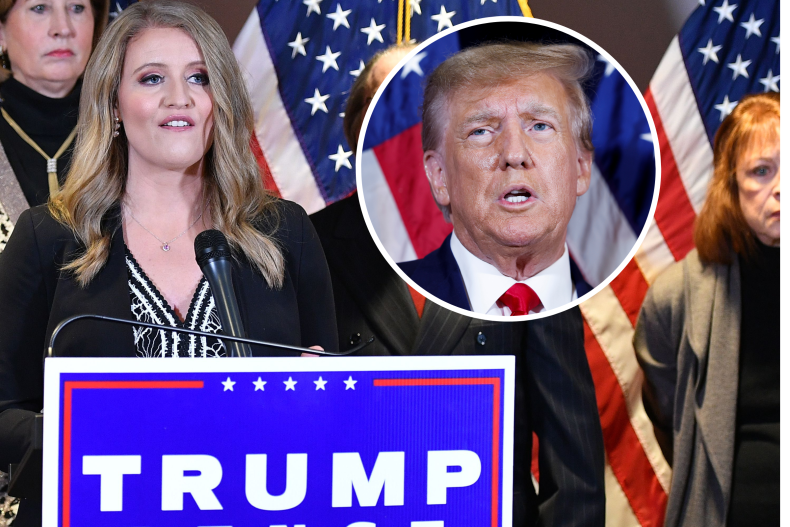 Her inability to provide proof of those claims in a number of legal challenges in 2020—and a number of judge's subsequent rejections of her challenges—was enough for the Colorado State Bar to determine Ellis was in violation of rules providing it is "professional misconduct for a lawyer to engage in conduct involving dishonesty, fraud, deceit, or misrepresentation."
Through statements made in "at least a reckless state of mind," disciplinary judge Bryon M. Large wrote, Ellis "undermined the American public's confidence in the presidential election" and violated her duty of "candor to the public."
To the press and other observers, the censure was tangible proof of something else: that Ellis knew what she was saying was false.
"Trump 2020 lawyer admits misrepresenting stolen election claims," one Politico headline read.
"Former Trump attorney Jenna Ellis censured for election rigging lies," a headline from Denver's Channel 9 News in Ellis' home state of Colorado—where she once served as a district attorney—read.
Ellis, however, maintained in her first public comments following her censure that she didn't lie and that the media was "falsely trying to discredit her" by claiming she lied throughout the course of her team's efforts to overturn the election.
"That is FALSE. I would NEVER lie," she said in a tweet denouncing the headlines. "Lying requires INTENTIONALLY making a false statement. I never did that, nor did I stipulate to or admit that. As has become sadly typical, the opposition-controlled media is intentionally twisting the truth, conflating the full RPC standard with the actual stipulation."
"Bar complaints have been filed all over the country by people Trump lawyers have never met, had no client relationship with, and who are totally partisan against Trump," she added. "This is and always was political lawfare to intimidate lawyers from representing Trump or Republican candidates, especially in election challenges and try to destroy our livelihood and reputation. Organizations filing complaints have been open about this motivation."
Newsweek has reached out to Ellis via email and Facebook message for comment.