Jenna Jameson, Jessi Lawless Confirm Relationship Amid Romance Rumors
Jenna Jameson's romantic relationship with Jessi Lawless has been confirmed in a TikTok video, more than two months after the pair sparked speculation.
On Wednesday, barber and influencer Lawless, who is set to turn 40 on February 5, took to the video-sharing platform. She posted a clip of herself lying beside former adult film star Jameson, 48, as she made the official announcement.
"Well, guys, I guess something this hot don't stay on the shelf too long, 'cause I got a girlfriend, baby!" Lawless said in her signature high-energy style. "I'm dating Jenna Jameson!"
As Lawless zoomed in the camera on Jameson during the seconds-long clip, the former Playboy model was seen playfully covering her face.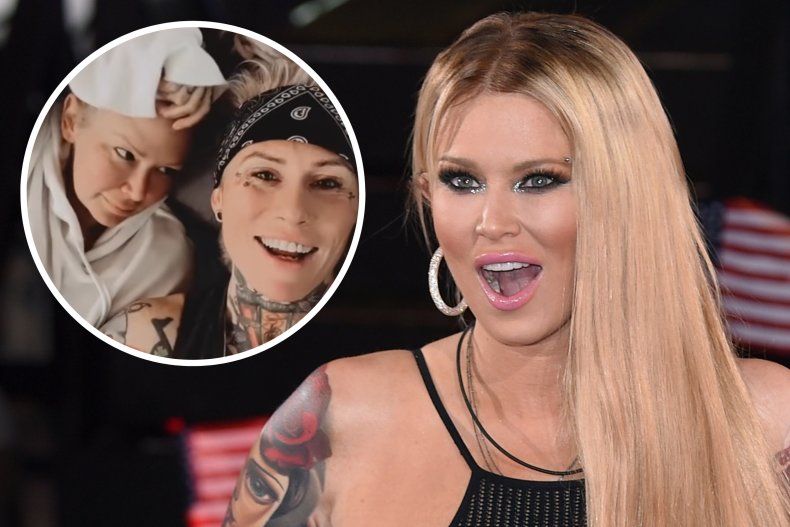 The video was also shared on Instagram by Lawless, whose post appeared on Jameson's grid. The latter's followers flooded the comments section with congratulatory messages, a number of which she replied to.
When one Instagram user criticized the relationship announcement, Jameson responded: "I wish you'd be happy for me and not overstep boundaries."
Another commented that bisexual people are "impossible to lock down" in romantic relationships. Jameson wrote back: "This is such an ignorant comment. Just because someone is [bi] doesn't mean they cheat."
"I thought she was married to a Jewish guy," posted one Instagram user, in apparent reference to Jameson's former longtime fiancé, Lior Bitton.
"We split up last year," Jameson wrote in response, before agreeing with other Instagram users who questioned the need to bring up Bitton's religion.
In October, Jameson addressed fans' questions over her relationship status with Bitton, after she shared a pair of cryptic posts on Instagram.
Jameson, who has been living with an as-yet-undiagnosed illness since January 2022, had long faced speculation from her social-media followers over her relationship with Israeli businessman Bitton, given their living arrangement.
While Jameson was based in Hawaii for much of the past year, Bitton—to whom she had been engaged since 2015—had spent the past several months sharing footage of himself in Los Angeles with their 5-year-old daughter, Batel Lu.
After sharing in an Instagram Story in the late summer that she and Bitton had been going through a rough patch, Jameson appeared to be addressing her engagement in October, when she shared a pair of cryptic Instagram posts.
Explaining why she chose not to be direct in her posts, Jameson later told her followers: "I want you to understand that I'm being cryptic because there's a child involved and right now it's important to me to keep her safe. So everything is good and I just ask that everybody be kind right now because kindness is good."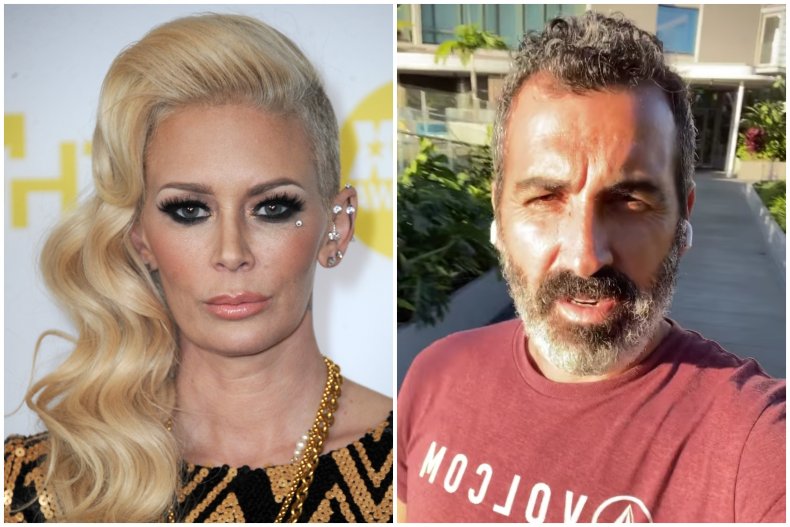 In recent weeks, Jameson and Lawless have shared several social-media posts of themselves spending time with each other. Lawless, who is based in Florida, has made multiple trips to Las Vegas, where Jameson has been spending time.
In January, Lawless posted a photo of herself posing with Jameson's arms around her. While Jameson's face was not visible in the image, her distinctive tattoos were on display and Lawless tagged her verified Instagram account.
Influencer and barber Lawless captioned the post: "Entanglements be like..."
Days earlier, Jameson shared a selfie, alongside the caption: "Come to bed babe."
"See you soon," wrote Lawless, to which Jameson responded, "that's my girl."
Jameson kicked off the romance speculation in November, when she shared a photo showing her tattooed arms resting against those of another.
In another post that month, Jameson shared an image that showed her tattooed arm resting against Lawless' face and neck, writing: "She's the one #mypringle."
The posts sparked an onslaught of questions from some fans about the nature of Jameson's relationship with Lawless. Many others appeared to assume it was romantic and congratulated the star.
At the time, Lawless wrote on her Instagram account: "Y'all chill out I'm still single as a pringle." She added that she had been through a "brutal" breakup. "I'm healing. @jennacantlose is just helping me heal," she posted.