Jenna Marbles Fan Photo Sparks Pleas for Internet Star To Come Back Online
A photo of Jenna Marbles posing with a fan has gone viral on Twitter this week—prompting a host of the social media star's former followers to declare how much they miss her.
Marbles, whose real name is Jenna Mourey, stepped away from vlogging in the summer of 2020 after apologizing for past offensive content and the use of blackface during an impression of rapper Nicki Minaj.
Since then, she has not uploaded content on any of her social media accounts, which have either lain dormant or been deleted, meaning that sightings of the popular personality have been rare over the past two years.
All of that changed on Monday, however, when Twitter user @saaltinthewound shared a photo of herself posing with Marbles and her YouTuber fiancé Julien Solomita after running into them at a mall.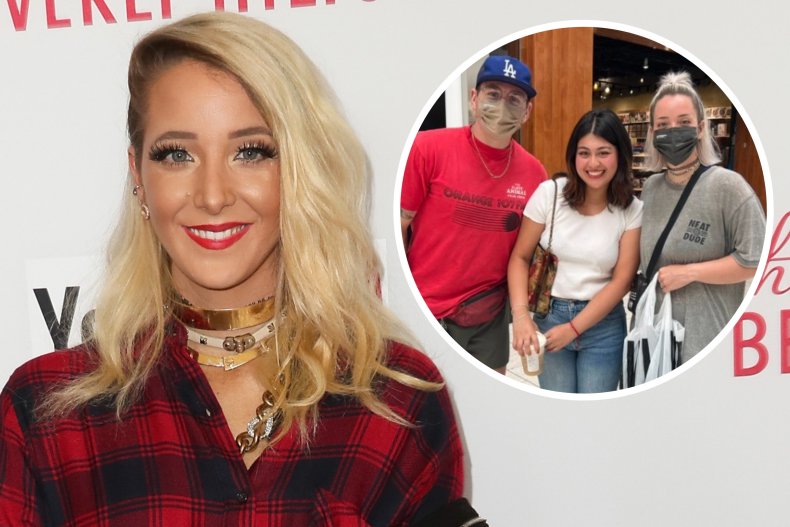 Toting a Footlocker shopping bag, Marbles was seen sporting a baggy gray T-shirt and black leggings, while a mask partially obscured her face.
Also wearing a face mask, Solomita stepped out in a red T-shirt and gray shorts, while a blue Los Angeles Dodgers cap rounded out his look.
An accompanying caption on the post read,"me and jenna and julien slaying," which at press time had received more than 70,000 likes.
The numbers appeared to reflect widespread excitement among fans of Marbles, who expressed their enthusiasm en masse on the micro-blogging platform.
A tweet from comedian Dennis Feitosa's Def Noodles account read: "BREAKING NEWS THAT WILL MOST DEFINITELY CHANGE YOUR LIFE: Jenna Marbles seen for the first time in a long time."
The reactions soon flooded in, with one Twitter user writing: "I don't miss anyone in this world like I miss Jenna marbles."
Another illustrated their feelings by showing a photo of Kermit the Frog staring at an iPhone, alongside a snapshot of the puppet hugging the smartphone.
"New jenna marbles photo," read an accompanying caption.
"Since Jenna Marbles is trending…reminder I miss her weekly dose of serotonin," another fan said, emphasizing their feelings with a crying face emoji.
As the tweet continued to garner views and interactions, a number of fans questioned whether permission had been given by Marbles for the photo to be made public.
Answering that query, a social media comment attributed to Solomita was shared on Twitter, stating that "whenever jenna or i consent to taking a picture (basically anytime someone asks) we are saying yes to them posting it.
"I appreciate y'all looking out for her and her privacy though."
The viral reaction led to the poster of the photo taking to her TikTok account on Wednesday to share her experience, and also give a brief insight into meeting Marbles.
"So yesterday I went to the mall and then I coincidentally ran into Jenna Marbles, which was like unexpected, obviously," she said in the clip. "I hadn't heard anything of her since she quit the internet.
"So I approached her… I'm not telling you everything I told her. Took a picture, posted [it] on Twitter. In my mind, only me and my Twitter mutuals were gonna see that s***, because I just don't get a lot of interaction anymore. Like, half the accounts that follow me are literally dead."
She then showed that the post had, at the time of making the video, clocked up 226,000 impressions, prompting her to exclaim: "What the f*** is this? So then I was thinking, I was like, people post as a f****** job. Like, this is the average interaction that some people get. This is low for some people, and it literally makes me wanna throw up!"
In the comments section of the TikTok post, one person asked how Marbles was as a person, prompting the uploader to say that she was "very sweet."
When another enquired whether the uploader had asked if Jenna is planning a comeback to social media, she responded: "no i felt like that was a bit out of pocket but i [did] thank her for all of the content she had created."
The post came a month after a fan took to Twitter on June 25 to state that the day "officially marks two years without jenna marbles on the internet. thank you jenna for everything you've created for us and we all hope you're living your best life."
Marbles, who had more than 20 million subscribers on YouTube, quit the platform in 2020 after apologizing for specific clips from 2011 and 2012. In one video she wore blackface to impersonate Minaj, another featured a rap with a joke about Asian people and in a third clip Marbles decried women who "slept around."
"It was not my intention to do blackface…but all that matters is that people were offended and it hurt them," Mourey said in the now-deleted video apology. "I think I'm just gonna move on from this channel for now. I want to make sure the things I put out into the world are not hurting anyone."
Marbles and Solomita, whose engagement was announced in April 2021, also had a joint-podcast, the Jenna and Julien Podcast, which they ended in August 2020.
"I haven't been on the internet for a while." Marbles said at the time. "I'm getting help, and I'm just being a person right now."