Jenna Ryan, Who Took Jet to Capitol Riot, Asks Donald Trump for a Pardon
A woman who flew to Washington D.C. on a private jet on January 6, and has since been charged in connection with the Capitol riot, has publicly asked President Donald Trump for a pardon.
Jenna Ryan is a realtor from North Texas who turned herself over to the authorities on Friday. She spoke to CBS11 at her home later in the day. Ryan allegedly took photos of herself during the riot and posted them to social media.
In the interview, Ryan made a public appeal for a presidential pardon, saying "I would like a pardon from the president of the United States."
"I think we all deserve a pardon. I'm facing a prison sentence. I think I do not deserve that and from what I understand, every person is going to be arrested that was there, so I think everyone deserves a pardon, so I would ask the President of the United States to give me a pardon."
Ryan has been charged with "knowingly entering or remaining in any restricted building or grounds without lawful authority" and "disorderly conduct on Capitol grounds," according to the Dallas Morning News.
Earlier in the CBS11 interview, Ryan discussed being arrested by the FBI. "They're very professional and it was a very strange feeling," she said. "I have a lot of faith in God and I was just praising him and praying and I was just knowing God would take care of me in this situation."
"I just want people to know I'm a normal person," Ryan continued. "That I listen to my president who told me to go to the Capitol. That I was displaying my patriotism while I was there and I was just protesting and I wasn't trying to do anything violent and I didn't realize there was actually violence."
An FBI statement of facts submitted to the U.S District Court in Washington, D.C. on Thursday also alleges that Ryan recorded a now-deleted Facebook video, later posted to YouTube, where she can be heard saying "we are going to f---ing go in here. Life or death, it doesn't matter. Here we go."
Later in the video Ryan allegedly says "y'all know who to hire for your realtor. Jenna Ryan for your realtor." Her face is also visible during some of the recording, according to the FBI.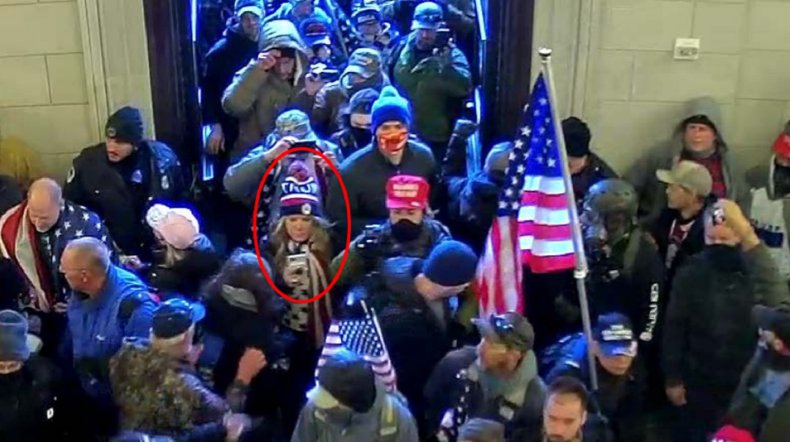 "I don't feel a sense of shame or guilty from my heart. I feel like I was basically following my president. I was following what we were called to do. He asked us to fly there. He asked us to be there. So I was doing what he asked us to do," Ryan told CBS11 on Friday.
"I do feel a little wronged in this situation because I'm a real estate agent and this has taken my company. This has taken my business. I am being slandered all over the internet, all over the world and all over the news and I'm just like a normal person."
Ryan is the second person to ask Trump for a pardon in relation to the Capitol riot. Jacob Chansley, who wore horns and fur during the deadly attack, has also requested clemency.