Jennifer Aniston's comments about people "diluting" the jobs of actors by finding fame through social media has sparked a flood of criticism on Twitter.
The Friends star, 53, recently sat down for an interview with Sebastian Stan as part of Variety's "Actors on Actors" series, where they discussed her role in newsroom drama The Morning Show, and his portrayal of rocker Tommy Lee in Pam & Tommy.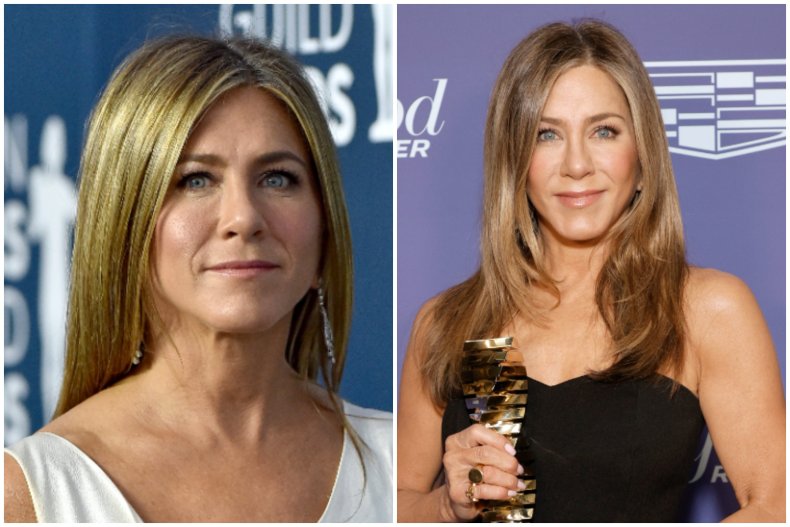 During their chat, the actors spoke about Pam & Tommy's coverage of Mötley Crüe drummer Lee's sex tape scandal with his then-wife Pamela Anderson.
Aniston noted that it occurred "right at the time when the internet really shaped a new culture about people becoming famous. This thing of people becoming famous for basically doing nothing. I mean—Paris Hilton, Monica Lewinsky, all those."
Continuing to share her take on the changing landscape of the entertainment industry, Aniston went on: "I always say I feel lucky that we got a little taste of the industry before it became what it is today, which is just different—more streaming services, more people.
"You're famous from TikTok. You're famous from YouTube. You're famous from Instagram. It's sort of almost like it's diluting our actor's job."
Aniston's comments on the matter were soon shared on Twitter, sparking a spirited debate among detractors and those who supported the screen star's take.
One person tweeted: "I love Jen but I don't get this mindset at all. You spent the 90s marketing yourself at parties and auditioning for roles. They spent their time posting videos or selfies and marketed themselves on social media.
"It's the same thing just this is providing more ways to get a step [in] the industry. It may suck seeing some who may not have the same credibility as you land gigs you wanted but that doesn't mean they aren't as talented or hard working or whatever else as you.
"I agree acting isn't for everyone with a pretty face and millions of followers BUT [that] doesn't mean some don't deserve a chance to try. [...] It doesn't matter where someone gets their start. It matters if they have the drive and [the] dedication to fulfill those paths they have taken."
"Also it really f****** irks me she's shading people who landed gigs on streaming services," they concluded. "Like sis, a gig is a gig. Those actors are just as talented so why are you shading them?????"
Several others pointed out the fact that Aniston is the daughter of veteran daytime soap star John Aniston, best known for his long-running role in Days of Our Lives.
"Nepotism is just not [...] the norm anymore," one Twitter user commented. "A lot of people who came up during her time had a relative in the industry. Their parents were wealthy, or they hung out with the children of celebrities. That's how she got her foot in the door. Her dad was an actor."
"I def see her point, I just don't think nepotism kids should have much room to talk on what regular people do to get in the industry," opined another. "Her dad might've not been an A-lister but at least she got an agent way faster than someone dreaming about it from their room in a tiny town."
Wrote another: "While her intentions behind this comment may be pure, I want to push back and say there are creatives on social platforms that are disciplined in what they do, bc doors that should be opened for them in spaces like Hollywood aren't, they are building their own in other ways."
Amid the sea of criticism, were also a number of Twitter users defending the Marley & Me star, as they insisted that her statement was not essentially wrong.
"I mean she's right.. back then you have to be talented to get a job," stated one. "Today, you just have to be marketable."
"I don't get why people are mad, she is telling the truth," said another. "People that go to theater school and many others that are in the entertainment industry for years are losing jobs or being compared to influencers with no background in any entertainment field."
Ultimately, shared another person weighing in on Aniston's comments, while it may be difficult to see Hollywood's traditional grip on the entertainment industry loosen somewhat, it should be seen as progress.
"It's true, [Hollywood] is almost over and it must be hard for all actors to witness that," they tweeted. "But it is also important to realize that things are now more democratic. It's just a matter of adapting to the new times, good actors will always have space."
Despite her comments about social media influencers, Aniston waded into the world of Instagram in 2019, clocking up 1 million users in less than an hour.
In an interview with the Los Angeles Times at the time, Aniston said of using the platform: "The thing I don't want to do, which was always a hesitation for me in the beginning, is be consumed by it. I don't want to become distracted like that. I already get distracted enough by other things in life."
She added that she was enjoying her time using the image-sharing platform, explaining: "I'm very happy that it seems to have been a fun thing and that it seems to be well received.
"I could see how it's fun to creatively put those little bits together, be funny, make fun of yourself and have fun just in general. And being able to connect with fans and it makes them very happy."
She also told Ellen DeGeneres on her talk show back in 2019 that she could also see the other potential positives from using Instagram.
"It was just one of those things. Eventually—it's not going anywhere, right? So why not join the party?" Aniston said, per Harper's Bazaar. "And it's not that scary. [You can] share information, connect with your fans, right wrongs that are said about you, have fun, make fun of yourself, make fun of people, help animals get rescued."