TikTok Star Taylor Frankie Paul's Mormon Swinging Scandal Explained
MomTok, a group of TikTok content creators mainly comprised of Mormon mothers, has become an unlikely hotbed of scandal in recent days, amid allegations of swinging among the Utah-based friends.
Taylor Frankie Paul kicked speculation into overdrive on May 20, when she stated in a series of TikTok videos that she was getting divorced from her husband, Tate Paul.
In one TikTok video, which has been viewed more than 10 million times, Paul stated in a caption: "In my twenties, getting divorced, started therapy, living on my own for the first time ever along with two kids.
She wrote in another clip on the subject: "My entire life falling apart. And I cant even speak on why...without bringing them all down with me."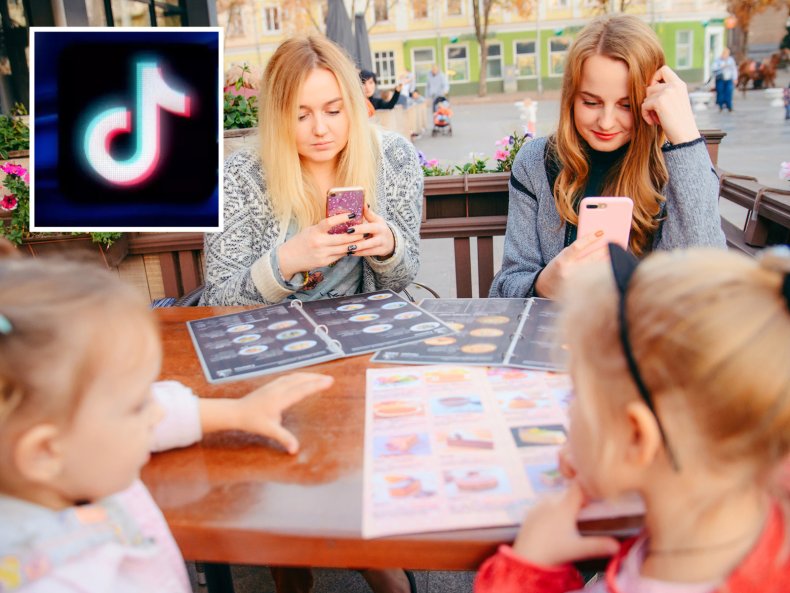 To illustrate the purported transitionary period in her life, Paul was seen with moving boxes and also in a sparsely furnished property.
While a number of her followers on the social media platform commented that they believed Paul was actually just moving into a new home with her family and making claims of a divorce to drum up publicity, her other allegations became a talking point.
According to multiple reports, Paul alleged during a live TikTok session that she and select friends and their partners had been engaging in "soft swap swinging."
A Men's Health article published in October 2021 defined a "soft swap" as the act of temporarily trading partners to indulge in acts together that do not include penetration. A "full swap," according to the publication, does involve penetration.
Per Distractify, Paul alleged during a live session on social media that "the whole group [of friends] was intimate with each other."
The outlet reports that she alleged her husband had "made out with several girls" and that she did the same with all of the husbands.
Paul reportedly confessed to having "messed up" by going "all the way" with one person in friendship group without her husband knowing, or the knowledge or approval of the man's spouse.
This apparently violated an agreement that swinging intimacy would only occur with each party's primary spouse present.
"No One Is Innocent"
According to Paul, there are "three divorces in the friend group," with two being the result of a fallout within the group.
"No one is innocent," Paul is quoted as telling her social media followers during the live session. "Everyone has hooked up with everyone in this situation.
However, Paul insisted that the breakdown of her marriage was not directly linked to the incident, explaining: "The divorce is not like, all because of this huge blow up [in our friend group]. It was more because I feel like we had a lot of other issues and then this was the tip of the iceberg."
The comments implicated a number of other women known by TikTok users to be a part of her friendship circle.
Soon after the allegations were made, at least two women from the MomTok group stepped forward to declare that they were involved in the couple swapping, only serving to intensify speculation over who the people involved actually were.
Explosion of Discussion
The interest in the claims has led to an explosion of discussion on Reddit, where extensive threads have been posted to aid other readers in untangling the web.
Paul has shown her awareness of the discussion about her that has been gripping the platform, sharing a TikTok video captioned: "It's on reddit, it must be true. Excited to co parent with my best friend."
In the clip, Paul shared a montage of images and clips and saw her and her husband from engagement to happy days in their marriage to her purportedly moving out of their marital home.
In her most recent video, which was posted at the start of last weekend, Paul was seen affecting a dramatic collapse onto her kitchen counter, where she repeatedly pounded her fist.
Read the text on the clip: "everytime I open reddit and search my name."
Paul, who has more than 3.5 million followers on the platform, added the caption: "thank goodness for therapy today."
Newsweek has contacted Paul for comment.
While different factions of followers engage in spirited debate over the veracity of all of the claims, it has also been noted that Paul had previously joked about swinging, as well as playing to the stereotype that members of the Mormon community practice polygamy.
Though the website for the Church of Jesus Christ of Latter-Day Saints states that polygyny—the marriage of more than one woman to the same man—was an "important part" of the church's teachings, it notes that the practice is now "strictly prohibited in the Church, as it has been for over 120 years."