Jennifer Coolidge Says 'American Pie' MILF Role Landed Her 200 Sex Partners
Jennifer Coolidge has revealed that her role as Jeanine Stifler—aka "Stifler's Mom"—in American Pie proved to beneficial in more ways than one.
Coolidge, 60, was arguably the breakout star of the comedy franchise, appearing in four of the movies, ranging from 1999's American Pie to American Reunion, which was released in 2012.
Her character's sultry aura saw the franchise's coining of the term "MILF"—an acronym for "mother I'd like to f***"—and Coolidge has admitted that the role led to her being equally desired away from the big screen.
"You know, I got a lot of play at being a MILF and I got a lot of sexual action from American Pie," she said in an interview with Variety. "There were so many benefits to doing that movie. There would be like 200 people that I would never have slept with!"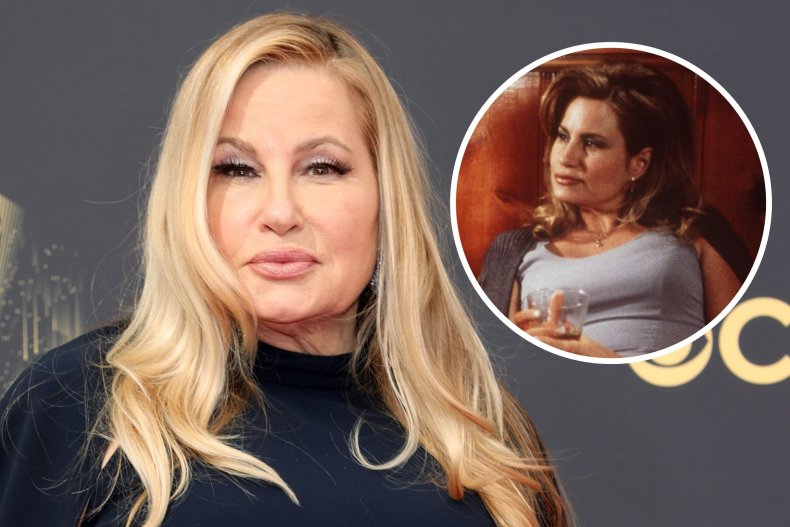 During an appearance on The Kelly Clarkson Show in February 2021, Coolidge also spoke about her love life, revealing that things took an adventurous turn when she embarked on a solo trip to Hawaii "quite a few years back."
"When you come and you're on vacation alone, you can kind of create anything you want," she told Clarkson. "I ended up meeting these two guys that were best friends, and I liked them both, so I told them that I had an identical twin, and I dated both guys."
While Clarkson responded by saying that she found the very idea "exhausting," Coolidge explained that her scheme likely only worked out for her because she was young.
"I don't know if I would have the guts to do that now but at the time it really was sort of a great decision," the Massachusetts native said. "Because you know, when you're younger you can just about get away with anything."
Elsewhere in her interview with Variety, Coolidge spoke about being typecast after playing her American Pie character and Paulette Bonafonté Parcelle in the Legally Blonde movies, feeling that there was a lack of desire to cast her in serious roles.
That changed when the screen star was cast as Tanya McQuoid in HBO's critically-acclaimed comedy-drama The White Lotus, which saw her land her first Emmy nomination.
"The saddest thing about life is that you just make decisions about yourself," Coolidge said. "If I'm not getting great roles, I come to the conclusion that people think I'm incapable of that. And then I make the decision that I am incapable of that.
You actually have to have a [White Lotus director] Mike White that comes in and says, 'I think you can do this.'"
She added: "I have done one thing really right in my life… I've picked great friends. If Mike was never successful, and we just did White Lotus as a play in a little theater where everyone paid 10 bucks to see it, it would still be one of the greatest things that ever happened to me.
"Because it was a killer job that no one else thought I could do."