Supernatural actor Jensen Ackles appeared on a podcast this week where he discussed the "horrible" time he had making Dark Angel with actor-turned-entrepreneur Jessica Alba.
On the Inside of You: Michael Rosenbaum show, Ackles discussed feeling "picked on by the lead" of the Fox show, in which he starred alongside Alba in 2001 and 2002.
"She had it out for me," added the actor, whose upcoming credits include The Boys Season 3 and the ill-fated Rust. Alba has also spoken about the difficulty of making that show, which aired when she was 19 years old.
However, Ackles also spoke of his eventually positive relationship with the Sin City actor—a point a number of outlets reporting on the story failed to mention.
What Jensen Ackles Said About Working with Jessica Alba on Dark Angel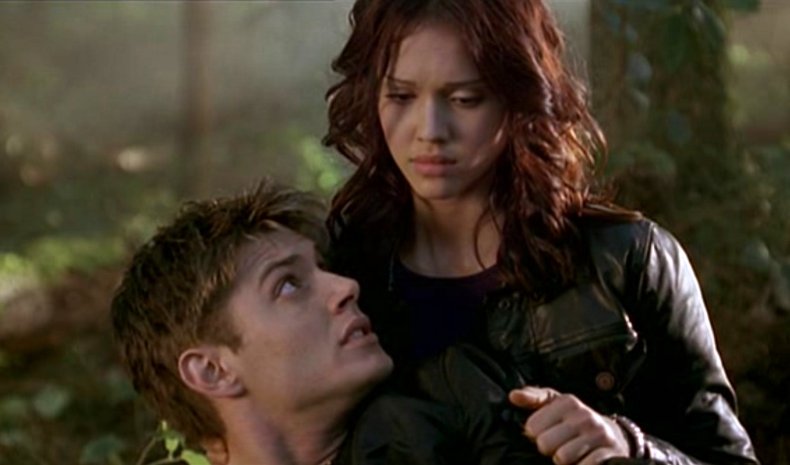 Asked by Rosenbaum what it was like working with Alba, Ackles said: "Horrible...I'm not kidding. I've told this to her face.
"I love Jess, which I know kind of contradicts what I've just said...She was under an immense amount of pressure on that show. She was young, she was in a relationship with [co-star Michael Weatherly], and that was rocky and causing some undue stress I believe on set."
Alba's relationship with NCIS and Bull star Michael Weatherly lasted from 2000 (when Dark Angel began) until 2003 (the year after it ended). At one point, they were engaged, but did not end up going through with the marriage.
Speaking to Cosmopolitan in 2005, she said of dating her co-star: "I've only had two boyfriends. In the first one, with Michael, I didn't have a voice yet, and he was so much older...I was so young, 18, when I started dating him."
She later added, "I don't know [why I got engaged]. I was a virgin. He was 12 years older than me. I thought he knew better."
Ackles joined Dark Angel as a series regular in its second season, when he was 23. He said of this: "I was the new, fresh face on the set who wasn't really there in Season 1...I was the new kid on the block, and I got picked on by the lead."
He described their relationship as, "the worst kind of bickering a brother and sister could do," adding that, "she had it out for me."
However, he added that eventually the two came to a level of "mutual respect."
He then shared a story of her comforting him after the death of his grandfather: "She literally just walked into my trailer and held me for half an hour. It was that kind of a relationship."
Alba has spoken previously about not feeling respected during her early days in Hollywood. She told People Magazine, "I always wanted to be treated the way that I saw men being treated. Men were told, 'Oh, you're really smart' if you have ideas about the character or the story, where for the women it was like, 'What? You have an opinion?'
"It was like you came off as aggressive, where a man just looked really assertive and powerful."