'Jeopardy!' Champ Amy Schneider Branches Out Into Tarot Readings
Jeopardy! champ Amy Schneider has revealed that she is set to begin posting weekly tarot videos on social media, including offering readings for fans and generally discussing the centuries-old practice.
Tarot is a form of cartomancy where tarot cards are used with the intention of gaining insight into the past, present or future. A question is usually formulated before the cards are drawn to interpret the query.
Former software engineering manager Schneider, who in 2022 nabbed the top prize in the Jeopardy! Tournament of Champions, took to Instagram, Twitter and TikTok on Monday to reveal her new social media endeavor.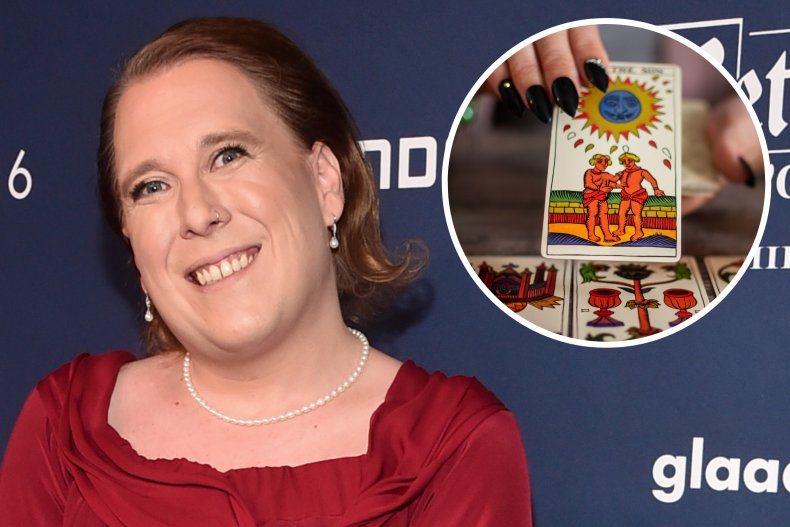 "I believe I mentioned it on Jeopardy! but I've always been into tarot," she said, before explaining her plan for the weekly videos. "Sometimes there'll be readings that I do for myself or for y'all, or maybe special requests that somebody sent in. And sometimes just teaching about the tarot, because I think it's really fascinating and I think it can be good for people to learn."
"You might not think—and I wouldn't have thought at one point—that I would ever get into tarot," she continued. "I was very serious computer programmer and not into this woo-woo stuff. But I started playing around with it and you know, as a very serious programmer, I had to follow the evidence that I saw. I saw it worked for me and for people that I give readings to.
"What I've come to realize is that it works because it doesn't, you know, in my opinion, bring us truth from some higher power, necessarily. It just teaches us things that we already know, but don't necessarily have access to—the things we know we can always pull up right away in our brain and we're not necessarily conscious of."
The Ohio native went on: "I think, especially for things about ourselves about what we really want—what our hopes and fears are, what really drives us—I think that is something that is easier for us to to think we know about ourselves, but realize that we don't actually realize that there's more going on and than we're fully conscious of."
Schneider explained that tarot is a "random generator for a story about ourselves that lets us see ourselves from a different perspective, see ourselves from outside and kind of shake loose some of that knowledge that we don't necessarily have access to... Our brain works in stories. And so they're a very powerful tool for insight and wisdom."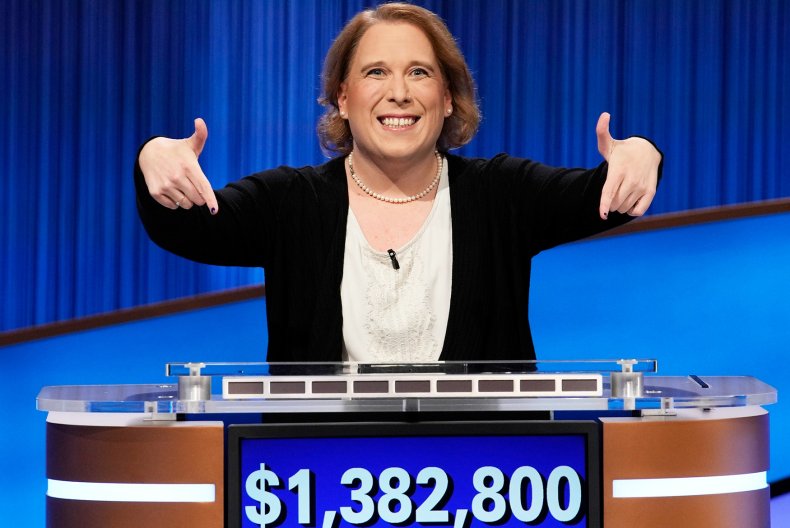 "It does have a structure to it," Schneider insisted. "The cards don't just mean whatever you want them to mean. They do each have a real meaning. But at the same time, there's enough ambiguity there's enough kind of interesting strangeness to the designs that really lets you shape it to whatever's going on in your life, whatever the sort of questions you are coming to the tarot with are."
"It's been really valuable for me, it's been valuable for other people. And I'm sharing it with you because I think it could be valuable for you as well," added Schneider, who said that the videotaped tarot sessions will take place each Monday.
"Maybe I'll convert you tarot skeptics out there," California-based Schneider quipped. "I think I can, partly because of course, I'm so charming."
Schneider last year revealed that her relationship with her wife, Genevieve Davis—with whom she quietly tied the knot in May—blossomed after a tarot reading.
The couple met in July 2020, when Schneider's friend was dating Davis' brother. Schneider offered Davis a tarot card reading and allowed her to spend the night on her couch.
"My first impression was... she's very thoughtful and calm and very smart," Davis told the Los Angeles Times last March of Schneider, who replied that she found her partner-to-be "really cute."
During her Jeopardy! run, Schneider made a huge impact, becoming the first openly transgender woman to qualify for the Tournament of Champions. She is also the highest-earning woman in Jeopardy! history (racking up $1,382,800 in winnings), with the longest win streak.
After making her debut on the show during November 2021's Trans Awareness Week, Schneider went on to win 40 consecutive games, leaving her second only to all-time Jeopardy! champ Ken Jennings, who holds 73 wins.
Schneider returned to the 2022 Jeopardy! fold for the Tournament of Champions, which was broadcast in November. After battling it out with a host of other top-performing past contestants, she emerged the victor, scooping the $250,000 grand prize.