Jeopardy! champ Matt Amodio is quickly becoming a household name, thanks to his record-breaking run on the quiz show—and it's making him "very uncomfortable."
Amodio, who is a Ph.D. computer science student at Yale, was seen hitting another major milestone on Friday, when he became the third contestant in the entire history of Jeopardy! to pass $1 million in earnings from non-tournament play.
And while he continues to attract fans with his broad range of knowledge and quirky style of answering clues, Amodio has admitted that the attention his 28-game win streak has attracted is one of his least favorite elements of the show.
"I have been very uncomfortable!" Amodio told the Connecticut Post's CT Insider. "I'm an introverted person at heart, and maybe over enough time I would get used to this amount of attention, but that time has certainly not come yet. I still get chills when I see an article written about me. Me? Me, me?"
Earlier in September, the Ohio native touched on the same subject in an op-ed for Hearst Connecticut, where he admitted that while his long run on the show as been "the thrill of a lifetime," he remains an introvert at heart.
"I'll never get used to the fact that I'm on TV or my name is in the paper or that strangers know who I am," he wrote. "I'm a pretty introverted person. That hasn't prevented me from thoroughly enjoying the whole experience, though!
"I've been treated so kindly and warmly, it's brought a sense of community, and I've been touched by how my community has supported me."
With 28 straight wins in the bag, Amodio saw his earnings increase to a jaw-dropping $1,004,001 during Friday's episode of the show.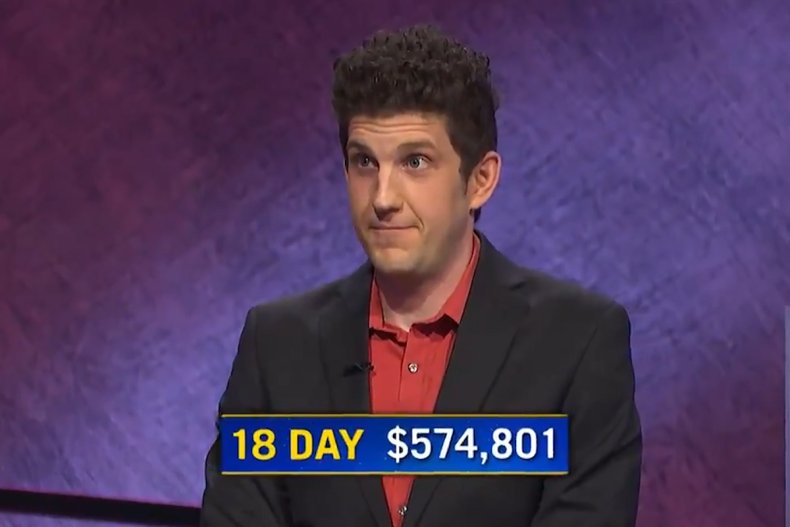 Crossing that threshold has placed him behind just two other contestants in winnings during regular season play.
All-time Jeopardy! champ Ken Jennings sits in the top spot, with his 74-game win streak earning him $2,520,700 in back 2004, while James Holzhauer earned a close $2,462,216 through his 32 games in 2019.
The contestants' hot streaks come after a vital rule change was made at the start of the show's 20th season in 2003, before which players on Jeopardy! were limited to five consecutive games.
Amodio previously admitted in a Jeopardy! Q&A session, posted to YouTube, that he initially didn't think he would be "good enough" to compete on the show.
When asked about the journey that led to him being on the show, Amodio responded: "So I like Jeopardy! I've seen, I think, every episode in my lifetime. And I, nonetheless, didn't think I would be good enough to be on the show.
"My dad said, 'Take the Anytime Test. Nothing worse can happen than you won't get on, so just give it a try.'
"I said, 'Fine, I'll do it for you.' And I got a call, and then I got another call, and now I'm here and I just can't believe it."
The Jeopardy! Anytime Test gives budding contestants 15 seconds to answer 50 clues online, to deduce whether they'd be suitable to compete on the show.
Amodio's successful run on Jeopardy! has proved to be something of a breath of fresh air amid a cloud of unprecedented controversy for the show.
Former Jeopardy! executive producer Mike Richards has been the focus of much attention since August, when it was announced that he would be the late Alex Trebek's successor as host—only for him to step down nine days later.
At issue was the resurfacing of offensive comments Richards had made while he hosted his now-defunct podcast, The Ramdumb Show, between 2013 and 2014.
Despite Richards issuing an apology, the unrelenting outcry led to him losing his role as both the show's host and executive producer of Jeopardy! and Wheel of Fortune.
Mayim Bialik has since taken over as host of the show, and will, from November, split presenting duties with Ken Jennings for the remainder of the calendar year.