Of the guest hosts taking a turn at helming Jeopardy!, the most controversial one thus far might be Dr. Mehmet Oz. His stint began on Monday, but the host of TV's health-and-wellness program The Dr. Oz Show is not only hearing protests from fans of the show, but also former contestants.
Soon after Dr. Oz was first announced as part of the roster of celebrities in February, a petition was posted on Medium.com decrying the move.
The accompanying letter, attributed anonymously to "J! Contestants," explains the reason for the petition to remove the television personality. It states Oz has promoted "harmful ideas" that "include promoting supplements that do nothing, legitimizing gay conversion therapy (which is banned in California, as well as 19 other states), dangerous 'cures' for autism, and, most recently, the use of hydroxychloroquine as a treatment for COVID-19."
Since its original posting on February 24, the petition's attached Google spreadsheet has grown to include nearly 600 names. The majority of the signees were contestants in the past decade, and many were also champions.
Just like many fans of the program are doing on social media, these contestants are calling on Jeopardy!'s producers to cut short Oz's hosting spot.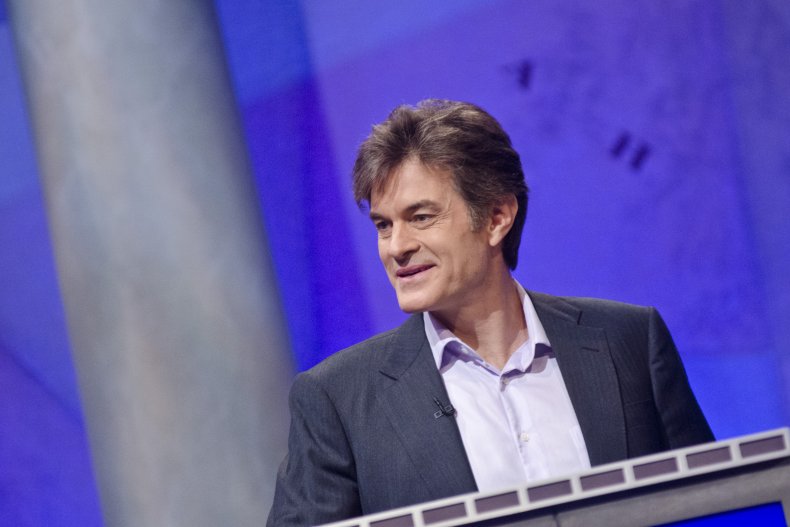 Dr. Oz's past comments regarding COVID-19 have left plenty of Jeopardy! fans particularly outraged. One oft-mentioned comment for Oz came last April during an appearance on Sean Hannity's Fox News show.
While speaking with the host, Dr. Oz said that reopening America's schools presented an "appetizing opportunity" and might only result in a total mortality rate of 2 percent to 3 percent more people than if they stayed reopened.
Oz was referencing an editorial from the UK science publication The Lancet that claimed there would be a 2 percent to 4 percent decrease in projected coronavirus deaths—not total mortality rate—in the UK with school closures. In Oz's wording, that number represented 6.56 million and 9.84 million, respectively.
He later apologized for the remarks by tweeting out a video in which he said (in part): "I've realized my comments on risks around opening schools have confused and upset people, which was never my intention. I misspoke."
However, many never forgot the unwise wording, including writer, comedian and former Jeopardy! contestant Louis Virtel. Though he did not sign the petition, he has sounded off on Dr. Oz's hosting gig multiple times, including recently bringing up the 2 percent to 3 percent figure.
Kristin Sausville, a five-time show champion in 2015, was among the early contestants to sign the petition and has since retweeted objections about Oz stepping into the hosting role.
Perhaps the most famous of all former Jeopardy! winners, Ken Jennings, was the first of the guest hosts to step in following the death of iconic host Alex Trebek on November 8. Jennings too suffered backlash because of past tweets that offended some, though his six-week hosting job managed to avoid scandal.
Jeopardy! executive producer Mike Richards hosted following Jennings, before Katie Couric took over for two weeks, ending on March 19.
Dr. Oz wraps up his two-week turn at the lectern on April 2. Green Bay Packers star quarterback Aaron Rodgers will then step in from April 5 through April 16.
Further interim hosts have been announced, though without dates given when they will be in charge of reading the clues. The rest of the hosts named are Anderson Cooper, Savannah Guthrie, Mayim Bialik, Bill Whitaker and Dr. Sanjay Gupta.