'Jeopardy!': Who Is the Final Guest Host After David Faber?
David Faber has been hosting Jeopardy! for the last four episodes, but his time behind the lectern is coming to an end on August 6.
The man who is replacing him will be the last of the sixteen guest hosts the show has gone through since Ken Jennings in January.
Faber's time on the show comes to an end shortly after giving an interview to Newsweek where he said he "would say yes" if he was offered the job.
The Squawk on the Street host and the next guest host, however, may be losing the chance at the permanent job to Jeopardy! executive producer Mike Richards, who is reportedly in talks to take over from the late Alex Trebek.
Who the Next guest Host of 'Jeopardy!' Will Be
The 16th and final guest host of the game show will be Joe Buck, a Fox sportscaster who covers both the NFL and MLB, and has been the play-by-play announcer of the World Series for over 20 years.
He is also the four-time Sportscaster of the Year, including three consecutive wins from 2002 to 2004.
Like all previous guest hosts, Jeopardy! is making a donation to a charity of Buck's choice. That charity will be KID smART, a St. Louis charity that provides free school equipment to low-income children.
The sportscaster's relationship with the charity is a long one. For 16 years, Buck has run an annual game show fundraiser for the charity called Back to School with Joe Buck, which raises $1 million every year.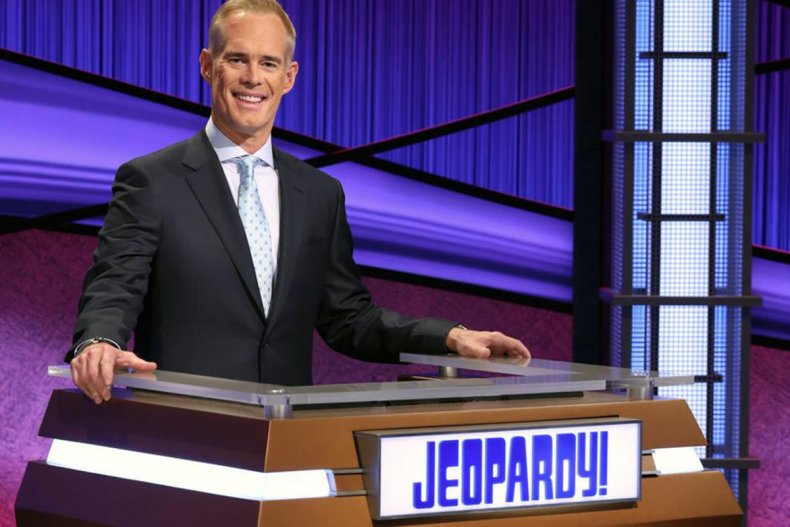 Speaking to Sports Broadcast Journal, he said of preparing for the new role: "I watched a ton of Jeopardy! just to get the mechanics down. I grew up watching it but not with an eye on ever hosting it...When I watched it recently, it was to to see how they come out of breaks. How do they go to break? What are the mechanics of Final Jeopardy!? These are things you have to do in a hosting role, whether it's Fox NFL Sunday or Jeopardy!"
He also told the outlet that unlike other guest hosts who have expressed an interest in the full-time job (like Faber, LeVar Burton or Aaron Rodgers), he is not auditioning for the permanent position.
Whoever gets that role is set to be announced this month—though if reports are to be believed it is set to be Mike Richards, a Jeopardy! executive producer who has also hosted game shows The Pyramid and Divided.
This comes despite the fact that Richards was actually a late-minute choice for a guest host slot. Per a Ringer article that interviewed the EP, he was informed just days in advance amid a rise in coronavirus cases in Southern California where the show is filmed. "I was never meant to be a part of that process," he told Broadcasting + Cable.
Jennings, meanwhile, made a joke at Richards' expense on his podcast that seemed to implicitly criticize the producer for making a power grab. Discussing how a new Dalai Lama is selected, co-host John Roderick (aka Bean Dad) said: "Is it ever a situation where the assistant to the Dalai Lama, in the process of searching for the new Dalai Lama, discovers it's him?" This led to Jennings joking: "Like Dick Cheney? Or Mike Richards."