This Green Bay Packers quarterback wants to be a full-time game show host. Aaron Rodgers loved his first guest stint hosting Jeopardy! so much, the NFL athlete wants to keep the job permanently.
The quarterback stepped into the shoes of the late Alex Trebek on Monday night and has not held back from admitting he wants to stay behind the podium full time.
"I'm not shy at all about saying I want the job," 37-year-old Rodgers said following the episode in an interview with The Ringer.
Although he admitted he wouldn't quit football to do the job, Rodgers, 37, thinks he can fit the filming schedule around his NFL duties.
"I don't think I'd need to give up football to do it," he said. "They [Jeopardy!] film 46 days a year. I worked 187 this year in Green Bay. That gives me, eh—178 days to do Jeopardy! So I feel like I could fit 46 into that 178 and make it work."
Rodgers said hosting the show "would be a dream job for sure, and I'm not shy at all about saying I want the job." Adding: "That's how I went into it. I want an opportunity to be in the mix."
Rodgers' hosting stint comes amid renewed calls for LeVar Burton to take over from Trebek.
Since the death of Alex Trebek last November, the long-running quiz show has opted for a roster of guest hosts instead of naming a single replacement.
Burton, the host of Reading Rainbow, has been a popular choice to succeed Trebek, with hundreds of thousands signing a petition saying he should get the job.
Rodgers on the other hand has said he thinks he can "bring something different," to the show offering viewers a mix of athletic and nerdy.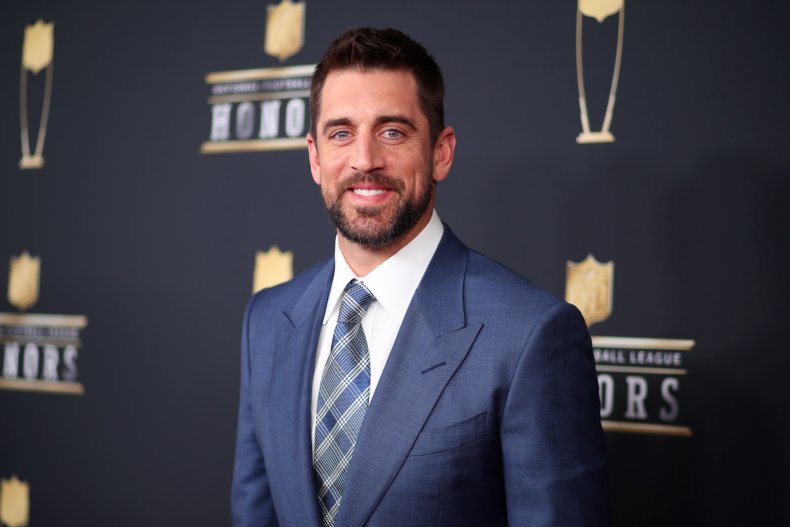 "I feel like I bring something different to the stage—I'm the youngest of any of the guest hosts, I'd be the youngest host of just about any major game show, I bring an audience from the NFL, and I feel like I appeal to nerdy people, too, because I was a nerd in high school and got caught in that weird phase of wanting to be a jock and an athlete and also really caring about getting good grades," he said.
"And at the same time, there's not many bigger fans of the show than me. I've been watching it for years and years and years. I respect the show and appreciate the history of it, and also there's my background of stepping in for a legend and their footsteps. I feel like all that combined makes me a pretty good candidate."
Other interim Jeopardy! hosts have been announced, with Anderson Cooper, Savannah Guthrie, Mayim Bialik, Bill Whitaker and Dr. Sanjay Gupta all on the list.