'Jeopardy!' Host David Faber Says He'd Take the Job Full Time If He Was Offered It
David Faber will make his last bow as Jeopardy! guest host on Friday night as he presents his fifth and final show of the quiz.
The financial journalist, usually seen on CNBC's Squawk on the Street, has received good reviews for his stint hosting the game show—and admits he'd love to make the role permanent.
Faber told Newsweek: "If they were to offer me the job I think I would say yes, but I think it's highly unlikely at this point. I'm really just thrilled to have had the chance to host five shows. And if that's all I ever get, that's certainly more than most."
The top job may be out of reach for Faber, however, after multiple reports that Jeopardy! executive producer Mike Richards is in negotiations to become the permanent successor to Alex Trebek, who died last November.
Richards would be a good choice, according to Faber. After watching a couple of his shows as guest host, the journalist thought he was "very good" and believes "the Jeopardy! audience agreed."
Faber added: "My experience with him was as the executive producer and he was great. He was exactly what you'd want from an EP. He was on top of everything. He was encouraging. I felt like he filled me in on everything I needed to know to do the best job I could.
"So, if he does get the job, I certainly wish him the best of luck. Very talented guy."
Faber is one of a roster of interim hosts who have filled in since the death of Trebek, who had presented the quiz for 37 seasons. Faber admits he felt the pressure of the role as he started the week, but eventually felt more comfortable.
"The first show when I taped I certainly was nervous. As long as I've been on TV, and as many things as I've dealt with, this was unique. And as a result, when something is new, I think you still get somewhat nervous and it took a little bit for my nerves to calm down," he said.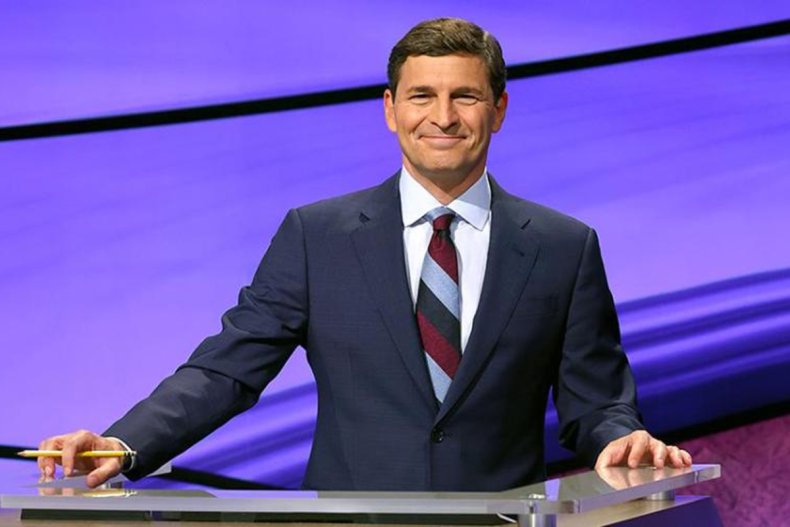 "I think by the second or certainly third show I was more in the flow more in the moment, not worrying quite as much, because there are so many different things in Jeopardy! that you have to be aware of you can't let your attention drop for one second."
After filming, when Faber finally watched the shows, all those feelings came rushing back. "I was definitely nervous taping the first show and then I will say that I was also nervous watching the first show earlier this week, because it had been a while," he said.
Since his first show, Faber has received warm feedback from the watching public. Many viewers posted glowing reviews of his performance on social media and he's happy for the support.
"I've been very flattered by it because it's been consistently positive—at least what I've seen, which has been very nice."
He added: "Obviously, at our day job at CNBC, we get some feedback on Twitter, for example, and it's not always that nice, but this has been very heartfelt and encouraging.
"I've really appreciated everybody sharing their opinions, largely because a lot of them seem to be very positive."
Faber has followed in the footsteps of guest hosts including Mayim Bialik, Katie Couric, Savannah Guthrie, Anderson Cooper, Aaron Rodgers, George Stephanopoulos—and fan favorite LeVar Burton. Viewers and celebrities including Burton's Star Trek colleague William Shatner have been calling for the Reading Rainbow host to be given the Jeopardy! job.
The next guest host is Fox Sports broadcaster Joe Buck, who will be behind the podium from August 9 to August 13.