Who's Presenting 'Jeopardy!' Next Season?
Jeopardy!'s hosting spot has been the subject of much controversy since the death of Alex Trebek in 2020, and the subsequent fall from grace of Mike Richards, who was announced as Trebek's replacement and swiftly lost the gig.
Richards stepped down as the new Jeopardy! host after previous misogynistic, racist and antisemitic jokes made by the executive producer came to light. Enter Ken Jennings and Mayim Bialik to take over hosting duties, with Jeopardy! maker Sony saying at the time that the final hosting decision would be announced at a later date.
Now, with the show ending season 38 at the end of July (and season 39 coming in the fall), the hosts for the next set of episodes have finally been announced.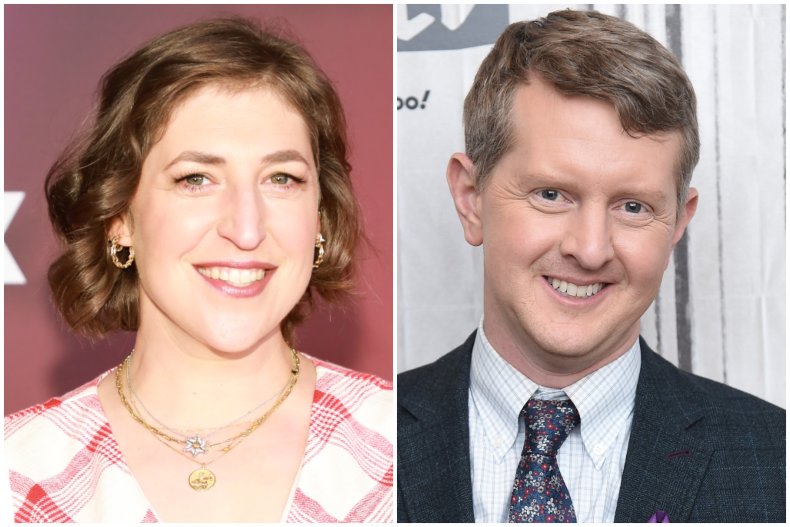 Who Is hosting Jeopardy Season 39?
After a year full of controversy and headlines, Sony is hoping to calm the waters by keeping the show's current hosts. Former Jeopardy! champion Jennings and The Big Bang Theory actor Bialik will co-host the game show when it returns to screens in September.
Deadline reported Monday that the pair were finalizing deals to return to the series. The main negotiations with Bialik were over her availability, as she is also the lead star of the Fox sitcom Call Me Kat.
Clearly, Bialik has found time in her schedule as, per the outlet, she will both co-host Jeopardy! and also host Celebrity Jeopardy! when it airs next season on ABC. As for the flagship version of the show, Jennings and Bialik will continue to split blocks of episodes as they have in the current season.
The reason that the show has kept two hosts rather than return to one is that Sony has plans to make more versions of Jeopardy!, according to Variety. The show's executive producer Michael Davies told the outlet: "​​With all of our plans for Jeopardy!—which is more Jeopardy!, not less, more versions—we're going to need multiple hosts to represent the entire audience, to represent the entire country, in order to take this franchise forward."
Earlier in July, the Jeopardy! Twitter account sparked speculation among fans about when the next host would be announced when they tweeted that tickets were being released for the filming of season 39.
Kennings retweeted, adding: "Nobody would be more pleased about this than Alex himself. He was a natural showman (as anyone who ever saw a Jeopardy! taping can attest) and was never quite as happy doing the audience-less shows of the pandemic era. We're back, Alex!"
Episodes of Jeopardy! season 39 will start airing in syndication on September 12, 2022.