'Jeopardy!' Star Jonathan Fisher Says Matt Amodio Was 'Tough Act to Follow'
Jeopardy! ace Jonathan Fisher has admitted that preceding champ Matt Amodio was a "tough act to follow" as his own run on the show has come to an end.
Actor Fisher was responsible for a huge upset earlier this month, when he defeated Yale Ph.D. candidate Amodio after a phenomenal 38-game win streak.
Fisher—who hails from Coral Gables, Florida—went on to win 11 games in his subsequent run, before he was stopped in game 12 by Nancy Donehower, in an episode that aired on Tuesday.
However, retired college admissions counselor Donehower's run proved to be short-lived, as she was defeated on Wednesday's installment of the show.
And in an interview with Newsweek, Fisher—who scored the show's first ever double digit back-to-back champion run—took a humble approach to discussing his impressive streak, that sees him tied with 2014 champ Arthur Chu in the Jeopardy! hall of fame.
The California resident praised predecessor Amodio for his skill, and credited him with proving to be a worthy distraction from the "behind-the-scenes drama" surrounding the selection of a new host.
"Matt was great," he said. "I think he came along at such a perfect time for the show, since his skill and personality was able to refocus people's attention back on the game and the contestants rather than on the hosting rotations or the behind-the-scenes drama.
"In that way, I hope I was able to continue that a little bit and that will be the primary focus for the show going forward.
"In terms of playing, yeah he's definitely a tough act to follow! I don't think I'm anywhere near his skill level, but our play styles and areas of expertise are very different, so I hope I was different enough from him to keep people engaged, and similar enough that people didn't want me to lose immediately!"
After his Jeopardy! defeat was televised on Tuesday, Fisher took to Twitter to congratulate his successful challenger, as he also tagged all-time Jeopardy! champ Ken Jennings, who was defeated after 74 wins by challenger Nancy Zerg in 2004.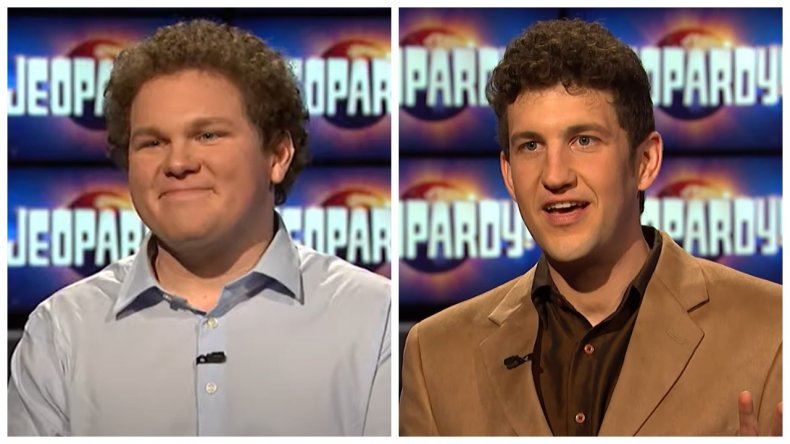 "That's it for my run on @Jeopardy!" Fisher wrote. "Congrats to Nancy (quite a name for a streak-stopper, eh @KenJennings?) for a great game and a well-deserved win. This has been one of the best experiences I've ever had, and I wouldn't change a thing about it."
Amodio was among the many Jeopardy! viewers to congratulate Fisher on the micro-blogging platform as he tweeted: "Congratulations @JFishtheDish on a tremendous #Jeopardy accomplishment, achieved with both class and style. Well done!"
Reflecting on his experience of being on the show, Fisher told Newsweek that it was "amazing," adding that it was "definitely one of the coolest things I've ever gotten to do, and I wouldn't change anything about it. I went expecting to play one game and to get to play 12 with more on the way is just a dream come true."
Fisher earned himself a respectable $246,100 during his run on the show, and he has revealed that he's considering pouring his winnings into a passion project.
"My partner [Anna Miles] and I have talked about maybe putting some of the winnings towards an artistic endeavor, perhaps a theatrical production of some sort, but for now it'll be going right into savings while we figure it out!"
Whatever the project, Fisher will be gearing himself up to return to the Jeopardy! fold in the latter half of 2022, as he automatically qualified to compete on the "Tournament of Champions" after winning his fifth consecutive game.
And he plans to make the most of his time away from the Los Angeles-shot show, saying: "Having to wait a while for the Tournament won't be too bad. It'll be nice to get some time to brush up on areas that I'm a little deficient in, and to consider changing around my playing strategy to compete more effectively against more elite players.
"It'll also be nice to be able to watch the show normally again—I haven't watched Jeopardy without knowing who's going to win since the season premiered! And I'm excited that I'll have the opportunity to get to play the game again."
After impressing fans with his quizzing skills, Fisher is now planning to dive into "a couple of Shakespeare projects"—though he's also open to small screen roles.
"As an actor, working steadily on TV in any capacity would be great," Fisher said. "That Jeopardy! money won't last forever!"