Jeremy Strong's Pink Velvet Suit at SAG Awards Praised by Fans
The Screen Actors Guild Awards on Sunday night saw Hollywood turn out to celebrate the craft of acting with Succession, unsurprisingly, winning the award for Best Drama Ensemble.
One of the stars of the HBO hit, Jeremy Strong, took to the red carpet in a pink velvet suit that has thrilled Succession and fashion fans alike, with the Kendall Roy star trending on Twitter as a result.
The much-lauded actor posed in a pink velvet suit with a white button-up shirt, white bow tie and dark brown shoes at the event in Santa Monica, California.
Strong has kept a low profile since late 2021 when a controversial New Yorker profile about his extreme method acting went viral.
The 43-year-old also shared a hug with his friend Jessica Chastain at the ceremony just months after the actress publicly defended Strong after the controversial profile painted a picture of Strong as an actor who was somewhat difficult to work with.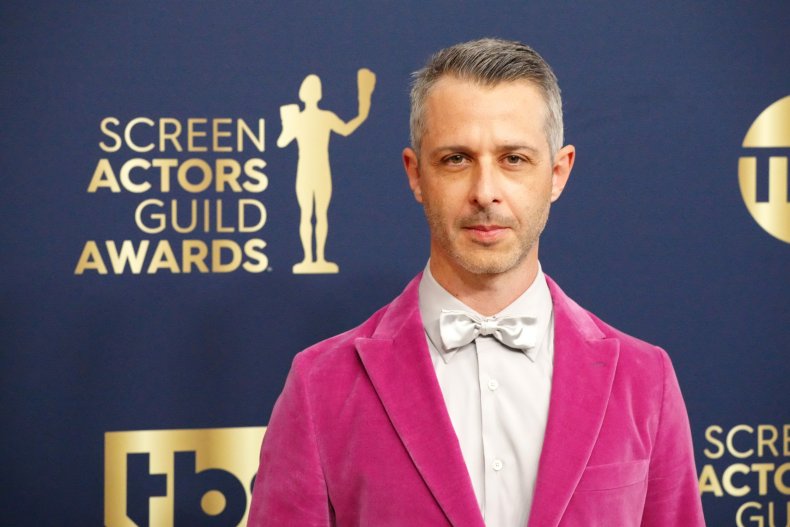 Chastain took home the award for Outstanding Performance by a Female Actor in a Leading Role at the ceremony for her performance in The Eyes of Tammy Faye.
However, it was Strong's suit that stood out on the night, prompting a flood of reactions from viewers.
"#SAGAwards god bless u for getting jeremy strong out of hiding and in a pink suit," reads one tweet.
While another added: "Look, I know I could never pull it off, but damn, I want Jeremy Strong's suit."
"jeremy strong with his velvet pink suit...he just gets it like no other," reads another tweet.
Another joked: "I feel like Jeremy Strong's pink velvet tuxedo is saying 'I'm a fun guy. I swear I don't take myself too seriously.'"
"Not many men can rock a hot pink suit though. Respect, Jeremy Strong. #SAGAwards," said another.
This year's SAG Awards also saw several Hollywood stars show support for Ukraine amid the ongoing invasion by Russian forces.
Strong's Succession co-star Brian Cox delivered a sobering speech about the conflict after accepting the award for Best Drama Ensemble on behalf of the HBO series.
"One other thing I would like to add," the Logan Roy star said after praising his fellow cast and crew members, "which I think is important to me and I hope important to you as actors and performers and writers and directors, [is] what's going on in Ukraine. It's truly, truly awful."
Lady Gaga acknowledged the situation on the red carpet, saying: "This is a beautiful night where we all get to celebrate art together and celebrate each other. There's so much going on in the world and my heart goes out to Ukraine. I think tonight we should all really sit in the gratitude of this."
While Chastain said in her acceptance speech: "My heart is with our international family all over the world right now, who is fighting for their safety and their freedom."