How Jeremy Strong Stepped In After Heath Ledger Died—Michelle Williams
Michelle Williams says Succession actor Jeremy Strong was an emotional rock for her family after the death of her former partner Heath Ledger.
Ledger died of an accidental overdose at the age of 28 in 2008, leaving behind Williams and their daughter Matilda Rose who was 2-years-old at the time. In a new interview with Variety, Williams credits Strong with helping her get through the situation and also defended his "method" acting for which he was recently criticized.
"Jeremy was serious enough to hold the weight of a child's broken heart and sensitive enough to understand how to approach [her] through play and games and silliness," Williams said.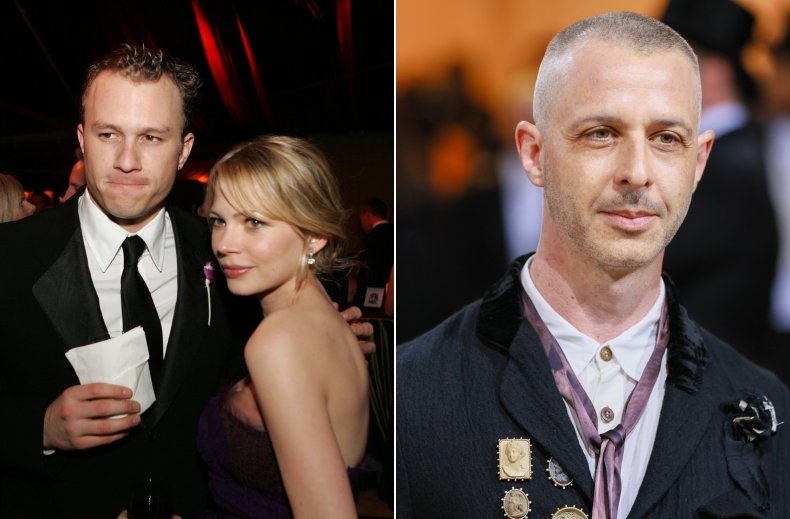 Williams and Ledger weren't together at the time of his death, having reportedly broken up in September 2007, five months before his death. She told Variety she'd chosen to speak out in support of Strong after he was the topic of discussion for his apparent over-commitment to acting.
Strong's Succession co-star Brian Cox recently expressed his concern over his approach to roles, at a time when method acting seems to be under fire. In a December 2021 article with The New Yorker, Strong described his dedication to his craft, which became the subject of a number of think pieces and online memes.
"We've all been in awe of his talent," Williams said. "We've watched him work harder than anyone and wait a long time for other people to recognize it. So when he became so celebrated, we all celebrated."
Inevitably, with all the success came negative attention, which Williams didn't appreciate because of what he'd done for the family. She said that while she tries to maintain a separation between her professional and her private life, she felt the need to speak out in Strong's defense.
"I feel open and I feel very trusting, but I also know that there are things that I shouldn't talk about because they are too private and they are too hard," Williams continued. "But now when I'm rambling on about my work or my process, I wonder if that should stay in the vault. But I also love Jeremy so much. So even though this period took place during the time that I don't talk about, I wanted to share it, because it takes a very special person to play with a child the way that Jeremy did."
Williams' next project is the movie Showing Up which is set to make its debut at the Cannes Film Festival. It tells the story of an artist on the verge of a career-changing exhibition. The movie will see Williams reunite with writer and director Kelly Reichardt for the fourth time.