Jerome Powell Signals Another Interest Rate Hike Coming to Fight Inflation
Federal Reserve Chair Jerome Powell warned Friday that additional interest rate hikes are likely coming as part of the central bank's efforts to curb inflation.
During his remarks at the Federal Reserve's economic policy symposium in Jackson Hole, Wyoming, Powell said that "restoring price stability will take some time and requires using our tools forcefully to bring demand and supply better into balance."
"While higher interest rates, slower growth and softer labor market conditions will bring down inflation, they will also bring some pain to households and businesses. These are the unfortunate costs of reducing inflation. But a failure to restore price stability would mean far greater pain," he said.
In March, the Fed began implementing its first interest rate hikes since 2018 to combat inflation.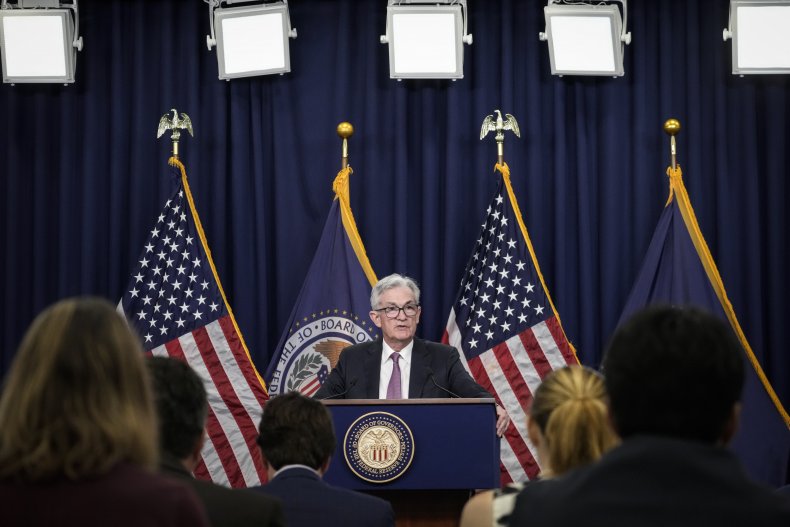 "We are taking forceful and rapid steps to moderate demand so that it comes into better alignment with supply and to keep inflation expectations anchored," Powell said Friday. "We will keep at it until we're confident the job is done."
In July, the Fed raised interest rates by three quarters of a percentage point—marking its fourth rate hike since March. On Friday, Powell did not detail or suggest to what extent the Federal Open Market Committee would raise rates at its meeting next month.
Victor Claar, an associate professor of economics at Florida Gulf Coast University, told Newsweek on Friday that he believes Powell is "trying to convey clearly that in September, if circumstances warrant, they will probably do at least three quarters of a percent again, and they're also very willing to consider maybe even an entire one percent increase."
He added that following Powell's Friday speech, it "sounds like the Fed for the first time realizes that inflation could be an ongoing threat."
"It doesn't sound like Jay Powell right now wants you to believe that inflation is under control because it sounds like Jay Powell is sending a pretty strong signal that the Open Market Committee is continuing to take inflation very seriously," the professor said.
Claar said that Powell's warning comes despite the fact that recent data has shown inflation slowing down. Between June and July, on average, prices didn't increase month over month, according to the Consumer Price Index.
Data released by the Bureau of Economic Analysis on Friday also showed that price increases fell in July. The personal consumption expenditures price index, or PCE, decreased by .1 percent between June and July.
According to the White House's Council of Economic Advisers, the data marks the first "monthly decrease in headline PCE prices since April 2020," and the drop was driven by falling energy prices.
"Energy prices fell by 4.8 percent, the fastest decline since April 2020. Food at home price growth was 1.3 percent, a higher rate of growth than in June. Overall, nondurable goods prices fell by 0.5 percent," the council tweeted.
Quincy Krosby, chief global strategist at LPL Financial, told Newsweek in an email that although the Fed's "preferred measure of inflation the PCE cooled just a bit, and is moving in the right direction, Fed chairman Jerome Powell made it clear that price stability is the Fed's goal and they will tighten financial conditions to get there."
"Moreover, Powell telegraphed that the September rate hike could be in the 75 basis point range, and that the Fed will continue tightening until they are convinced the price stability is in range," Krosby added.
Update 8/26/22, 12:10 p.m. ET: This story has been updated with additional information and background.