Jerome Powell Testimony: Key Takeaways From Senate Hearing on Economy
Federal Reserve Chairman Jerome Powell testified Wednesday before senators as the central bank is under scrutiny for its efforts to combat soaring inflation with rising interest rates while not driving the economy into a downturn.
"We do understand the full scope of the problem, and we're using our tools to address it pretty vigorously now," Powell told the Senate banking committee. "Price stability is really the bedrock of the economy."
He added, "We have both the tools we need and the resolve it will take to restore price stability on behalf of American families and businesses."
While the Fed, which can have the most impact on rising prices by hiking interest rates, is trying to slow consumer demand, it can do little to address inflation on the supply side, where many factors are driving up costs. They include the war in Ukraine as well as pandemic-related shutdowns and supply chain disruptions.
"Inflation has obviously surprised to the upside over the past year, and further surprises could be in store," Powell cautioned. He added that the Fed is "strongly committed" to getting the nation's inflation rate, which is running at 8.6 percent as of last month, down to 2 percent.
Here are some key takeaways from the chairman's testimony about what lies ahead for the U.S. economy:
Possibility of a Recession
Despite growing concerns, Powell reassured senators that the economy remains strong and offered some optimism about the future. He said that while a recession is "certainly a possibility," the Fed's actions would not cause one.
"We're not trying to provoke, and don't think that we will need to provoke, a recession," he said. "But we do think it's absolutely essential that we restore price stability, really for the benefit of the labor market as much as anything else." He added that the economy "is very strong and well positioned" to withstand higher rates.
This week, Goldman Sachs estimated that the likelihood of a U.S. recession in the next year is 30 percent. The odds go up to 48 percent when looking at the next two years.
Even though the economy isn't in a recession, more than half of Americans think one is already underway, a new poll suggested last week.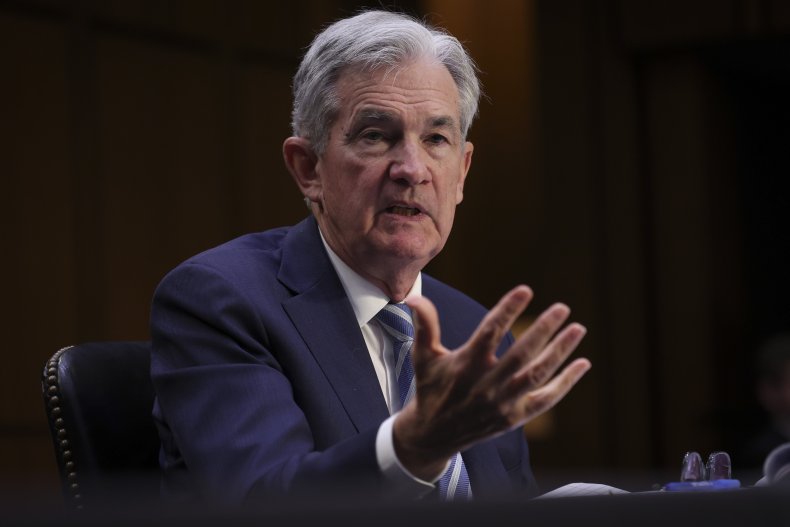 Will the Fed Raise Interest Rates Again?
Powell said the central bank is open to raising rates again as it works to slow inflation, but he added that the pace of hikes would depend on how quickly inflation starts to decline, based on "the incoming data and the evolving outlook for the economy." The Fed plans to assess this on a "meeting-by-meeting" basis, he said.
In recent months, the Fed has accelerated the pace of its interest rate increases, starting with a quarter-point hike in March and a half-point increase in May. That was followed by last week's bump of three-quarters of a percentage point—the biggest hike in nearly three decades.
The speed at which the Fed has moved to combat inflation, which is at a 40-year high, has alarmed investors and caused sharp declines on Wall Street.
In anticipation of larger hikes ahead, borrowing costs for home and auto purchases, as well as credit card rates, are becoming much more expensive for consumers. But Powell maintained on Wednesday that the higher rates "should continue to temper growth and help bring demand into better balance with supply," which should ease prices.
Unemployment
Some have suggested that the only way to drive down inflation is to raise the nation's unemployment rate—a trade-off that means President Joe Biden has troubling options as he tries to address economic concerns.
On Tuesday, former Treasury Secretary Larry Summers suggested that the U.S. must maintain an unemployment rate—which has reached historic lows under the Biden administration—of 6 percent for five years in order for inflation to drop. The current jobless rate is 3.6 percent.
"We need two years of 7.5 percent unemployment, or five years of 6 percent unemployment, or one year of 10 percent unemployment," Summers said in his speech.
Asked if those figures would be necessary to curb inflation, Powell said there are "certainly paths to get inflation down to 2 percent with outcomes that are substantially less troubling."
Last week, Fed officials projected that the unemployment rate would rise by a half-percentage point by 2024.
Ukraine War's Impact on U.S. Economy
On Wednesday, Powell broke from a Biden administration line—that inflation is being driven by "Putin's price hike." He said that while the Russian president's invasion of Ukraine has affected the U.S. economy, it is not the sole factor propelling high inflation.
In the hearing, GOP Senator Bill Hagerty noted that while inflation has risen 1.6 percent since the war in Ukraine began, inflation had been escalating for much longer—specifically 18 months.
Asked by Hagerty if he believed the war to be the "primary driver" of U.S. inflation, Powell responded, "No, inflation was high certainly before the war in Ukraine broke out."