Jerome Powell Predicts 'Very Strong' Economic Growth As U.S. Recovers from COVID Crash
The Federal Reserve Chairman Jerome Powell said he expected U.S. economic growth to be "very strong" in the second half of this year as the country works its way out of the COVID-19 crash and tough lockdown measures.
In an interview with CBS News' 60 Minutes aired on Sunday night, Powell said the outlook for the U.S. economy had "brightened substantially" and claimed Americans would see job creation and wider growth "starting right now."
The Federal Reserve chair also accepted that some parts of the economy were still struggling, particularly in the entertainment sector, while others were recovering or even thriving.
Speaking to CBS News on Sunday night, Powell said: "I would say that this growth we're expecting in the second half of this year is going to be very strong."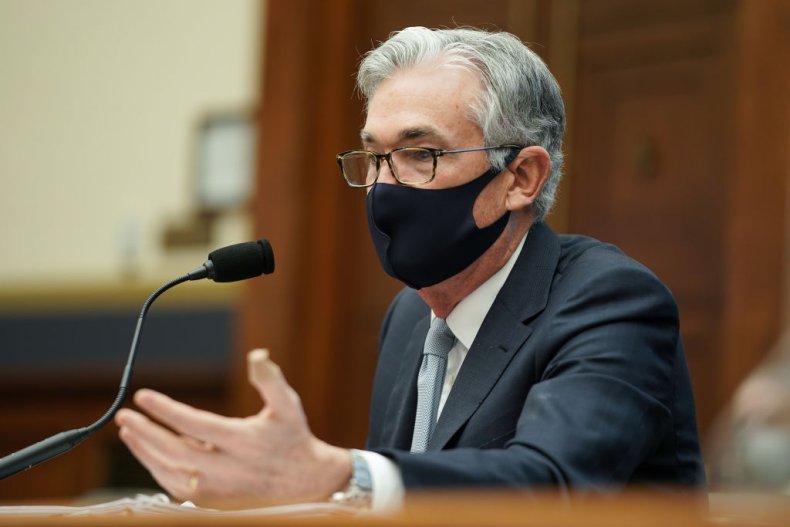 Earlier in the interview, he noted that several forecasters in the private and public sector had predicted economic growth of 6 to 7 percent this year, which would make it one of the highest boosts on record.
"We and a lot of private sector forecasters see strong growth and strong job creation starting right now," the Federal Reserve chair said. "Really, the outlook has brightened substantially." However, he noted that the recovery was "unusual" in some respects, particularly in industries that involve more in-person contact.
"It's just a very unusual recovery. What you're seeing is some parts of the economy are doing very well, have fully recovered, have even more than fully recovered in some cases," Powell said. "And some parts haven't very much recovered at all, yet."
Newsweek has contacted the Federal Reserve for further comment.
Powell signaled his confidence in the future of the U.S. economy a little more than a week after the Internal Revenue Service announced that more than 130 million stimulus checks had been signed and sent off under the latest COVID bill.
Americans earning less than $75,000 were made eligible for a direct payment of $1,400, with payments cutting out for those earning upwards of $80,000.
When President Joe Biden's $1.9 trillion stimulus bill was put to Congress, the stimulus checks were touted as key to reviving the economy and keeping struggling households afloat.
Several polls have found consumer confidence rising since the start of this year, marking a gradual return to normal after the shock crash in early March last year. One poll conducted by Morning Consult in March found that the stimulus package signed by Biden had spurred the biggest boost to consumer confidence when compared to other COVID relief bills.