Jerry Jones Profits From Texas Power Outages As Gas Prices Skyrocket
The winter freeze that has gripped Texas and other central U.S. states for the best part of a week, leaving millions without power, has resulted in a financial bonanza for the company of Dallas Cowboys owner Jerry Jones, who has profited from soaring demand for gas.
Comstock Resources chief financial officer Roland Burns acknowledged that the company had "hit the jackpot" as it sold gas from its Haynesville Shale wells in East Texas on the spot market for a price between $15 and $179 per cubic feet.
The price amounts to between $15.55 and $186 per million British thermal units—a unit of heat that measures the amount of heat required to raise the temperature of one pound of water by one degree Fahrenheit.
"This week is like hitting the jackpot with some of these incredible prices," Burns said during an earnings call on Wednesday.
"Frankly, we were able to sell at super premium prices for a material amount of production."
On Tuesday, Comstock reported fourth-quarter profit of $81.9 million and earnings of 30 cents on a per-share basis.
When adjusted for non-recurring gains, earnings stood at 14 cents per share, comfortably ahead of Wall Street expectations calling for a 9 cents per share figure.
The company reported fourth-quarter revenue of $274.8 million, which was also ahead of Wall Street forecasts. Shares in Comstock have gained approximately 29 percent since the beginning of the year.
Jones, who purchased the Cowboys in 1989, made his fortune in the oil and gas market and controls a 73 percent share in Comstock, according to the company's 2020 proxy statement.
As per data from the Energy Information Administration, Texas produces more electricity than any other state. It generates almost twice as much as Florida, the second-biggest producer.
The freezing temperatures that have gripped the state, however, have disrupted supply, while gas prices have soared as demand sky-rocketed.
As this graphic from Statista illustrates, the state is heavily reliant on natural gas to produce almost half of its electricity output.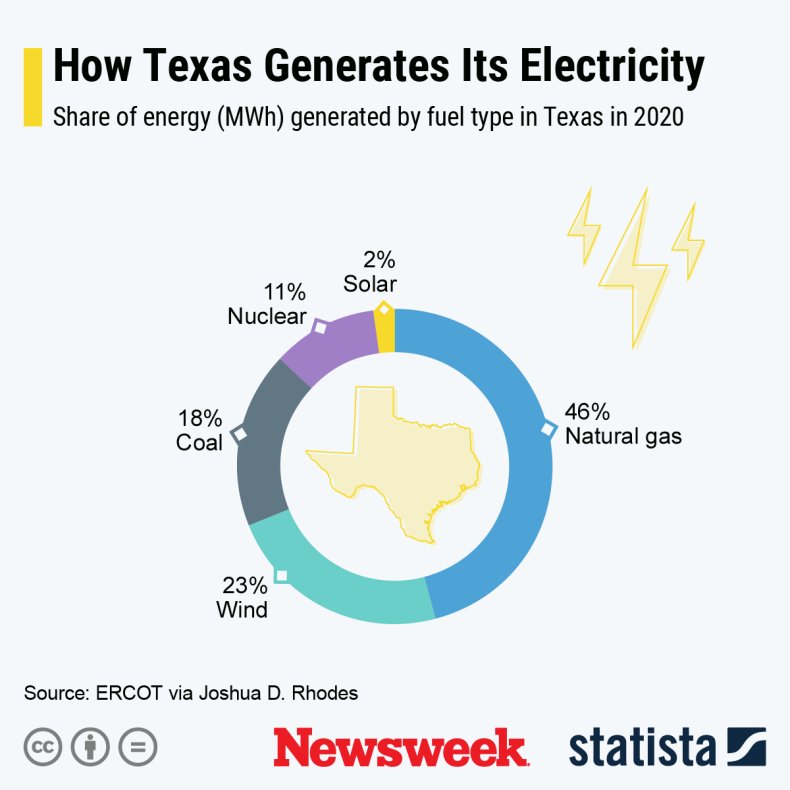 According to Bloomberg, spot gas traded at $20 on Wednesday morning at the Henry Hub in Louisiana, the delivery benchmark for futures in New York. To put the figure into context, the price stood at $3.73 a week ago and at $16.13 at close of trading on Tuesday.
Millions of Texans were still without electricity on Wednesday, as the winter storms that have swept across the state showed no signs of abating. The National Weather Service forecast freezing rain and sleet would continue to batter Texas, exacerbating an already precarious situation that has compromised the state's energy supply.
Electricity was restored in approximately 1.6 million homes in Texas on Wednesday, as per the Electric Reliability Council of Texas, which manages Texas' power grid.
However, millions more remained in the cold and in the dark and Texas Gov. Greg Abbott acknowledged the situation was dire.
"Every source of power Texas has has been compromised," he told a press conference on Wednesday, announcing he had signed an executive order directing natural gas providers to stop all shipment of gas outside Texas and direct them to power generators within the state instead.