Jerusalem Mayor Threatens to Demolish 'Hundreds' of Palestinian Homes if Illegal Settlement Evacuated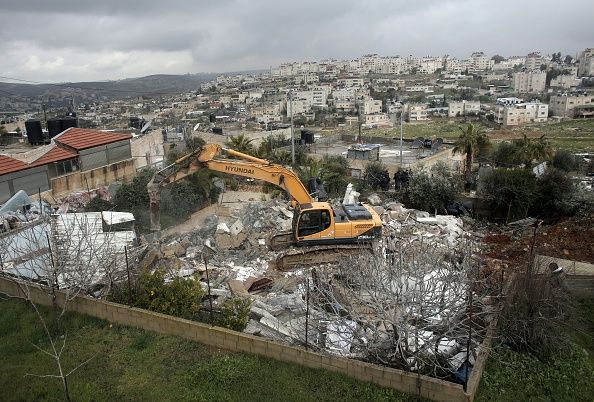 The mayor of Jerusalem has threatened to demolish "hundreds" of Palestinian homes in East Jerusalem if the West Bank settlement of Amona is evacuated.
The Israeli High Court ruled in 2014 that the outpost, which lies east of the West Bank city of Ramallah, is illegal as it is built on private Palestinian land. It ordered the settlement's evacuation by December 25 and Monday rejected a government request to delay the evacuation by seven months to find an alternative for the approximately 40 families residing there.
But now, Israeli ministers have backed a bill that would recognize some illegal structures in the West Bank, in the face of objections from Israeli Prime Minister Benjamin Netanyahu and Attorney General Avichai Mandelbilt.
The draft bill still needs to be approved by the Israeli parliament but Mayor Nir Barkat has said that if Amona is not legalized, then Palestinian structures in Jerusalem without the relevant permits from Jerusalem authorities will be demolished.
"Unless Amona is legalized, we'll have to destroy hundreds or thousands of houses in Jerusalem too," Barkat told Israeli newspaper Haaretz. "The Amona verdict leaves us no discretion to legalize building offenses."
In an earlier letter that Barkat wrote to the government's legal council on November 7, he said the evacuation of Amona "could have implications for similar cases in Jerusalem, where Arabs have illegally built on private or municipal land."
According to Israeli anti-settlement NGO Ir Amim, Israeli authorities have demolished 166 illegal Palestinian structures in East Jerusalem, double the number for the same period in 2015.
The Jerusalem municipality has now petitioned the Israeli High Court to revoke an extension to a demolition order for 14 illegally-built Palestinian structures in East Jerusalem, attempting to have them demolished immediately. In a statement, Barkat said that "we are obligated to act in accordance with one law for both Jews and Arabs."
Residents of Amona have said that they will construct a tent city that holds "thousands" of people in protest at the Israeli High Court's decision that the outpost is illegal as it is built on private Palestinian land and to order the settlement's evacuation by December 25.
The settlers of Amona will "stand like a wall, along with thousands of others who will come here on the day of the evacuation," Avichai Boaron, leader of the Amona settlers, told reporters.
The Palestinian leadership has maintained its position that it is not for an Israeli court to decide whether a settlement is legal or not in the West Bank, as they are defined as illegal under international law, Secretary-General of the Palestine Liberation Organization Saeb Erekat said Wednesday.
"Once again, we call upon the international community to take concrete actions in order to protect the rights of the Palestinian people and to save the two-state solution," he said in a statement.
Much of the international community considers Israeli settlements in the West Bank and East Jerusalem to be illegal under international law, so the legalization of Jewish outposts in the West Bank, built on Palestinian land, will likely prompt further criticism of the Israeli government.
Critics have said the legalization of such outposts would effectively permit the expropriation of any private Palestinian land. Israeli opposition leader Isaac Herzog said that the draft bill is a "serious stain on Israel law books because it authorizes theft and robbery. There is no precedent, nothing like it, in which the Israeli government authorized a law that allows taking land from private people."
Jerusalem Mayor Threatens to Demolish 'Hundreds' of Palestinian Homes if Illegal Settlement Evacuated | World