Jewish Group Says Donald Trump Not Welcome in Pittsburgh Until He is Ready to 'Fully Denounce White Nationalism'
A Pittsburgh Jewish group lambasted President Donald Trump and said he is "not welcome" in the city because of his failure to "fully denounce white nationalism."
On Saturday, a gunman killed 11 people in a mass shooting at the city's Tree of Life Synagogue. The suspected shooter—46-year-old Robert Bowers—was a known anti-Semite who had written numerous anti-Jewish messages online.
Leaders from Jewish group Bend the Arc: Pittsburgh released an open letter to Trump over the weekend, blaming his politics for the violence experienced in the city. "For the past three years your words and your policies have emboldened a growing white nationalist movement. You yourself called the murderer evil, but yesterday's violence is the direct culmination of your influence," the authors wrote.
The letter was signed by Jamie Forrest, Joshua Friedman, Jamie Harris, Tammy Hepps, Harry Hochheiser, Sasha King, Jonathan Mayo, Elinor S. Nathanson, Avigail S. Oren, Kate Rothstein and Yael Silk.
The letter links to a petition on the action group's website, where people can sign their names to a list of demands for Trump and the Republican Party. Bend the Arc asks the president to "fully denounce white nationalism," "stop targeting and endangering all minorities," to "cease your assault on immigrants and refugees" and to "commit yourself to compassionate, democratic policies that recognize the dignity of all of us."
Trump responded to the mass shooting in two tweets, calling it an "assault on humanity." "It will take all of us working together to extract the poison of Anti-Semitism from our world. We must unite to conquer hate," he wrote.
On the way to a Future Farmers of America event in Indiana on Saturday afternoon, Trump told reporters that armed protection could have protected the synagogue, before saying that the death penalty should be "brought into vogue" with "stiffer" laws.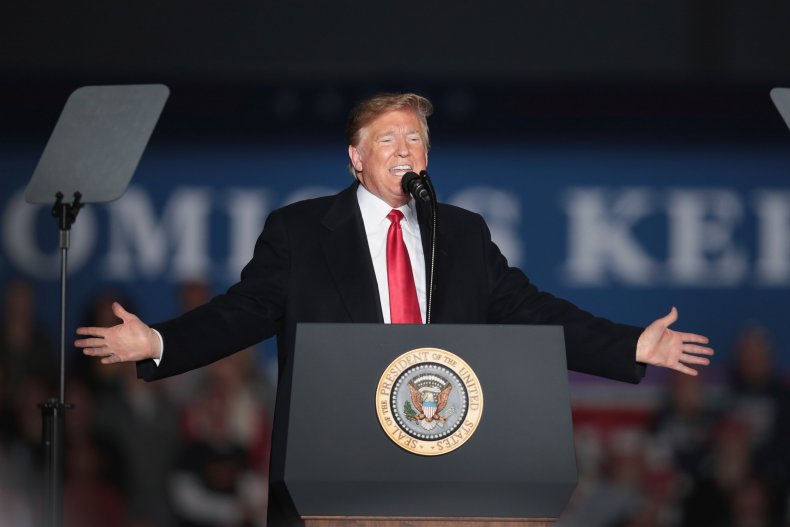 Trump later tried to justify attending a southern Illinois rally hours after the tragedy with an incorrect statement about the September 11 attacks. He claimed the New York Stock Exchange reopened on September 12, before commentators pointed out it was closed until September 17.
Bend the Arc describes itself as a movement uniting tens of thousands of progressive Jews across the U.S. The group aims to fight the president's "agenda" by standing with communities "under attack" from "terrible legislation and policies," to hold elected officials to account and to advocate and help achieve progressive legislation and policies.
The group did not immediately respond to a request for comment.