Jewish Groups Blast Trump's 'Anti-Semitic' Remarks, Warning They Could Have 'Deadly Consequences'
American Jewish groups strongly criticized President Donald Trump for remarks he made at the Israeli American Council's National Summit in Florida on Saturday, calling the comments "anti-Semitic."
During his speech, Trump complained that some Jews "don't love Israel enough" and that "the Jewish state has never had a better friend in office than your president." He also said "a lot of you are in the real estate business, because I know you very well."
"You're brutal killers. Not nice people at all, but you have to vote for me, you have no choice," he added
Jewish-American groups told Newsweek that the comments played into "anti-Semitic tropes" and could have "deadly consquences." Some said Trump was essentially suggesting that American-Jews should also necessarily be supportive of Israel and the government's right-wing policies, which played into the anti-Semitic "dual-loyalty" trope often used to attack Jews in the U.S. and other countries.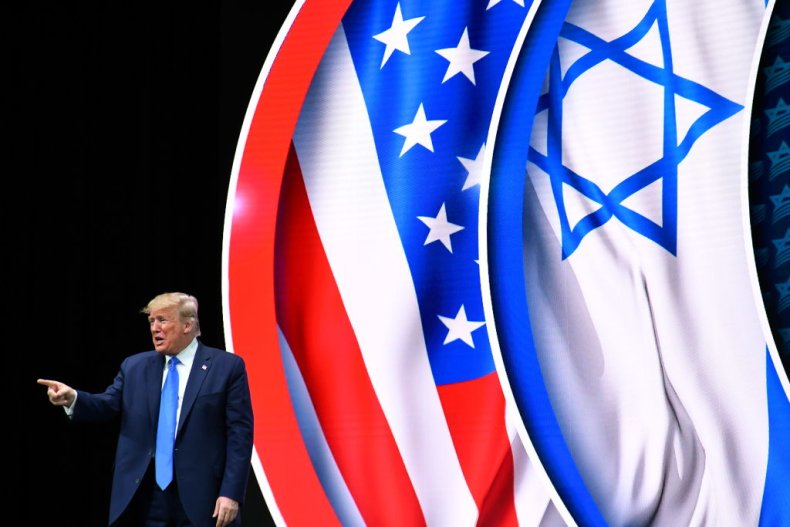 "President Trump's statements are outrageous and play on multiple anti-Semitic tropes. His speech lays bare the depth of anti-Semitism within the GOP," Emily Mayer, political director at IfNotNow, a progressive Jewish-American activist group, said.
"We know this rhetoric can have deadly consequences, and as Jews, we call on the Republican Party to disavow the white nationalism and anti-Semitism that exists within their ranks in such open display," she added.
Rabbi Alissa Wise, co-acting executive director of Jewish Voice for Peace, another progressive Jewish-American group, shared similar sentiments.
"It is unsurprising – and reprehensible – that President Trump can't manage to address a Jewish audience without immediately peddling in anti-Semitic tropes. More and more American Jews are critical of Israel, disgusted by Trump's enabling of white supremacy, and actively supporting presidential candidates who oppose anti-Semitism and racism," she said. Wise added that Trump had "deployed sinister stereotypes of Jewish people."
Halie Soifer, executive director of the Jewish Democratic Council of America, described the president's remarks as "deeply offensive" and "unconscionable" in an official statement emailed to Newsweek.
"We strongly denounce these vile and bigoted remarks in which the president – once again – used anti-Semitic stereotypes to characterize Jews as driven by money and insufficiently loyal to Israel. He even had the audacity to suggest that Jews 'have no choice' but to support him," Soifer said.
She noted that support for Republicans among American-Jews has dropped significantly since Trump took office. "Jewish support for the GOP has been halved since Trump has been in office, from 33 percent in 2014 to 17 percent in 2018, because Trump's policies and rhetoric are completely antithetical to Jewish values," she said.
"The President of the United States is incapable of addressing Jewish audiences without dipping into the deep well of anti-Semitic tropes that shape his worldview," the pro-Israel liberal American group J Street wrote on Twitter.
Newsweek has reached out to the White House and the Trump campaign for comment.
Trump has strongly supported the right-wing policies of Israel's embattled Prime Minister Benjamin Netanyahu. The Israeli leader has been indicted for corruption and bribery, and has failed to form a government following two elections in 2019.
Meanwhile, the Trump administration has gone against decades of U.S. policy toward Israel, moving the U.S. embassy from Tel Aviv to Jerusalem. The move was widely condemned by the international community and led to significant backlash from Palestinians, who also claim the historic city as their capital. More recently, the Trump administration announced that it would no longer consider Israeli settlements in the Palestinian Territories "illegal," despite the consensus of the international community.
Back in August, Trump made similarly controversial comments that were strongly criticized by American-Jewish groups. He said at the time that Jews who vote for Democrats show "either a total lack of knowledge or great disloyalty."
Correction: A previous version of this article misspelled the name of Rabbi Alissa Wise.